Faster flow promise in flyover unveil
Read more below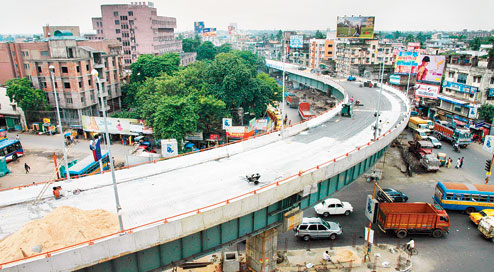 ---
Published 01.10.12, 12:00 AM
|
---
The Dunlop flyover which was inaugurated on Sunday. Picture by Sanat Kr. Sinha
The Dunlop flyover that promises smooth access to the city for vehicles from Dakshineswar and beyond was inaugurated on Sunday, 21 months behind schedule.
Shahid Bhagat Singh Flyover, however, will be thrown open to traffic on October 8 after finishing touches are put on the paintwork and all traffic lights and signals installed.
The 600m-long flyover, originally scheduled to be opened in December 2010, was inaugurated by PWD minister Sudarshan Ghosh Dastidar. The former junior urban development minister at the Centre, Sougata Roy, unveiled a bronze statue of Bhagat Singh during the programme.
Officers at Belgharia police station said it would save a lot of time for vehicles from the direction of Dakshineswar to cross the Dunlop intersection. Such vehicles now take PWD Road that merges with BT Road at Dunlop.
The north-south movement along BT Road, which connects the city with northern suburbs till Barrackpore, will also be smoother once the flyover is opened to traffic.
"The north-south movement is suspended twice in every cycle — to allow east-bound vehicles down PWD Road to hit BT Road and Nivedita Setu-bound vehicles from north to enter PWD Road. Similar disruptions occur on PWD Road to allow movement along BT Road. Now, BT Road-bound vehicles from Dakshineswar will take the flyover and not disrupt the north-south movement on the artery," said the officer.
"The chaos at the Dunlop crossing makes it the worst crossroads along the 23km BT Road, stretching from the Shyambazar five-point crossing to Barrackpore. The chaos will be reduced considerably once the flyover is operational," the officer said.
Transport minister Madan Mitra, who was present at the inauguration programme, blamed the delay in opening the flyover on the erstwhile Left Front government. "Work remained suspended for nearly 20 months during the Left regime as the government failed to provide funds. The Trinamul government finished 60 per cent of the work in six months."
"We had to sit idle for about a year, waiting for the underground utilities to be shifted and encroachments removed," said Pradip Dasgupta, the regional manager of Simplex Projects Limited, which has overseen the project.
Officials said work order for the flyover was issued in December 2008. "Work started in June 2009. December 2010 was the initial deadline, which could not be met because of a funds crunch and suspension of work because of several reasons," said an official.