'Extortion' finger at rail cops
Row over 'false' smoking fines on NJP-Sealdah Darjeeling Mail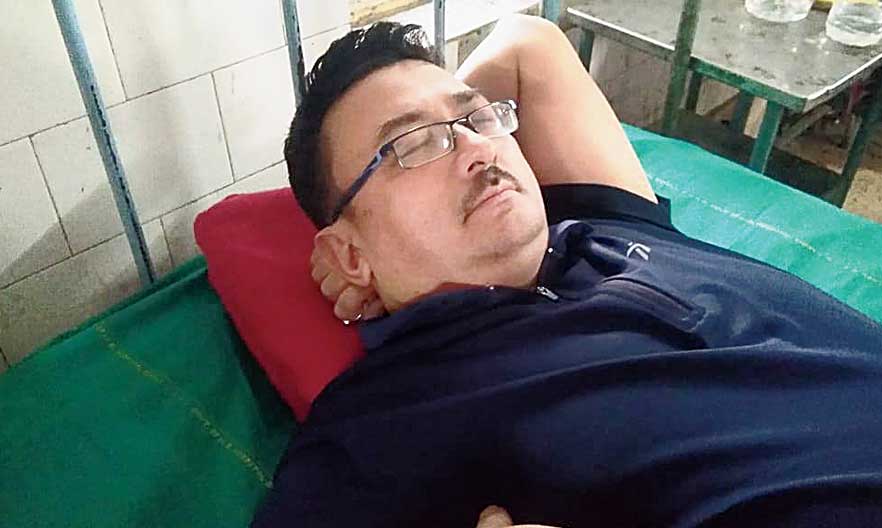 One of the GRP personnel in a Malda hospital after the clash
Telegraph picture
---
Calcutta
|
Published 17.02.19, 08:42 PM
|
---
A section of passengers on the Sealdah-bound Darjeeling Mail have accused Government Railway Police (GRP) personnel of assaulting them at Malda Town station on Saturday night after the cops came to free some colleagues allegedly confined over claims of extortion in the name of smoking fines.
The GRP officials claimed they were attacked by the passengers and two cops injured. Six passengers have been arrested, charged with criminal intimidation and assault, and sent by a Malda court to judicial custody for a day. The railways have ordered an inquiry.
Sources said the trouble started when some GRP personnel inspecting an AC Three-Tier coach accused some passengers of smoking and insisted on fines. The train had by then left Kishanganj — the second stop after originating station NJP
"Seven policemen were trying to extort money and threatening to implicate passengers in false cases. We protested," said Chandrashekhar Jha, a lawyer who was travelling with his clerk Suman Pal.
"I heard a commotion near the washrooms. Suman told me that a group of seven policemen was extorting money from some youths, accusing them of smoking," said Jha, adding he and some other passengers protested.
According to Jha, Suman started filming the row on his cellphone. "Suddenly, a man in uniform without a badge displaying his name caught Suman's hand. I objected. I wanted to see his ID card but he refused," Jha said.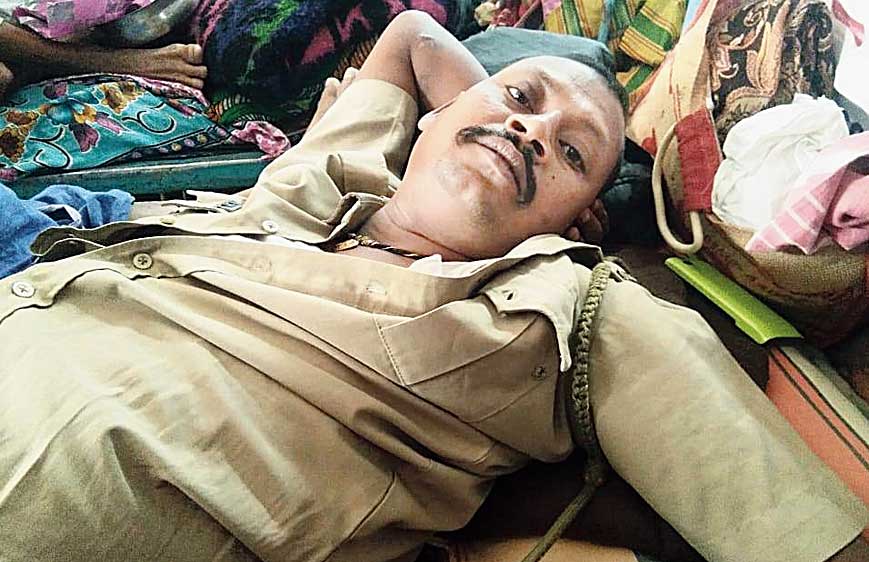 The ticket collector informed the Malda GRP about the trouble. When the train reached Malda around 12.15am, some policemen posted at the station arrived at the coach.
"We had information that some passengers had confined a police team in the coach. We went to rescue them. The passengers told us they wanted to file complaints. We asked them to come to the GRP office. Suddenly, some of them attacked us," said Bhaskar Pradhan, inspector-in-charge of Malda GRP.
Pradhan and a colleague were taken to hospital.
Suman, lawyer Jha's clerk, was arrested along with Ritesh Kumar Kapoor, Supravath Guha and Arindam Das, all residents of Calcutta. The others held are Sahadev Haldar of Jalpaiguri and Aloke Biswas of Nadia. The train was stuck at Malda for over an hour.
The passengers have denied the confinement charge.
Other GRP officials said the smoking ban was often flouted in train washrooms. "If we find the smell of smoke in a washroom immediately after a passenger steps out, we stop him or her. Sometimes, cigarettes, matchboxes or lighters are found. The offender is fined Rs 200 and given a receipt," said a GRP officer.
A rail official said there were no smoke detectors in trains.