Eviction blow to bright boy
Visva-Bharati student worries about expenses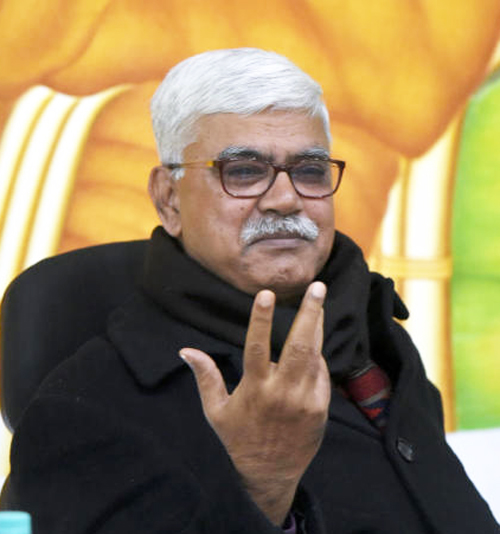 Bidyut Chakraborty
File picture
---
Santiniketan
|
Published 29.01.20, 10:18 PM
|
---
The Visva-Bharati student evicted from his hostel for video-recording the vice-chanacellor's Republic Day speech is grappling with two questions: what did he do wrong and how would he continue his education?
The Bankura boy, son of a farm labourer, had scored 91 per cent overall in higher secondary and 94 per cent in history.
He had enrolled in the history undergraduate course in Visva-Bharati to follow his dream of pursuing higher education and becoming a college teacher.
"I don't know how I shall continue with my studies here. Since I'm from a Scheduled Caste, my hostel accommodation was free. I cannot rent rooms at Santiniketan for anything less than Rs 2,500 a month, which we cannot afford," the boy told this newspaper. The Telegraph is not naming the student for fear of harming his future.
The boy comes from a family of five, and his father is the sole breadwinner. Both his parents are school dropouts. While his elder sister discontinued her studies after higher secondary, his younger brother is in school now.
His father finds it difficult to make ends meet with his modest income.
Besides what he makes as a farm labourer, he has leased out a three-cottah plot.
The Rs 2,500-odd he makes selling the milk from his cow, he gives to his son for his monthly food expenses in Santiniketan.
"Already, enough damage has been done to the boy. My humble plea is that no more khoti (harm) is caused to him," said his father, fighting back tears.
"He is a very bright boy with noble dreams….
We have been trying to help him realise those dreams with great difficulty and many sacrifices. I sincerely request the authorities to let him be," he added. "They should reconsider his case."
Visva-Bharati authorities, however, played down the possibility of an immediate rethink. "As of now, we are not considering a rethink on the matter," said Anirban Sircar, the university's officiating public relations officer.
In the one-minute clip that shows a part of his speech, vice-chancellor Bidyut Chakraborty is seen making observations on the Constitution against the backdrop of the protests against the Citizenship (Amendment) Act.
The evicted student said: "I don't know what I did wrong. The VC himself, while talking that day, said his speeches were often recorded. I took out my phone and started recording. I was not hiding. He saw me, but never objected to being recorded…. I don't understand why I'm being victimised over something that he said in public."
Varsity sources insisted that the CCTV footage had "established" that the boy was recording the video "secretly", from between two other boys.
"No police case has been lodged yet. But there is a scope for charges (being invoked) under the IT Act. The video he recorded is being used to defame the VC in various platforms," a source said.
However, police sources in Santiniketan said there was "no apparent scope" for invoking the act.
"This video does not appear to have been doctored. The alleged defamation is not being done by the boy in question. How is this connected to the IT Act in his case?" a police officer asked.
The boy said he was apprehensive of what awaited him on the campus and would pay a visit to test the waters on Monday. "I'm scared," he said.
Several fellow students and a teachers' association have decided to throw their weight behind the boy.
Some students have already started raising funds to ensure the boy does not have to discontinue his education.
"We will stand by him. We will give him whatever support he needs. His career will not be nipped in the bud like this," said Shehnaz Khatun, a student of Japanese.
The Visva-Bharati University Faculty Association said it would, if necessary, take full responsibility for the boy's education. "He need not fear or worry," said association president Sudipta Bhattacharyya.