Embassy help for youth on cruise liner
A resident of Hatipa village in Kanki is a crew member of Japanese cruise liner Diamond Princess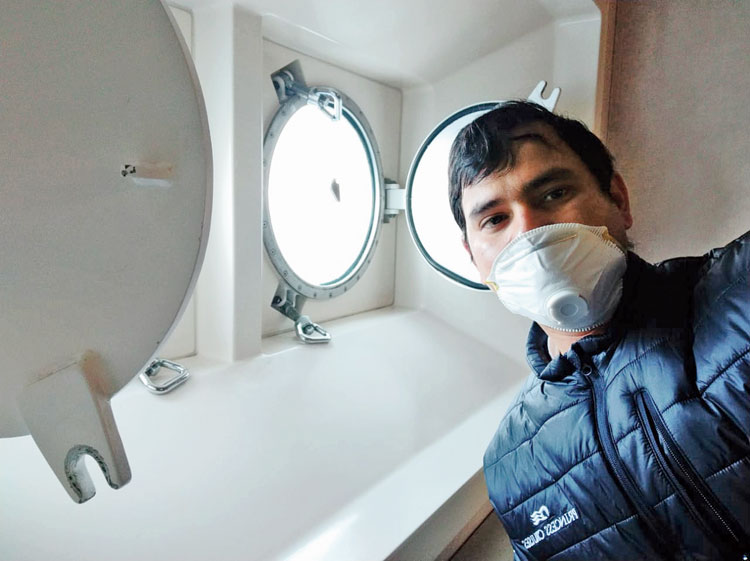 Binay Kumar Sarkar on board the cruise liner
Sourced by The Telegraph
---
Raiganj
|
Published 08.02.20, 07:10 PM
|
---
A North Dinajpur youth stuck on a cruise liner quarantined at a Japanese port after some passengers were detected with novel coronavirus said on Saturday that Indian embassy officials in that country had met him and promised all help for his disembarkation from the ship.
Binay Kumar Sarkar, a resident of Hatipa village in Kanki under Chakulia police station, is a crew member of cruise liner Diamond Princess.
"A team from the Indian embassy in Japan came to meet me and assured me of all necessary help. A medical team has been posted at the cruise liner. I am grateful to the state government as initiatives are being taken for my return to India by February 17," he told The Telegraph in a WhatsApp call.
Earlier, Binay had made social media posts pleading for help from the Indian and Bengal governments for his exit from the ship that docked at Yokohama port.
The 31-year-old is now on duty at the communication control room of the ship. Apart from him, the ship has 159 Indian crew members.
Binay said he would never return to the ship once he was back on the land.
The South Dinajpur health department on Saturday started screening of people entering India from Bangladesh through the Hilli international border in the district to check if they had coronavirus.
A special monitoring camp was set up at Hilli for the purpose.
Employees of the district health department and customs and BSF personnel were posted at the entry-exit point of the border to check the particulars of those entering India with Bangladeshi passports.
Nearly 200 to 300 people from Bangladesh enter India crossing the international border at Hilli. Besides regular formalities, those entering India are now undergoing screening before stepping on the Indian soil.
Sukumar Dey, the district's chief medical officer of health, said: "During the primary screening, the health condition of Bangladeshi nationals is being probed into. They are asked if they have been suffering from fever of unknown origin or any other disease."
Many Bangladeshis avail themselves of modern medical treatment at major Indian cities, including Calcutta.
Customs officials are scrutinising the passports of those coming to India to know if they visited China in the past one month.
All those at the screening camp are wearing masks while examining the foreign nationals. They wash their hands at frequent intervals with sanitizers.
The health department officials said if anyone was found suffering from suspicious ailment or fever, they would be immediately rushed to Hilli rural hospital for treatment in isolation. "However, we have not found any single suspected case of coronavirus yet," said a health official.