Elephant touches live wire, dies in Jalpaiguri
Betel nut plantation owner held for 'power-fencing'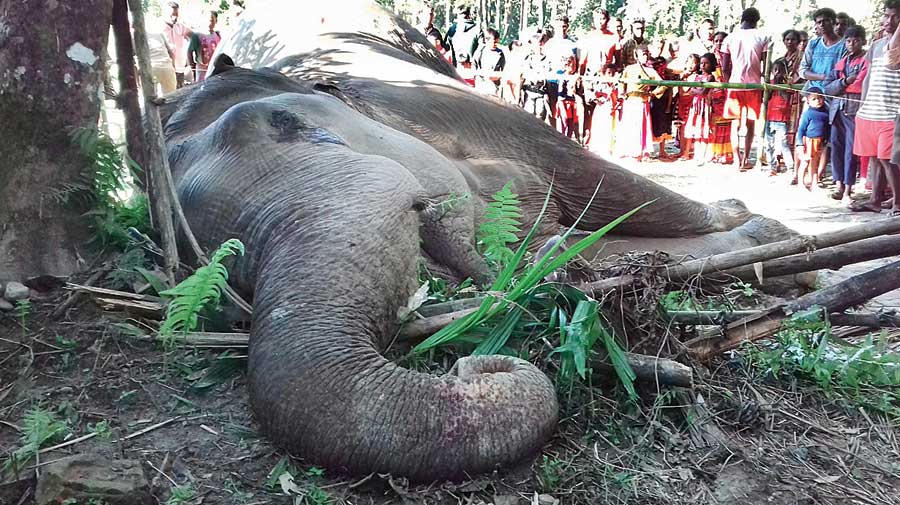 ---
---
An adult makna or male wild elephant without tusks died of electrocution at Kherkata village under Nagrakata block of Jalpaiguri district on Friday night.
Foresters visited the spot and filed a complaint with the police, based on which a person who allegedly laid live wire around his betel nut plantation was arrested.
On Saturday morning, villagers spotted the elephant's carcass on the plantation and informed officials of the state forest department. Soon, foresters from Kherkata Forest Beat and Khunia Forest Range and a police team from Nagrakata reached the village.
"We examined the carcass and found that a resident of the village had laid illegal live-wire fences around his house and a betel nut plantation. That is why the elephant died. The police have arrested Mafizul Haque, the house owner, and we will take appropriate legal steps against him," said Rajkumar Layak, the range officer of Khunia.
In past three months, this is the second incident of elephant death due to electrocution in Nagrakata block.
Foresters came to know that in Kherkata, located on the banks of Diana river and close to Kherkata forest, most of the villagers are farmers. "Incidents of elephant depredation have been reported earlier from the village. There are reports that some villagers put up illegal power fences to deter elephants from entering the area. We will soon conduct an awareness drive," Layak said.
V.K. Yadav, the principal chief conservator of forests (wildlife) of the state, said they plan to revive the awareness campaign to deter people from using illegal power fences which can prove fatal for elephants. "We will campaign in villages located on the fringes of wild animal habitats and in tea gardens," he said.