Electrocution whiff in jumbo death in Alipurduar
According to sources, the 'makna' was found dead in the Dalmore tea garden located close to the Dalgaon forest near Birpara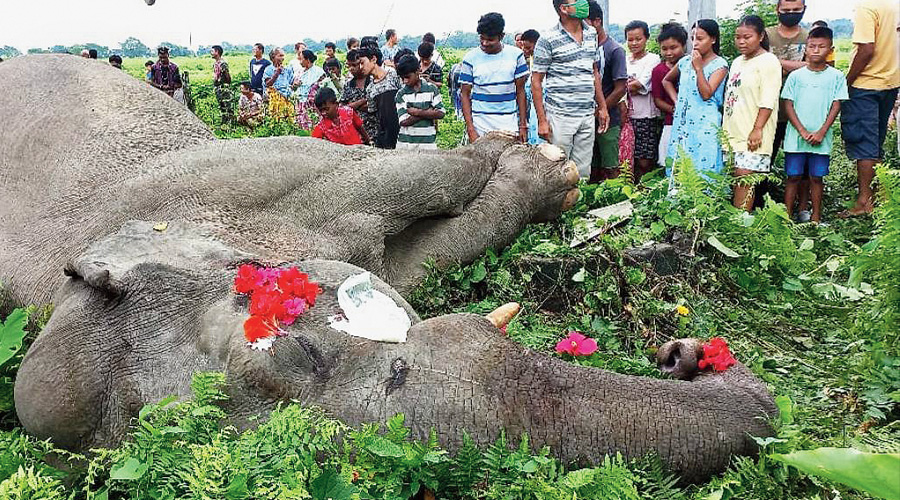 The incident has made wildlife conservationists react.
Telegraph picture
---
Alipurduar
|
Published 17.06.21, 02:54 AM
|
---
A wild adult elephant died due to suspected electrocution at a tea estate in Alipurduar district on Tuesday night.
Sources in the state forest department said the "makna" — male without tusks — was found dead in the Dalmore tea garden located close to the Dalgaon forest near Birpara.
On Wednesday morning, some inhabitants of the garden spotted the carcass near an electric pole and informed foresters.
"Preliminary probe revealed that the elephant died of electrocution. The carcass of the jumbo was lying close to an electric pole that is part of an 11KV power transmission line of the garden. We are still waiting for the autopsy report to confirm the cause of the death," said Mridul Jaiswal, the divisional forest officer of Jalpaiguri forest division.
Another forest official said: "It seems like the animal either touched the pole or got electrocuted while stepping on the ground that is suspected to have got electrified." 
The incident has made wildlife conservationists react. 
Animesh Bose, the coordinator of Siliguribased Himalayan Nature & Adventure Foundation, said eight elephants had died of electrocution in north Bengal last year. "After the incidents, six cells, including foresters, policemen, representatives of panchayats and NGOs and officers of WBSEDCL were formed to check such incidents. These cells should be activated immediately," Bose added.
Murder
A resident of Kilkott tea estate in Matialli block of Jalpaiguri district has been arrested for allegedly killing his younger brother on Wednesday, following an altercation over sharing meat.
Sources said Sunil Oraon hacked Anil Oraon, 38, with a sharp weapon during a scuffle over sharing meat and fled the area. Anil died on the spot.
Police said Sunil was arrested from an adjoining locality and a probe was on.
Additional reporting by our Jalpaiguri correspondent