Earthmovers become political tools in the hills
Politicians started to use the equipment even before monsoon set in this year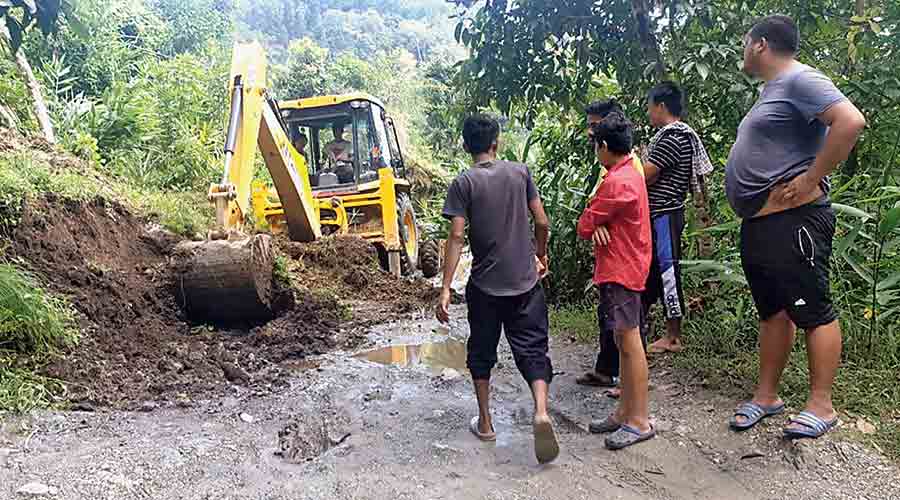 ---
Darjeeling
|
Published 23.10.21, 12:17 AM
|
---
In this season of rains and landslides, earthmovers have become the most sought-after equipment for politicians to win over hearts in the hills.
Ajoy Edwards, who has publicly announced his decision to float a new political party, was the first to envision the importance of this equipment when he started to use earthmovers even before monsoon set in this year.
With the equipment's impact being felt strongly across the hills, Anit Thapa, president of the fledgling Bharatiya Gorkha Prajatantrik Morcha (BGPM), Bimal Gurung, president, Gorkha Janmukti Morcha (GJM) and Binay Tamang, who is also planning to start the "third chapter" of his political career, have followed suit in recent days.
"We are deploying three earthmovers right now. We have bought two and have hired one," said Edwards.
On Friday, Tamang deployed an earthmover to clear a roadblock at Risheehat area in Darjeeling.
"In the last few days, we have cleared road blockades in six locations," said Tamang.
The Thapa camp claims they, too, are working non-stop in the past few days.
"We have cleared more than 20 spots using JCBs," said Keshav Raj Pokhrel, spokesman, BGPM.
"Of course, we have pressed earthmovers into service," said Roshan Giri, general secretary, GJM.
A district official said that any help for public convenience was always welcome.