Dilip Dom had a dream to see daughter Manisha in the doctor's white coat. On Sunday afternoon, the 45-year-old taxi driver was waiting for her body to arrive wrapped in a white sheet.
"I had to pay a heavy price for my dream to see her as a doctor… I lost her and my wife," said Dilip as he waited for the bodies of daughter Manisha Kumari Supan Dom, 21, and wife Meena Dom to arrive at the family's home in Durgapur town's Ranchi Colony.
Neighbours gathered at the single-storey tiled-roof house recounted how Dilip — who earns Rs 17,000 to Rs 15,000 a month — had tried his best to educate his three daughters and a son by working overtime.
"I am a school dropout but I struggled to give proper education to all my children. Manisha wanted to become a doctor but everything has ended now," said Dilip, breaking down.
Manisha's brother Bikash is a BTech and works with a private cellphone firm in Calcutta. Dilip's two other daughters completed their graduation and are married.
Manisha, the neighbours said, was among the brightest of the siblings. When the mortal remains of Manisha and Meena arrived at Durgapur station, residents of Ranchi Colony, a slum area, were upset seeing the two bodies placed in one coffin.
"Manisha was our pride and the first girl from Ranchi Colony to appear for medical entrance exams and achieve a position where she could hope to take admission in a medical college. How could the railways send two bodies in one coffin? We demand compensation and a job for the family," one neighbour said.
A rail official said an inquiry would be conducted and the other demands "looked into".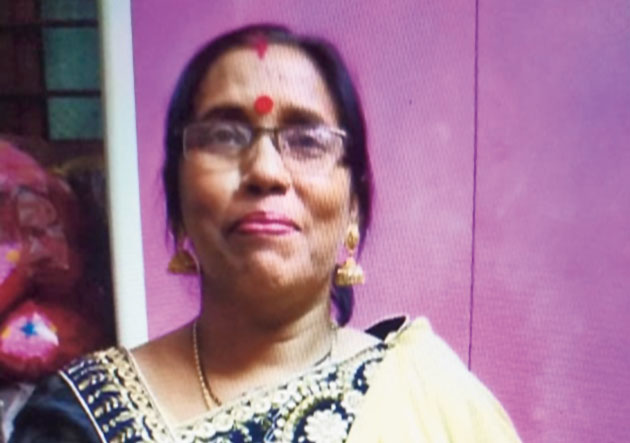 Meena Dom Telegraph picture
Manisha, her mother and a relative, Akash Mallick, were headed to Kota to explore possibilities of admission in a medical college in the Rajasthan town. They died after falling off the Hazrat Nizamuddin-Thiruvananthapuram Superfast Express during a scuffle with robbers near Vrindavan in Uttar Pradesh early on Saturday.
Manisha had ranked 802 (SC category) and 5,000 in the general category in the National Eligibility cum Entrance Test (NEET) this year.
"My daughter wanted to pursue MBBS but she was not getting admission in any government medical college in Bengal because of her ranking in the exam. I am a poor driver and cannot afford her studies in a private medical college," said Dilip.
"My daughter had said that if she did not get admission there (Kota), she would have enrolled at a training centre in Kota and prepared (for the entrance) next year," Dilip added.
According to Akash, within an hour of the train leaving Delhi around 2.50am on Saturday, the robbers, who had boarded posing as passengers, brandished weapons and went on a looting spree. "They snatched a bag and gold chain from Meena. Manisha tried to resist. A scuffle broke out when the train was gradually slowing down as a station was approaching," said Akash.
The robbers were trying to get off the train near Vrindavan. Meena was clinging to her bag. "During the scuffle, they (Meena and the robbers) reached near the door. Meena fell off the train. Seeing her mother fall off, Manisha jumped out to save her," said Akash.
Other passengers pulled the chain but the robbers escaped under the cover of darkness. "The miscreants were on a looting spree in the compartment. We were shouting but no Railway Protection Force (RPF) personnel arrived to save us," said Akash.
Sources said at least three constables and an officer of the RPF were supposed to escort long-distance trains at night. "We have set up an inquiry committee on the allegation of security lapse. The victim's family will be compensated by the railways under the rules," said a senior official of North Central Railway in Uttar Pradesh.
In Durgapur, local Trinamul councillor Sushmita Bhuin described the incident as "shocking" and blamed the railways. "The railways do not bother about the safety of passengers and Manisha, who was an MBBS aspirant, and her mother had to pay with their lives," Bhuin said.
Manisha and the others had left Durgapur on Friday for Delhi on way to Kota. They planned to spend some time at her elder sister's home in Delhi before leaving for Kota.