Diwali gift for manual labourer in Bengal: a rebuilt home
Members of the Santipur Purnima Milani Sangha were able to garner Rs 25,000 by redirecting fireworks expenditures, and instead procured bamboo and corrugated metal to reconstruct Pramanik's residence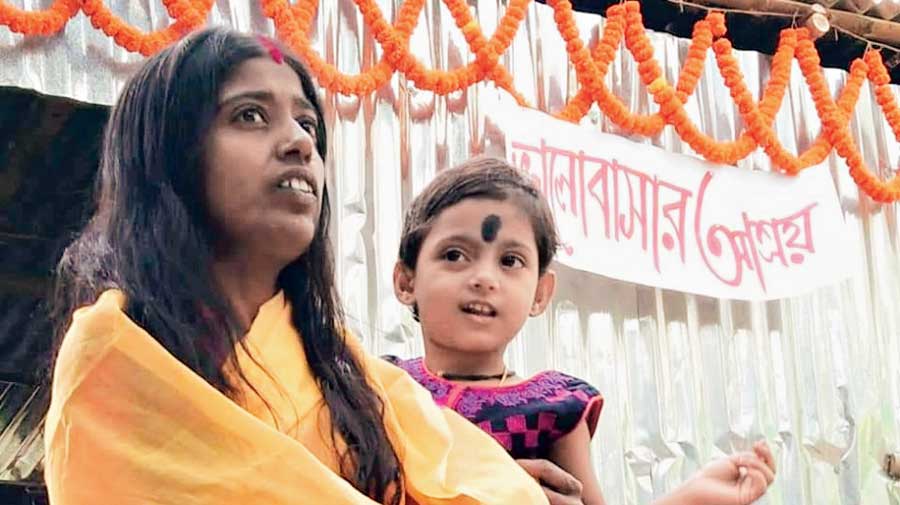 ---
|
Santipur
|
Published 18.11.20, 12:15 AM
---
For the past six months, 42-year-old Babla Pramanik has been living under a tarpaulin shed with his wife Pinki and three-year-old daughter.
The manual labourer, who is a known hand in the Haripur area here for his pandal-building expertise during the pujas, was rendered homeless in late May this year when Cyclone Amphan tore his house to shreds.
This Diwali, amid a festival of lights stifled by pandemic prudence, youths and Good Samaritans from the area channelled their regular puja efforts into building a new home for Pramanik's family. Members of the Santipur Purnima Milani Sangha were able to garner Rs 25,000 by redirecting fireworks expenditures, and instead procured bamboo and corrugated metal to rebuild Pramanik's home to give him " new beginning".
"I am speechless. I have had no work since March and have been wracked with worry. This is a priceless gesture," said Pramanik, who was handed over the new home by Sangha members on Tuesday afternoon. Police officer Raja Sarkar was also present at the event, and handed over winter garments and dry food to the family, too.
"This is truly a fresh beginning. I could not have imagined such a gesture, let alone do it myself," said Pramanik. "The hopeless situation compelled my wife into working as a domestic help recently, but the income was too meagre to even buy enough food. The last six months have almost evaporated for me now. I am truly grateful," he added.
Members of the Santipur Purnima Milani Sangha said they were moved to action on behalf of the family upon hearing of their plight recently.
"We conduct winter clothes drives a few weeks before Diwali every year. That is when we came to know about this family, and were shocked to see an infant sleeping under an open sky of rain. We quickly came to a collective decision that we must do something for them," said club secretary Biswajit Roy.
"We eventually decided to save the money that we usually incur for buying crackers and decorative lights during Diwali. We found that the approximate cost to rebuild the house using bamboo and corrugated sheet could be covered through the saved fund. We eventually took up the job earlier this month," added Roy.
Babla's wife Pinki added: "It might be a renovated home, but to me, it is actually a new one. It provided me with a new lease of life today. I am grateful to all who made this possible and who gave me immense happiness."
Appreciating the endeavour, local gram panchayat pradhan Sova Mondal Sarkar said: "It is a fantastic job undertaken by the club members. If more people and clubs come up to extend support, many families could be rescued from such distress."