Jalpaiguri: Dharanipur tea garden reopens after 20 years
Workers welcome minister, other Trinamul leaders as well as new proprietors Shambhu Sha and Ganesh Prasad with a traditional tribal dance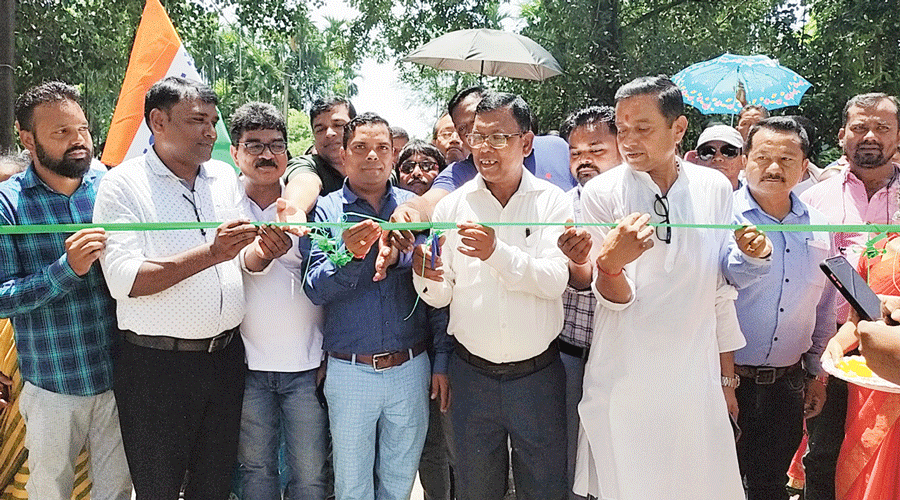 Minister Bulu Chik Baraik (wearing spectacles) during the reopening of the Dharanipur tea garden on Friday.
The Telegraph
---
Jalpaiguri
|
Published 06.08.22, 01:36 AM
|
---
Dharanipur tea garden, which had remained closed for nearly two decades, reopened on Friday.
This tea garden under Nagrakata block of Jalpaiguri is some 65km away from the district headquarters.
"We are happy that Dharanipur tea garden reopened today (Friday) after almost 20 years. The other two closed gardens, Surendra Nagar and Red Bank, will also reopen on August 11," said Bulu Chik Baraik, the minister of state for backward classes' welfare and tribal development.
The workers of the tea garden welcomed the minister, other Trinamul leaders as well as the new garden proprietors Shambhu Sha and Ganesh Prasad with a traditional tribal dance. The earlier owners had reportedly abandoned the garden after failing to pay wages.
However, the efforts to reopen another tea garden in the district, the Raipur tea garden, remained inconclusive as the garden management did not attend a tripartite meeting convened by Jalpaiguri district magistrate Moumita Godara Basu on Friday.
The lease of the garden is in the name of a businessman Gouri Shankar.
"The management of Raipur left the garden in September 2018. The labour department officially declared the tea garden closed in January 2019 and since then 558 workers of the garden are jobless," an administrative source said.
The district magistrate had also served a showcause notice to the management of Raipur garden, asking him to explain why no initiative was being taken to reopen the garden. A source, however, said the garden management had appealed to the administration to provide some more time as he reportedly requires Rs 35 crore to clear all dues.
"We have been able to reopen almost all closed tea gardens in the district. We will convene a meeting and make efforts to reopen the Raipur garden as early as possible," the district magistrate said.
Sources said that the meeting is likely to be held next month.
Swapan Sarkar, a leader of Trinamul affiliated tea workers union, hoped that the garden would reopen soon.