Dhankhar praises Jadavpur students
Students 'gave highest respect to their chancellor'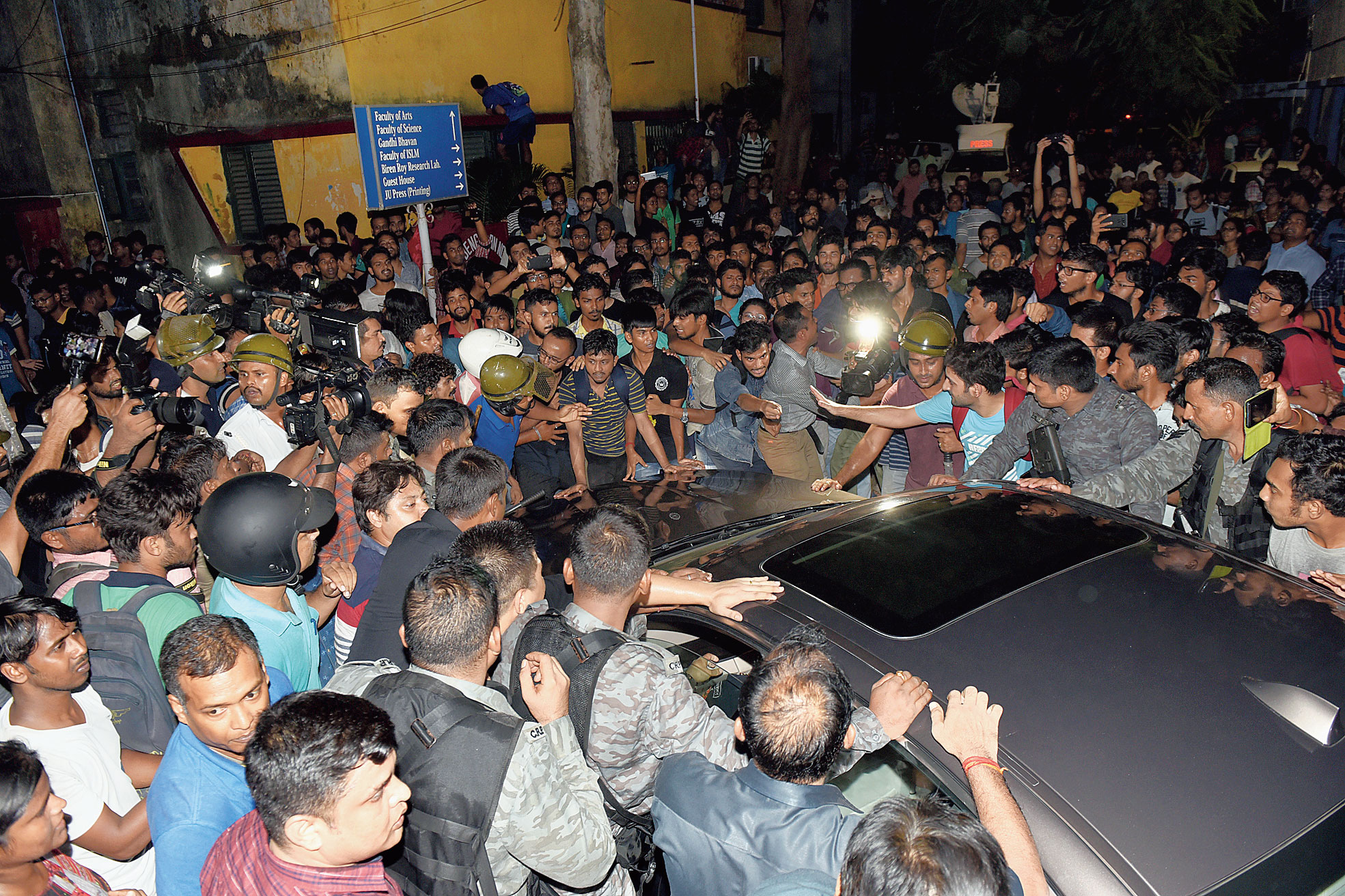 Governor Jagdeep Dhankhar and Union minister Babul Supriyo (in car) try to leave Jadavpur University as a crowd surrounds the vehicle at 7.14pm on Thursday.
Picture by Sanat Kr Sinha
---
Calcutta
|
Published 24.09.19, 11:42 PM
|
---
Governor Jagdeep Dhankhar said on Tuesday students at Jadavpur University "gave highest respect to their chancellor" when he went there last Thursday as a "last measure to connect with the students".
The governor, also chancellor of JU, had gone to the campus when Union minister Babul Supriyo was locked in a stand-off with students, who had barricaded him for several hours.
"I went as a last measure to connect with the students and I am happy the students gave highest respect to their chancellor.… Right from the time that I entered Jadavpur…. When I greeted them (he gestured a namaskar while speaking), my greeting was responded. And I said my car will move once they sanctify, because I have to connect with them," the governor said at a programme in Siliguri.
On Thursday, after emerging from the siege, the governor had said: "As a chancellor, I'm required to do certain things. I decided to go to the campus after I learnt that the vice-chancellor and the registrar had left the campus while the Union minister was in unlawful custody."
On the campus, the governor was caught in the siege for more than an hour, till he was allowed to leave with Supriyo.
The governor's advice was that the "universities must be left free" so that "they can govern themselves".
"They must not act as a department of the government or extension of Raj Bhavan. No one should impose on the university their will," he said.
Dhankhar outlined a "four-fold approach" to all universities. He will talk to whoever is in authority — the vice-chancellor, pro-vice-chancellor and registrar — and also try to "seek guidance" from former vice-chancellors.
"Then I will come to the faculty, then I will come to the students. And I am sure once that is there, it will be like MRI of a patient…. There is no problem which cannot be solved but a problem in educational institutions has to be solved, must be solved. I have gone there, I have done it under the power that I have under the statute," he said.
Dhankhar also said he had spoken to "Mamata didi four times" on the day of the siege at JU.
"I talked to Mamata didi four times but what I talk to her or what she talked to me is a matter which I would not divulge," he said.