Deocha-Pachami coal mine project protesters 'beaten up'
The forum members said a group of armed youths led by Trinamul leader Babu Das came to the hotel where the activists were staying and asked them to leave the place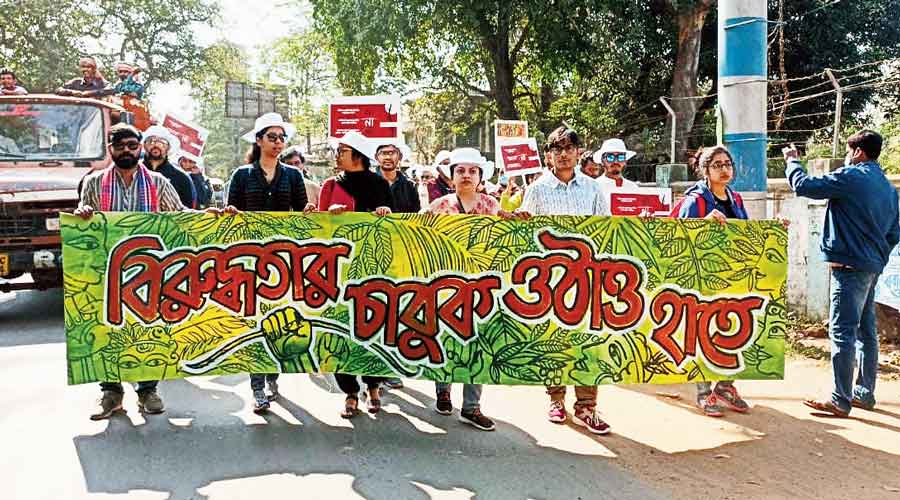 The rally by the People's Forum Against Politics of Hatred in Bolpur.
Amarnath Dutta
---
Bolpur(Birbhum)
|
Published 20.02.22, 01:53 AM
|
---
A group of around 35 members of the Left-leaning People's Forum Against Politics of Hatred, including a few artists and cultural activists opposed to the Deocha-Pachami coal mine project, were allegedly beaten up and driven away from a hotel in Santiniketan on Saturday.
The group had reached Bolpur on Friday and was supposed to march towards Deocha-Pachami where the forum was scheduled to meet villagers in the project area on February 21.
A protest rally organised by the forum in Bolpur on Friday evening was stopped by the police for not having necessary permission.
On Saturday morning, the forum members said, a group of armed youths led by Trinamul leader Babu Das came to the hotel where the activists were staying and asked them to leave the place.
"Local Trinamul leader Babu Das assaulted our activists and forced them to leave the hotel. They followed them till Bolpur station and stood there till they caught a train to Calcutta. Despite the attack by ruling party goons, we will hold our programme at Deocha-Pachami on International Mother Language Day on February 21," said Sankar Maitra, a member of the forum.
"They identified themselves as Trinamul workers. Even women members were threatened and verbally abused," said a forum member at Bolpur station.
Das refuted the charge and claimed that he was suffering from Covid-19.
Minister and Trinamul MLA from Bolpur, Chandranath Sinha, said the tribal people of Birbhum were angry with the outsiders who were instigating local people in Deocha-Pachami to oppose the coal-mine project.
"The people of Deocha-Pachami want the coal mine but CPM-backed outsiders are coming here to instigate local people against it. The tribals had blocked roads as they don't want such instigators from Calcutta," said Sinha.
CPM district secretary Gautam Ghosh said: "It was a shameful incident to beat up cultural people who came from Calcutta. Everyone has the right to protest in a democratic way."