Deocha coal mine protest back after two-day gap
The Birbhum Jamee, Jeebon, Jeebika O Prakriti Bachao Mahasabha had been leading the protest against the proposed mine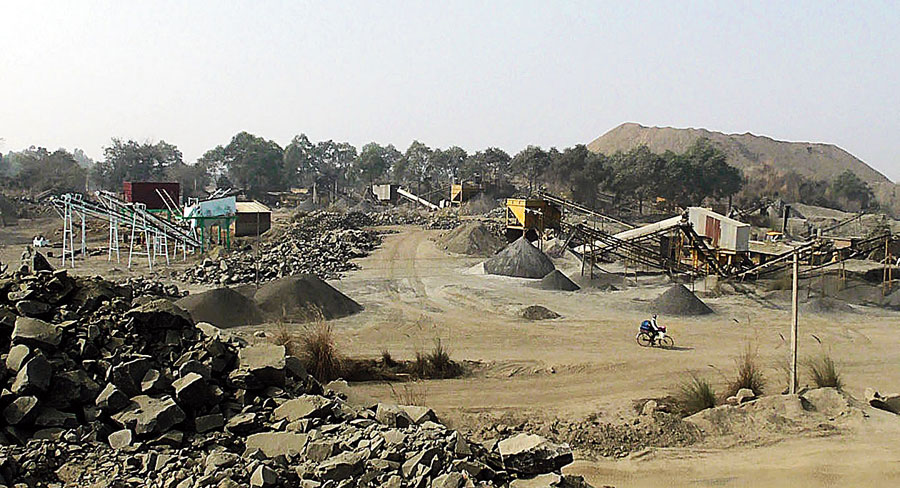 Deocha Pachami site.
File Picture
---
Calcutta
|
Published 18.04.22, 02:31 AM
|
---
Hundreds of tribal people against the proposed DeochaPachami coal mine project on Sunday resumed  their indefinite protest that had been put on hold for the past two days after a nineme¬mber team of protesters met chief minister Mamata Banerjee at Nabanna on April 13.
The Birbhum Jamee, Jeebon, Jeebika O Prakriti Bachao Mahasabha, a resistance group comprising tribal people of over 30 villages of Deocha Pachami area, had been leading the protest against the proposed mine from February last week, after police arrested some Calcuttabased activists, including Leftist economist Prasenjit Bose, who had stood by them.
On April 14, some Mahasabha members had a change of heart after meeting Mamata the day before, as she told them she would not force the project on villagers if  most of them were unwilling but nevertheless it would be exe¬cuted on government land.
On April 15 and 16, the protest was paused.
On Sunday, hundreds of Mahasabha members wanted the protest to resume.
Dinanath Chonre, a leader of the Mahasabha, said that Mamata had to give them in writing that she would scrap the coal mine project as soon as possible and only then would their protest end.
"We don't trust her verbal assurance. We want every¬thing in writing from the chief minister," said Chonre.
Sources said Mamata had convened the April 13 meeting for a resolution to the impasse over the proposed coal mine ahead of the Bengal Global Business Summit scheduled on April 20 and 21.
A delegation of BJP MLAs headed by Suvendu Adhikari was scheduled to visit the coal mine site and meet the protest¬ers on April 20 to coincide with the summit, said sources.
Bose welcomed the decision of the Mahasabha members who vowed to continue their movement.
"The attempt by the chief minister to dissolve the protest before the summit was foiled. The protest will gain more strength in the coming days. I welcome the decision of the Mahasabha members to continue with their protest," said Bose.