Daughter-in-law, granddaughter among three held for murder of Garcha woman
A dispute over ownership of a flat and a disagreement over access to family finances led to the murder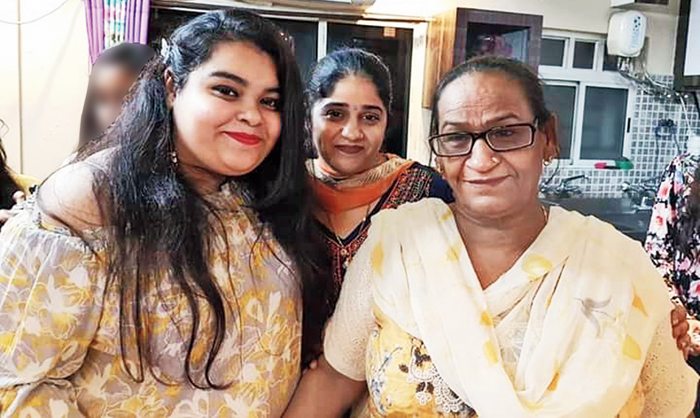 ---
|
Calcutta
|
Published 13.12.19, 09:56 PM
---
The eldest daughter-in-law and granddaughter of the 65-year-old lady, who was found murdered in her Garcha house on Thursday, was arrested on Friday along with a 22-year-old youth, police said.
While Urmila Devi's 38-year-old daughter-in-law Dimple Jund and 18-year-old granddaughter Kanika Jund were arrested from Calcutta, Dimple's friend Saurav Puri, 22, was picked up from Punjab in connection with the murder.
A dispute over ownership of a flat on Ritchie Road and Dimple's alleged disagreement with her mother-in-law over access to their family finances led to the murder, the police said.
Urmila was found murdered in her Garcha First Lane rented house with her head severed from the body that had two dozen stab wounds in the chest and abdomen. She used to stay with her youngest son, who, along with his family, had gone to Cooch Behar to attend a marriage when the incident took place.
The landlord of Urmila's rented house had told the police that he heard the elderly woman cry out her elder granddaughter's name around 12.20am on Thursday. He had also heard the noise of banging of the door.
Dimple, the family's eldest daughter-in-law, had lost her husband Mandeep five years ago, while the couple's elder daughter Kanika, who is known as Gudiya in the neighbourhood, is a student of a school near Ritchie Road, the police said.
A police officer said a team of cops from the city nabbed Saurav, who lives in Punjab, from Nabha in the northern state's Patiala district. Preliminary investigation by the police suggested that he had killed the woman and beheaded her early on Thursday morning.
"The granddaughter and a man, who is the prime executor of the murder, were present at the scene of crime. The daughter-in-law was not there. But we have evidence that suggests that they had plotted the murder one month ago," said joint commissioner (crime) Murlidhar Sharma. They had deliberately chosen the day as Urmila would be alone at home when her youngest son and his family was away at Cooch Behar, the police said.
The police said Urmila's eldest son Mandeep and youngest son Balraj used to run a business near New Alipore. After the death of Mandeep, his family was allotted a fixed share as their monthly income. "Dimple was unhappy about this. She wanted to increase her share. Moreover, she wanted full ownership of their family flat at Ritchie Road that was jointly owned by Mandeep and Balraj," Sharma said.
The flat is situated on the fourth floor of a building on 40/1A, Hazra Road near Ritchie Road.
An officer of the homicide department in the detective department said Dimple had confessed to the police that she was very upset with her mother-in-law because she did not give her proper access to a bank locker that was jointly owned by her and Urmila.
The preliminary post-mortem report had said that she was killed sometime between 12.10am and 1.30am. The food she had for dinner was found partially digested in her stomach. All the injuries on her body were made with sharp weapon, the police said.
Dimple has also confessed to have mixed sleeping pills in the dinner she had served to her mother-in-law, sources in Lalbazar said. The cops said when Balraj's family was away, food for Urmila used to come from Dimple's home. On the night of the incident, the food was delivered to Urmila by Kanika and her younger sister.
According to a neighbour, she saw Kanika and her younger sister leave Urmila's house after delivering the dinner. The police said Kanika had returned to the spot with Saurav after sometime to allegedly execute the plan while Dimple was at home.
Neighbours at Garcha Road said Urmila's death was shocking, but the arrest of Dimple and Kanika had shocked them even more.
"I am still finding it difficult to believe. Gudiya has grown up in front of our eyes. She is so bubbly and looked so innocent. We could never imagine she could be part of something like this," said Urmila's next-door neighbour Debolina Roy.
Neighbours at Garcha Road recalled on Friday that Dimple and her daughter were inconsolable as they sat near Urmila's body on Thursday and one of them had vomited while crying.
Both would be produced before the court on Saturday. Saurav would be brought to Calcutta on transit remand.