Darjeeling couple buried under debris after landslide hits their house
Darjeeling received around 172mm of rainfall in the past 24 hours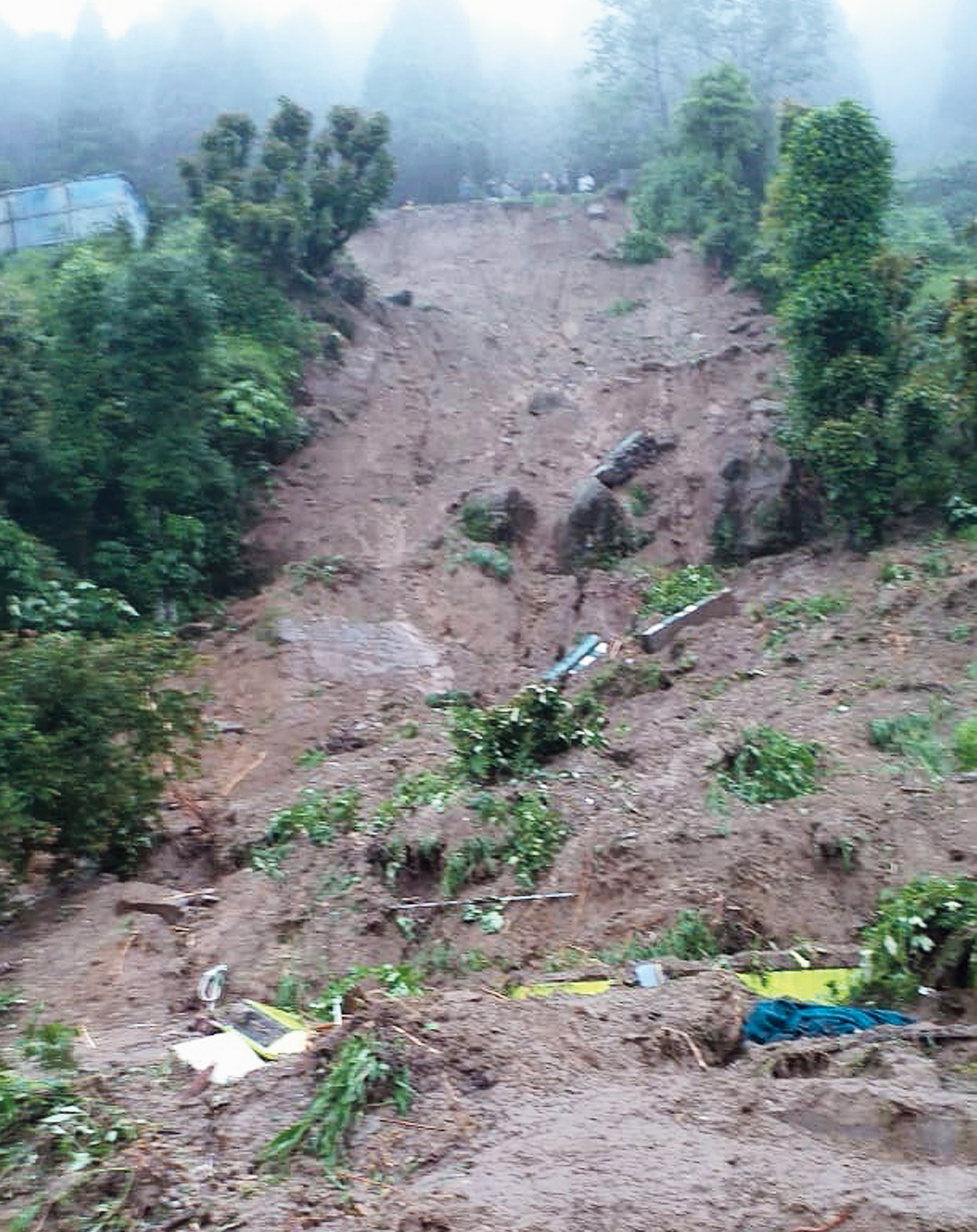 ---
---
The first major rain of the current monsoon triggered landslides across the Darjeeling hills, burying a couple under debris when their house was destroyed at Pubung Fatak early on Monday morning.
Kumar Lopchan, 60, and his wife Bal Kumari, 55, were under the debris for more than three hours after a landslide had hit their house around 1.45am on Monday. Pubung Fatak is 12km from here.
The duo were declared brought dead at Darjeeling district hospital.
Anil Tamang, a relative and a next-door-neighbour, was the first to reach the spot. He alleged that a road being constructed by the Public Works Department had triggered the landslide. "The PWD had dug the hills for a road about two-to-three months ago and it triggered the landslide," said Tamang, whose house was saved by a few feet.
Deepap Priya P, district magistrate of Darjeeling, however, sought to refute the allegation. "That was not the reason. We, however, held a meeting with all engineers and instructed them to take precautions," said Priya P.
Darjeeling received around 172mm of rainfall in the past 24 hours.
The India Meteorological Department issued a red alert for the hills on Tuesday and an orange alert for Wednesday.
Torrential rain through the night breached a number of roads in the hills. NH10 that connects Siliguri with Sikkim was open to only one-way traffic at Sethi Jhora through the day.
The house of Bishnu Maya Sherpa was damaged by an uprooted tree at Goskhan line in Lava in Kalimpong district. The home of Sabir Rai was destroyed in ward 4 of Kalimpong municipality.
Landslides were also reported from Langurdang in Relling Bijanbari. The road between Jorebunglow and Pulbazar was blocked during the day.
The road to Sidrabong in Darjeeling and Aaapbotey Mineral Spring was disrupted. Local people said the rains also exposed shoddy road construction work in the Singtom tea garden in Darjeeling. "A wall constructed two months back was swept away," said a local resident.
The Darjeeling administration has set up a control room. "The number of the control room is 0354-2255749," said a district official.
Asked if the district authorities were looking at issuing daily updates on blocked roads for the convenience of travellers, district magistrate Priya P said: "We had not thought about it but since this issue has been raised, we will look into it."