Danish students teach in Sunderbans
They plan to spend six months at Joygopalpur village in the Sunderbans, doing voluntary work and gathering experience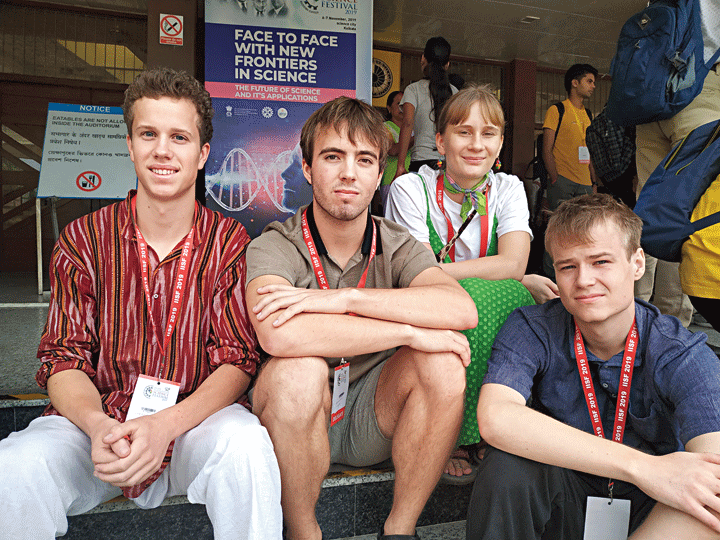 The students from Denmark at the science festival at Science City on Thursday
Telegraph picture
---
Calcutta
|
Published 07.11.19, 09:03 PM
|
---
A group of school students from Denmark are helping children of a Sunderbans village learn English.
Christian Witt, Rasmus Quist Sckerl and Jeppe Pape Mueller from Funen, and Nanna Emille Vestergaar from Jugtland are taking a break from studies before joining university.
They plan to spend six months at Joygopalpur village in the Sunderbans, doing voluntary work and gathering experience.
"It is very common in Denmark to take a gap year before joining university. We go out and get some experience instead of chasing school studies. It is important to get a perspective and take the right decision regarding what we want to study and do with our lives. We are very privileged to get this opportunity for personal development," said Rasmus, whose father had also travelled in between his studies.
Back in Denmark, Jeppe had seen some children from Vivekananda Siksha Niketan of Joygopalpur perform at his gymnasium. "It was a beautiful dance at an international cultural programme," said Jeppe, who travelled to the Sunderbans in February this year for two weeks as part of an exchange programme.
He decided to return and this time he got his friends along for a longer stay. "I got in touch with the organiser and asked him if we could do some voluntary service in the Sunderbans," Jeppe said.
Soon things started rolling and Jeppe and his friends reached Joygopalpur on October 1.
"We were surprised to see how well the Joygopalpur Gram Vikas Kendra was working with the local people in such a remote area. There's a lot of development work happening in the village," Nanna said.
The group is helping teach English to students at Vivekananda Siksha Niketan. "We are also training the teachers and the administrative personnel," said Christian.
The group was at Science City on Thursday to attend the India International Science Festival."We travelled with the students today to this science fair and it's quite interesting," Christian said.
What was the most difficult thing to adapt to in the Sunderbans? "It's the weather," came the reply in chorus. "When we arrived it was very hot. Now we have acclimatised a bit," Christian added.
And what about the food? "We have food from the local kitchen. It's a lot different but we have had no issues," Nanna said.
What has made their stay worthwhile "is the way people have accepted us".