Cyclone Yaas: Digha repairs pick pace after CM's prod
The DSDA began the day's efforts with clean-up drives and repairs, including putting back electricity poles and filling up craters on the road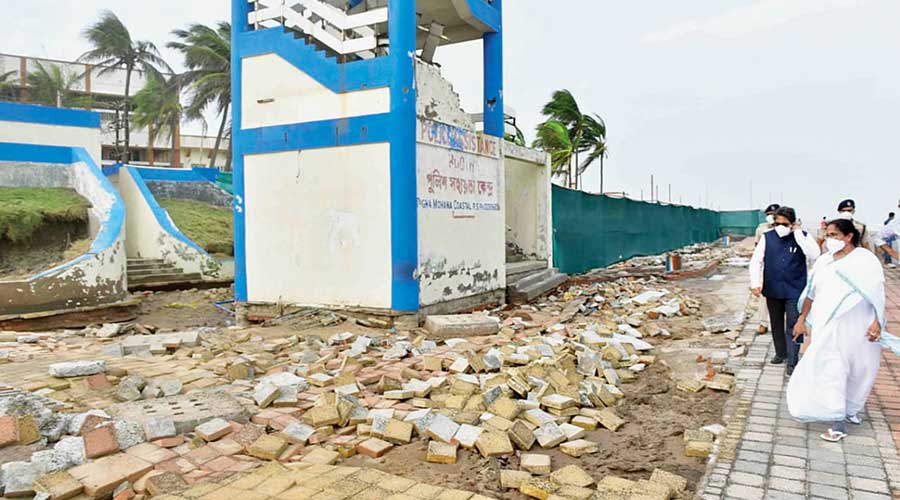 ---
Digha
|
Published 30.05.21, 02:04 AM
|
---
Repair and clean-up drives began in East Midnapore's Digha early on Saturday, spearheaded by the Digha Sankarpur Development Authority (DSDA) in less than a day after chief minister Mamata Banerjee held an administrative meeting in the tourist town and made clear her dismay about the devastation and pulled up officials for faltering on projects.
The DSDA began the day's efforts with clean-up drives and repairs, including putting back electricity poles and filling up craters on the road caused by flooding triggered by Cyclone Yaas.
"There are much larger projects that need to be looked into immediately but that will take a couple of days after discussion with competent authorities," said DSDA vice-chairman Tarun Jena.
"We are going to call a meeting soon in order to draft requisitions for such projects so we can submit them to the state government," he added.
On Friday, the chief minister had voiced her dismay at the apparent dilly-dallying in completing three bridges constituting the Marine Drive Highway.
Sources on Saturday said the public works department had been asked to look into the delay in implementing the projects this week. The order comes after the chief minister on Friday asked chief secretary Alapan Bandyopadhyay to be the interim head of DSDA in place of incumbent Jyotirmoy Kar.
The sources said beautification efforts to "restore Digha's former glory", had been assigned to the DSDA and reconstruction of guard walls had been assigned to the irrigation department.
After a brief review of the initial repairs on Saturday morning, the chief minister left for Calcutta by helicopter around 1pm. Before heading for Calcutta, Mamata spoke to Ramnagar MLA and fisheries minister Akhil Giri in the presence of Bandyopadhyay.
Speaking to reporters afterwards Mamata left for Calcutta, Giri said DSDA officials had understood the chief minister's exhortation to restore Digha's glory on a "war footing".
"I was the DSDA chairman for quite some time, and the responsibility is the chief secretary's now. We are not dithering on the repairs. Panchayat officials are also in the know of what is going on. Tourists are going to return after the lockdown and the town needs to be prepared," he said and added that on his way to Calcutta the chief minister would carry out a survey of flood-ravaged areas of Nandigram, Khejuri and Haldia.
Giri added that asked for erection of temporary guard walls along the coastline wherever demolition or severe flooding had taken place.
"There will be a high tide again on June 10 so we are working on that. We are also making the roads higher," he said.
Officials also inspected damaged shutters of vendors' stalls by the seaside.
e that had been damaged by rushing floods.
Digha hoteliers' association joint secretary Bipradas Chakraborty said he was happy with the chief minister's efforts to restore the sea resort to its former state.
"It will help our industry immensely. We have been hit badly over the past year," he said.