Cyclone blows at 50kmph in Calcutta
Bulbul triggers heavy rain, trees fall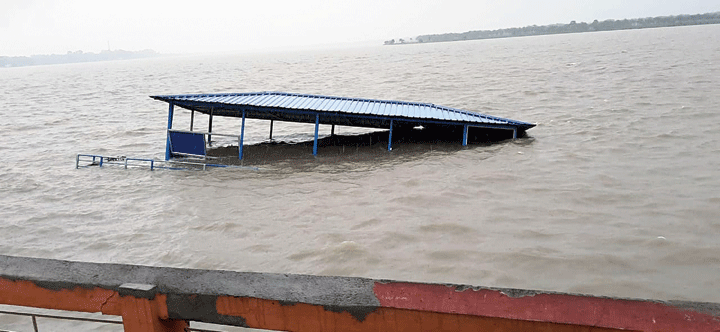 ---
|
Calcutta
|
Published 09.11.19, 08:15 PM
---
Sharp spells of rain, gusts of winds, empty roads and uprooted trees marked Calcutta's wait for Bulbul through Saturday.
Rainfall
The city received continuous rain since Friday afternoon, with the intensity increasing from Saturday morning. Between 7pm on Friday and 7pm on Saturday, Dhapa received over 140mm of rain, according to the weather-tracking website of Calcutta Municipal Corporation. Heavy rain, in Met parlance, translates to 60-200mm in 24 hours. Jora Bridge received 97mm, Joka 96mm, Ultadanga 93mm, Dum Dum 84mm and New Market 90mm, the civic body said. The sky was overcast and around 4pm, the sky over Red Road was pitch dark and cars were plying with their lights on. The rain was tipped to be heavier as Bulbul approached the coast between 8pm and 11pm, according to Met forecast. Apart from the familiar pockets of Behala Silpara and Alipore Bodyguard Lines, there were no reports of major waterlogging till Saturday evening. An under-construction floating restaurant sank in river Ichamati at Taki in North 24 Parganas because of a surge in the river on Saturday morning, said a local official.
Empty roads
Most Calcuttans chose to stay indoors on Saturday. Most schools were shut. Banks were closed since it was the second Saturday of the month. Several private offices that usually remain open on Saturday also gave away much earlier. The number of buses, app cabs and yellow taxis went considerably down as the day progressed. Major arterial roads, from Central Avenue to Diamond Harbour Road, saw very little traffic. A drive from Taratala to Alipore, that usually takes close to 40 minutes after the collapse of Majerhat bridge, took barely 15 minutes on Saturday morning.
Trees uprooted
Even before the storm made its landfall, at least six trees were uprooted in Calcutta. One of them, inside a Ballygunge club led to the death of an employee of the club, police said. Another fell on two empty cars parked on a road near Sunny Park, they added. Two more trees were uprooted on Northern Avenue in Paikpara, one at Tollygunge and one at Gobinda Khatik in Tangra, said an official of Calcutta Municipal Corporation. At more than five places, branches snapped from trees, said sources in the civic body. The windspeed increased since afternoon. By evening, winds were blowing at 40kmph in the city, said a Met official.
At Sunny Park, a large tree uprooted and fell on two cars — a Maruti Ertiga and a Hyundai i20 — around 5pm damaging both very badly.
"It's a great financial loss for us, but I would say we are fortunate that no one got hurt. My first thought was whether anyone from my family, neighbours or the security personnel of these houses here got injured. Thankfully nothing like that happened," said Priti Parasrampuria, the businesswoman who owns the damaged Ertiga.
A little later in the evening, a man who was riding a two-wheeler had a last-minute escape as he left his two-wheeler and ran away realising that a tree was toppling. "I saw some sparks and then I could see the tree falling slowly. I left behind my two-wheeler and ran away," the man said.
Airport
The airport was shut for 12 hours from 6pm on Saturday, following a nudge from the civil aviation ministry. Airport sources said the authorities had initially planned to continue operations unless the crosswinds clocked 30 nautical miles per hour (55kmph), which makes extremely difficult for flights to land. "In the evening, the crosswinds clocked 20 nautical miles per hour (37kmph). In that speed, it is not impossible but risky for flights to land. The ministry asked us not to take any risk. So, the operations were suspended," said one of them.
The airlines said passengers were sent messages about the closure but scores of passengers had turned up, alleging they were not informed. Airport sources said even after services resume on Sunday, things were likely to be chaotic. "International carriers might resume services smoothly but domestic carriers, which operate numerous flights every day, are likely to struggle to reorganise all of them," said an official.
Ferry services
Ferry services across various Hooghly ghats carrying thousands of daily commuters were suspended on Saturday. Officials of the Inland Water Transport said that the services were suspended since morning for safety of passengers travelling on choppy waters. Across various ghats in Calcutta, including Fairlie, Millennium ghat, Baranagar and Bagbazar, workers were deployed to inform those turning up in the morning that the services have been suspended. At several ghats, officials of the transport department said the jetties were cordoned off with ropes to prevent passengers from entering. In Hooghly, services were stopped at 29 ferry ghats — connecting Naihati, Jagaddal, Shyamnagar and Barrackpore of North 24 Parganas — from Saturday morning.
Control room
Mamata Banerjee monitored the control room at Nabanna to reduce the risk from Bulbul. Over 20,000 people were evacuated from coastal areas in Digha and taken to government shelters, said government officials.
Tourists were not allowed near the sea.