Nandigram 'dark' again
Week-long outage due to Cyclone Amphan reminds residents of the 2007 land agitation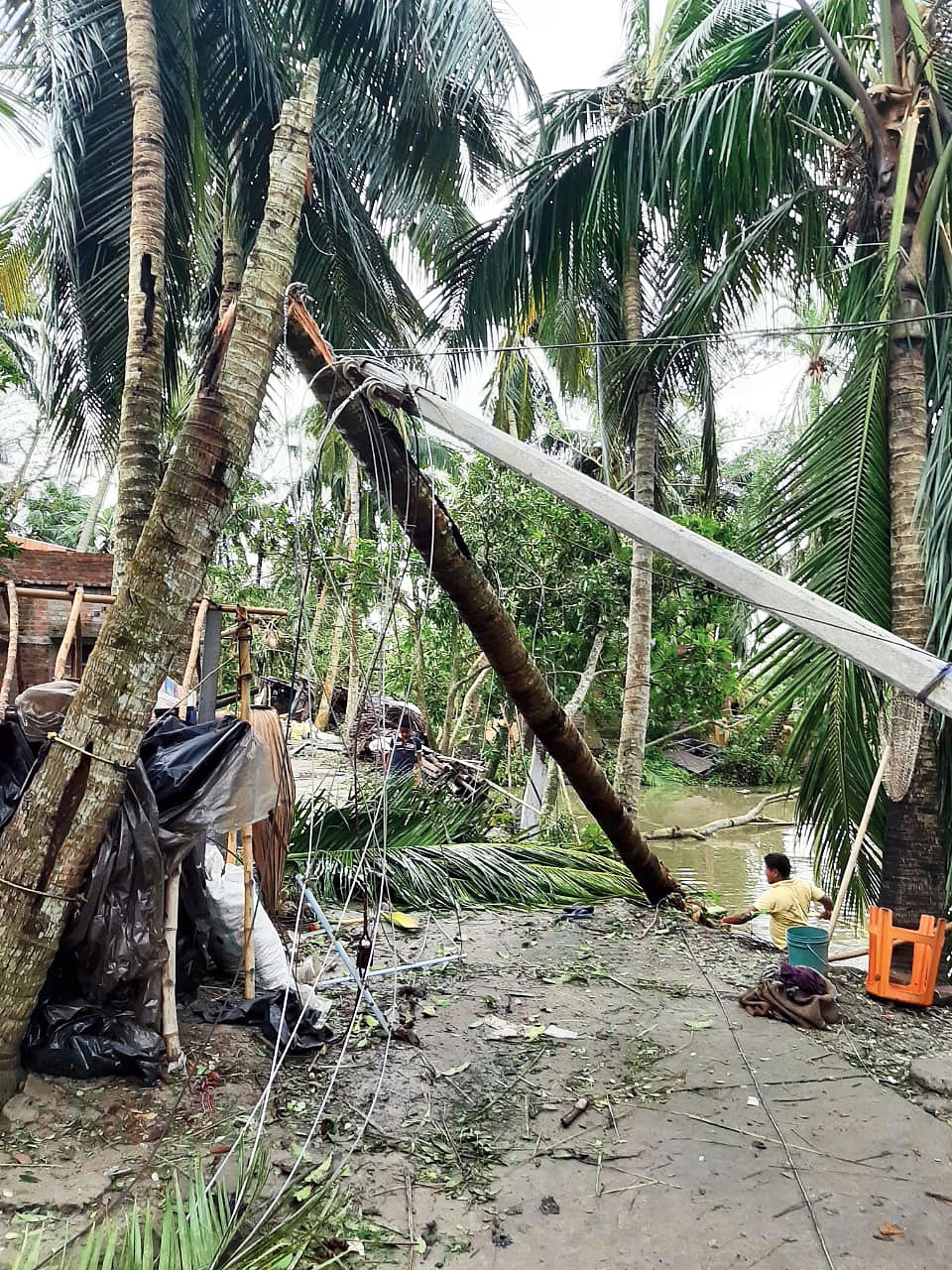 ---
---
The darkness brought about by nearly a week of outage following Cyclone Amphan has reminded residents of East Midnapore's Nandigram of the 2007 land agitation.
When Nandigram was boiling in 2007 over then Left Front government's decision to acquire agriculture land of gargantuan proportions for industry, the place was yet to be electrified. The work was in full swing for the electrification which was halted because of the anti-land acquisition movement.
On May 20, Cyclone Amphan had taken its heaviest toll on swathes of East Midnapore. Estimates say Nandigram, among the worst-hit alongside Tamluk and Haldia, is still without 95 per cent of its power connections, even though the administration had promised to restore electricity within 48 hours.
"More than 1,700 power poles were destroyed. We have managed to restore connections in a small area near the main market, which also has a hospital, police station and block office, but the rest will take more time," said an official on Wednesday.
Residents of most parts of the town still remember the most infamous component of the 2007 land agitation. The movement had led to the death of 14 villagers in police firing on March 14, 2007.
"The lack of electricity now has made us remember those times of intense physical and humanitarian hardship, when we did not have electricity. Though the causes are different this time, our physical suffering is 10 times worse because we have also lost the roofs above our heads," said farmer Subodh Das, 62, a resident of Sonachura in Nandigram.
In March 2007, Das had been struck in the arm by a police bullet.
"This time, our homes and environment have been destroyed as well," Das said, pointing to the innumerable trees uprooted in the area.
Sagar Patra, 50, an iron worker of Gangra in Nandigram, has been housed in the local kindergarten for the past seven days after losing the tin roof of his home to the storm. "My shop has been destroyed, and on the top of that, I do not have a home to sleep in," he said.
Sanjay Manna, a migrant worker, had returned from Odisha earlier this month after walking along perilous railway tracks. Manna was happy to have returned home and be able to "afford rest and food" with his family.
"The cruel irony is that I am on the street again after losing my home to the cyclone," he said on Wednesday.
Sources in the local administration as well as the electricity department declined to say conclusively when they would be able to restore power in the area. "Nandigram was devastated beyond measure by the storm. We are trying our best and are deploying new agencies in the area every day. Still, we don't know for certain as to when our efforts will be successful," said WBSEDCL regional manager Shyamal Biswas.
Panchayat samiti deputy chief Abu Taher said: "The area is damaged, several parts are beyond repair. All water pumps are non-functional. We have sent generators to a few areas but they hardly suffice for the larger population. We are unsure whether things will return to normal even in a month."