Amphan: Hurry to disburse aid incurs mistakes
Mamata's first direct admission since protests over anomalies in handing out the dole erupted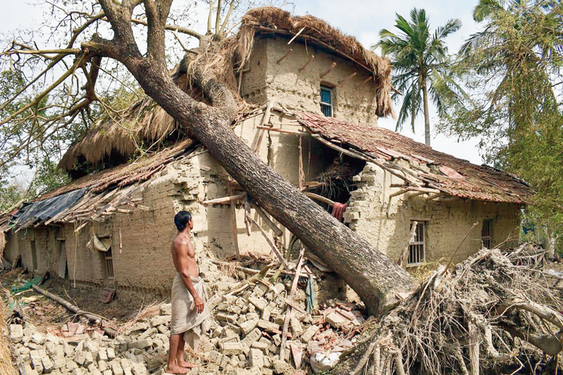 ---
---
Chief minister Mamata Banerjee on Monday said there had been a few "problems and mistakes" in distributing Amphan aid as her government wanted to help victims without wasting time, her first direct admission since protests over anomalies in handing out the home-repair dole erupted in cyclone-hit districts.
Her statement signalled her government's attempts to undo the damage caused by the alleged role of Trinamul leaders in the irregularities.
"Our government tried to send Amphan compensation to affected persons in various corners (of the state) without wasting any time and as a result there have been a few problems and mistakes in some places. But those are being rectified. I have told my officials that no affected persons would be deprived of government aid. Do not try to do politics over it," said Mamata on Monday during an interaction with representatives of the film fraternity at state secretariat Nabanna.
The Opposition questioned Mamata's "choice of words".
CPM MLA Sujan Chakraborty said: "The chief minister is downplaying the malpractices that have happened. She did not do what she had assured us in the all-party meeting. No lists (of beneficiaries) were put up in the blocks. If there was any problem with compensation, she should take legal action against those involved in the malpractices."
BJP state president Dilip Ghosh also accused the chief minister of "trying to downplay Amphan relief corruption in which her own party members are involved". "People have understood how her party colleagues looted the money meant for the poor. As the corruption became clear to everyone from politicians to media persons, she is now admitting it but by downplaying the issue," Ghosh added.
After the all-party meeting on June 24, Mamata had asked the administration to look into all complaints and ensure genuine complainants got their due. She asked officials to put up beneficiary lists for transparency, but lists put up in Nandigram last week sparked fresh protests over names of Trinamul workers and their kin. The administration backtracked on displaying the lists. Trinamul has also asked ineligible beneficiaries to return the money or face legal action.