Backlash on graded compensation rates
Bengal will offer Rs 20,000 to fully damaged and Rs 5,000 to partially damaged kutcha and pucca homes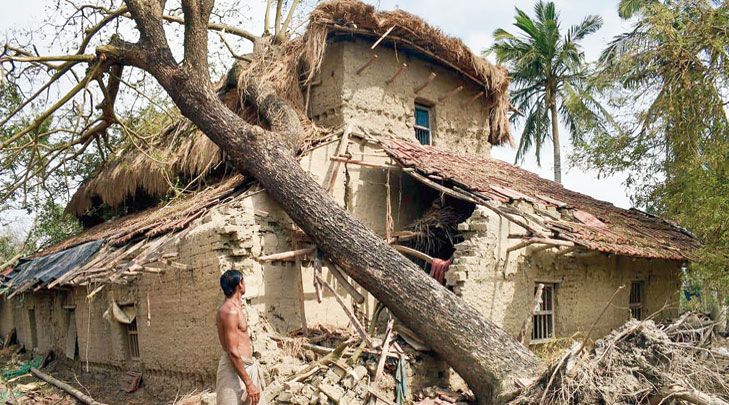 ---
---
The Bengal government has split its flat-rate Rs 20,000-for-all compensation package for those whose homes were damaged by Amphan, a move seen by many as a fresh assault on genuine victims of the May 20 cyclone.
Now, the state will offer Rs 20,000 to fully damaged and Rs 5,000 to partially damaged kutcha and pucca homes in an order issued on June 25 by the special secretary in the disaster management and civil defence department.
"Expenditure is an issue with the growing number of claimants. The main distinction now is between those whose homes were partly damaged and those whose homes were totally damaged," said a senior bureaucrat.
Tempers were already running high over Trinamul functionaries accused of favouring their kin over genuine victims. Acting fast, the ruling party launched a massive cleansing drive, including a fresh verification of beneficiary lists and asking refunds from ineligible beneficiaries.
But the split-compensation order, which has now reached the districts, including the nine Amphan-hit ones, angered people further.
In East Midnapore, where the state government so far has released Rs 198 crore for Amphan relief and 98,000 beneficiaries have taken the aid amid allegations of many Trinamul grassroots leaders amassing the compensation for themselves, their friends and relatives, the new order comes as a fresh blow.
A Nandigram villager, whose house has been damaged to a great extent in the May 20 cyclone, said he was angry and disappointed with the categorisations like "complete" and "partial" damage.
"It is a new mess. The new order leaves us again at the mercy of panchayat functionaries and government officials on how much compensation we will receive. This is nothing but cheating us of our just dues and simply delaying the whole compensation process."
A district official said that in East Midnapore alone some 1.5 lakh houses had suffered total damage while 2.5 lakh homes were partially affected by the cyclone on May 20.
Opposition leaders decried the rejig in Amphan compensation rates.
Nabarun Nayak, Tamluk district chief of the BJP, said: "We do not accept the order to split the compensation into two categories. How can the government change the compensation package midway? This is fraud. We will hit the streets against the order."
"Those genuinely affected by Amphan will suffer further with this change in compensation. We will protest against the new order," said CPM district secretary Niranjan Sihi.