At Dum Dum, winds howled at a speed of 133kmph
Sunderbans suffer double blow, mangroves and fringe villages face winds at 150kmph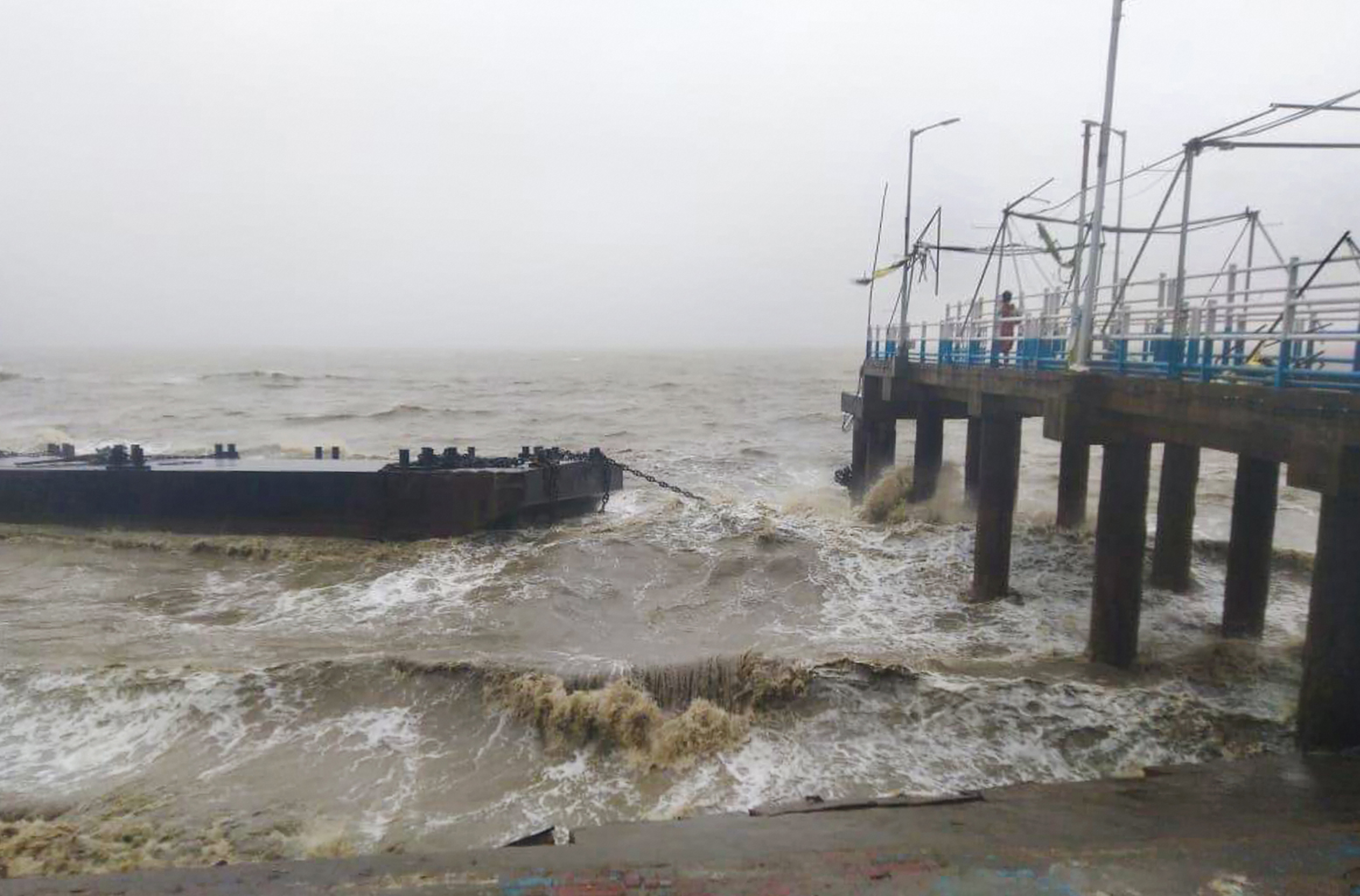 The Kachuberia jetty collapses at Bakkhali due to the impact of Cyclone Amphan, near Sunderbans area in South 24 Parganas district, on Wednesday.
(PTI)
---
Calcutta
|
Published 20.05.20, 10:01 PM
|
---
Winds howling in at over 180km an hour slammed the Bengal coast as Cyclone Amphan made landfall as a 'very severe cyclonic storm'.
At 5.52pm, the Alipore weather office recorded a wind speed of 112km an hour. At 6.47pm, it was 114kmph. At 7.20pm, Dum Dum recorded a wind speed of 133kmph.
The landfall began at 2.35pm over Sagar Island and the slow-moving monster with a diameter of 700km was still wagging its tail over the city close to midnight.
Officials confirmed at least nine deaths across south Bengal and said the figure could rise since information had still not arrived from many parts of the state. Chief minister Mamata Banerjee had earlier spoken of at least '10 to 12' deaths.
At 10.30pm, the official wind speed in Calcutta was 88.9kmph. The Calcutta Municipal Corporation said the Mominpore area had received almost 256mm of rain in the 24 hours till 11pm.
In 2009, cyclone Aila had hit the city at 103km an hour, and its impact was limited to an afternoon.
On Wednesday, the Sunderbans suffered a double blow. The mangroves and the villages dotting its fringes were battered by sustained winds of over 150kmph. And the direction of the wind drew salt water inland, which could have a devastating long-term impact.
Heavy to very heavy rain was likely till Thursday morning, accompanied by winds blowing at up to 100kmph.
The forecast for the latter half of Thursday was less grim. The Alipore weather office said: 'Generally cloudy sky with light rain.'
But it was still a red light for fishermen venturing into the sea. The 'great danger' signal continued to be hoisted at the Sagar and Hooghly ports.
'Fishermen are advised not to venture into north Bay of Bengal along and off north Odisha, West Bengal and adjoining Bangladesh coasts up to May 21,' the weatherman said.
So severe is the system that it will continue to be a cyclone till Thursday morning, a weather official said in Calcutta.
Usually, a cyclone loses steam rapidly after landfall but this one has not.
'It has continued to draw moisture from the deltaic region and retain most of its strength,' the official said.