10,000 homeless as wave wrecks dam
Farmland, fish ponds suffer damage at Rupmari panchayat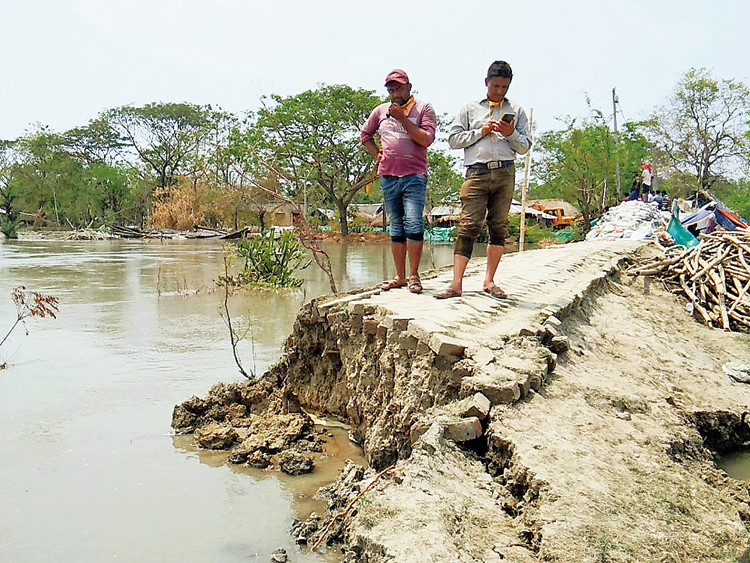 ---
Hingalganj
|
Published 08.06.20, 09:25 PM
|
---
At least 10,000 people of two gram panchayat areas were rendered homeless on Monday after a 50-metre stretch of a thatched dam on river Goureshwar was swept away by a fresh tidal wave during the early hours in Hingalganj of Hansnabad block of North 24-Parganas.
The dam in Rupmari panchayat area, which suffered serious damage in Cyclone Amphan on May 20 and was being repaired, was swept by a heavy tidal wave that triggered a flood-like situation.
Large tracts of farmland and fish ponds suffered fresh damage due to inflow of saline water of the Goureshwar, which is an estuarine river.
A school run under the Integrated Child Development Scheme also went under water.
The district administration shifted a large number of people to shelter homes and gave them relief materials. However, several people complained that relief materials stayed elusive till Monday afternoon. "Till afternoon (Monday) no one from the district administration offered us food or relief material," a villager told The Telegraph.
The villagers, however, had an appeal to the government — repair the dam well.
"Let us remain without food or relief items, but repair the dam in a manner that the situation doesn't recur every year," said homemaker Chandana Maiti Bera.
Chandana was echoing what many villagers feel — that the administration has not done enough to repair the thatched dam the past fortnight even though the tidal wave was expected to hit the river. Residents have questioned the administration for banking on patch work rather than coming up with a permanent solution to the problem.
"Damage to the dams due to tidal waves has become a recurring problem. We always live in fear of losing everything. The Amphan this year washed away our homes...We were trying to get back to normal life, but the tidal wave during the past few days washed away our efforts. Unfortunately, the irrigation department failed to repair the dam after it was damaged by Amphan on May 20," said Prasanta Mandal, a resident in Rupmari.
Chandana said she and many others were living on a raised road after Amphan left them homeless. "We feared a fresh tidal wave would not just damage the dam, but the road on which we had taken shelter. Our worst fears came true early on Monday. We are worried that the situation would worsen during monsoon."
Hansnabad panchayat samiti pradhan Archana Hira, however, tried to refute the allegations of delay in repairing the dam. "The dam was not strong enough since it suffered damage in Amphan. We could not get much time to repair it despite our efforts," she said.
A source said the local administration had told minister Suvendu Adhikary about the "weak dams" when he visited the area last week so that major repairs could be done.
A state irrigation department official in Basirhat said they were "helpless". "We could do little as the tidal wave has been coming for days," he said.