Creativity and talent on school stage
Swami to scouts, plays to poetry, mime to munchies and more a variety of events kept students engaged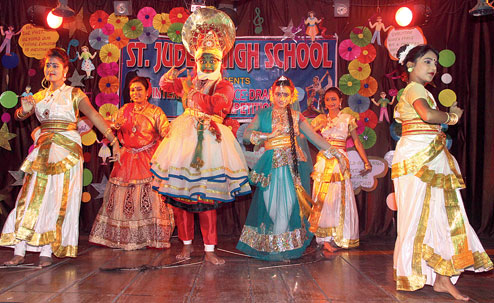 ---
---
ST. JUDE'S HIGH SCHOOL
An inter-house dance drama competition at St. Jude's High School showcased the country's rich tradition. Scenes from the Ramayana, Tagore's Tasher Desh and Sukumar Ray's works featured in the performances. A variety of dance forms — from kathakali to jazz and flamenco were on show. "The children tried to give their best and mesmerised the audience with their presentations," said Aditi Chakraborty, principal.
VIVEKANANDA MISSION SCHOOL
Students and teachers of Vivekananda Mission School, Joka, observed the 154th birth anniversary of Swami Vivekananda. Students sang devotional songs and read out excerpts from Vivekananda's biography. "Around 4,000 people, mostly parents, students and former students, visited our campus on this occasion," said principal Sarmistha Banerjee.
MOUNT LITERA ZEE SCHOOL
The annual day celebration of Mount Litera Zee School, Howrah, Litekfraazee, presented in association with Young Metro, highlighted the role of the media in making India a better place to live in. Around 500 students from pre-primary to Class IX depicted newspaper reports, focussing on contemporary issues such as surgical strikes, demonetisation and women's empowerment. Shades of Environmental Evil, a shadow dance by students of Class III, sent out a message against deforestation. "I played a bereaved mother whose son was killed during a surgical strike. We tried to make our presentation relevant to the audience," said Tiyasha Ghosh, Class VIII. Principal R.K. Moses was impressed by the "wonderful show."
SHRI SHIKSHAYATAN SCHOOL
Birla High School boys' present Afro dance in the second edition of Jubilare, hosted by Shri Shikshayatan School. The Afro dancers had the judges floored with their energy, expression and choreography and went on to win the first prize. The host school bagged the second prize and Sushila Birla Girls' School was adjudged third. Jubilare also hosted Mind Game, a chess competition that saw participation from eight schools. Students of Mahadevi Birla World Academy took home the first prize, while Birla High School and Apeejay School, Park Street, finished second and third, respectively. "The aim is to promote creativity among students. It is not just a dance competition, rather it is about music, rhythm, PowerPoint presentations and more," said Bratati Bhattacharyya, the secretary of the school.
ST. AUGUSTINE'S DAY SCHOOL, BARRACKPORE
St. Augustine's Day School, Barrackpore, hosted a camp to mark the centenary year of cubbing. The participants engaged in clay modelling and played games. The celebrations ended on a high note with a camp fire. Nawabgunj Mount Lovers, Ichapur, hosted an exhibition of mountaineering items to inspire budding scouts and guides. Students of Adamas International School and Douglas Memorial High School also joined in. "The motto of scouting matches that of our school, so we hosted the camp for budding scouts and guides," said principal A.D. Gomes.
DELHI PUBLIC SCHOOL, NORTH KOLKATA
Students put up a mime act at Veracity, the annual cultural programme of Delhi Public School, North Kolkata, at the Science City auditorium. Around 2,000 students presented a colourful show of mime, dance drama, ballet, yoga and more. The school had conducted a workshop to groom the participants of the mime show. They enacted Tagore's Totakahini. Classical vocalist Ajoy Chakrabarty inaugurated the event. "Veracity is a platform for students to showcase their talent," said principal Manjir Ghosh said.
SATISH CHANDRA MEMORIAL SCHOOL
The annual day celebration of Satish Chandra Memorial School was a mix of fun, frolic and values. The stage performances included classical, folk contemporary dance. Senior students staged a play on the teachings Swami Vivekananda and another on Safe Drive Save Life. "I am playing the role of a doctor. This is the first time I am playing the role of a doctor and I am liking it," said Saumyadeep Mazumder, Class VII. Principal Arup Sarkar said the celebrations were a homage to Swami Vivekananda, whose ideas and philosophies are close to the school's heart. "We arrange an array of programmes that teach something or the other to the kids. It's not just about fun but learning too."
SUDHIR MEMORIAL INSTITUTE
The maiden winter festival of Sudhir Memorial Institute Liluah, presented in association with Young Metro, saw over 1,600 students and their parents have fun over music, food and games. The festival, titled Agaman, was themed on "frosty fun". On the sidelines of the fun fiesta, the students exhibited different scientific models and put up a spectacular show. Principal Gopal Ojha said, "The carnival raised funds for street children. We had immense support from parents who enjoyed themselves a lot." "It is not everyday that teachers join us for some fun and frolic. One of my teachers painted my face," beamed Hritika Soni, Class XI.
DELHI PUBLIC SCHOOL, JOKA
Chrysalis 2016, the third annual day celebration of Delhi Public School, Joka (South Kolkata), saw students enthral the audience with songs, dance and plays. The celebrations began with Ganesh Vandana, followed by school band Crescendo's performance that featured Thomas Moore's Go where glory waits thee, Tagore's Ohe doyamoy and Adam Salim's Malaika. Other presentations included the plays Bishop's Candlestick and Andher Nagari and a tribute to Charlie Chaplin. Young achievers of the school were felicitated for their academic excellence. "I'm glad to be a part of this gathering on the annual day of Delhi Public School, Joka," said governor Keshari Nath Tripathi, the chief guest.
KE CARMEL SCHOOL
The silver jubilee celebration of KE Carmel School, Amtala, in association with Young Metro, was a gala affair. The theme of the evening was Confluence. The programme began with a homage to the founder, St. Kuriakose Elias Chavara, followed by spectacular performances by the students. "The theme of celebration is appropriate as our school is a confluence of different cultures," said principal Rev Fr. Jojo Thuruthayil CMI. Governor Keshari Nath Tripathi conferred the KE Star Award on Kaushiky Hazra, Class XII (science), on the occasion. "I have been studying here for 13 years and looked forward to bagging this most prestigious award," Kaushiky said.
ADITYA ACADEMY SENIOR SECONDARY SCHOOL, DUM DUM
Gen-Next, the annual fest of Aditya Academy Senior Secondary School, Dum Dum, was all about graceful dance, soulful singing, serious drama and a healthy dose of fashion. Around 900 students of the primary section spread happiness on the stage with their cute moves. Next up were students from classes VI to VIII, followed by IX to XII who put up a melange of performances on the theme of nature.
"This is the second time I am performing on stage and my stage fright is gone. I remember being very nervous last year. It is all because of my teachers and I thank them for instilling confidence in me," said Sayantani Dey, a student of Class VII. Principal Mita Banerjee was proud of the teachers and students alike. "It is a day we all wait for. Our excitement knows no boundary as we prepare for this day. "
DELHI PUBLIC SCHOOL, MEGACITY
Invigorating music, intriguing games, loads of gifts and a happy spirit reigned at DPS Megacity's annual winter carnival. The school grounds turned into a fun space and students, their parents, grandparents and teachers had a good time. The games stalls put up by students and teachers kept everyone busy. Also available was an array of lip-smacking food. "We danced and had a lot of fun," said Madhureem Banerjee, a student of Class VII. Principal Indrani Sanyal was happy at the popularity of the event and the increase in footfall. "It's a place to enjoy. Even some grandparents dropped in and had who are enjoying their time. There is so much of joy in the air. Every one is enjoying themselves. The proceeds from the carnival will be invested in a village that we have adopted in Rajarhat."
Selina Nwulu, young poet laureate for London, visited DPS Megacity for a workshop with the students. The students expected to see a poet but Nwulu turned out to be a writer and researcher focusing on social justice, politics, education and gender while also being a strong environment and human rights campaigner. She reminded the students that as poet, she has her writing to be used as a powerful tool which could effect change in a variety of fields. She captivated the students for an hour and a half.
THE BSS SCHOOL
Me'lange 2016, the annual fete of The BSS School, was an occasion to bond over good food, music and games. Students, former and current, and their parents joined the happy celebrations. Game stalls included hunting for objects from a bucket full of sand and taking aim with a ball to topple a pyramid made of plastic glasses. While these activities kept visitors engaged, the fare at the food stalls ensured that they did not go hungry. Quetzal Club whipped up tomato and sweet corn soup and butter corn, while cupcakes from Calcutta Cupcakes provided the perfect sweet ending. A guest performance by Samantak and Mates was the cherry on the cake. "This is my first year at The BSS School and I was quite nervous as I had to shoulder quite a few responsibilities. However, I am happy that everyone loved the arrangements," said Sriroopa Dutta, a Class XI student.
Text: Samabrita Sen, Farah Khatoon, Sarthak Ganguly, Tanisha Bagchi & Chandrajit Mitra; pictures: B. Halder, Arnab Mondal, Shuvo Roychaudhury, Gopal Senapati, Koushik Saha & Chanchal Ghosh