Crackdown on drink driving
A similar initiative has been taken in Asansol and Raniganj, the district's two other major towns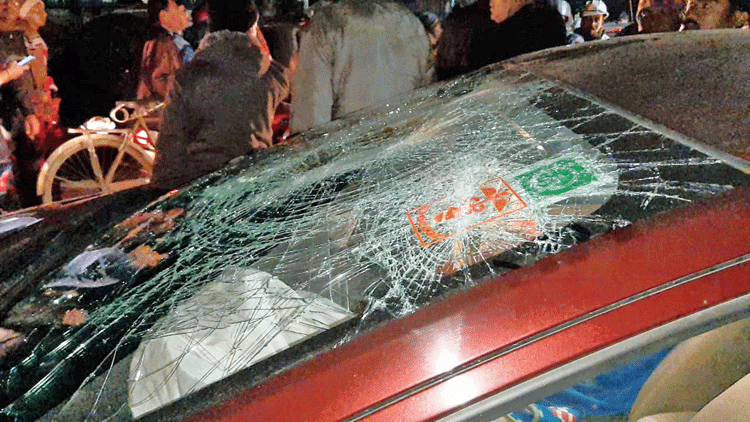 ---
|
Durgapur
|
Published 20.01.20, 06:52 PM
---
Police in West Burdwan have taken additional measures to check drink driving after a car that was allegedly being driven by a doctor under the influence of alcohol hit six persons in Durgapur on Sunday night.
The police started a case against the doctor on Monday on the basis of the complaints lodged by the injured auto and Toto drivers.
"We have started a case against the doctor for rough driving, damaging vehicles and causing injuries. We are investigating the case and will interrogate the physician soon," said an investigating officer.
However, it is not yet established whether Dr Jiban Chatterjee, 55, was drunk at the time of the incident. "We will collect the medical report from the hospital," said the police officer.
Chatterjee could not be contacted as his phone was switched off and he was not found at his residence.
Sources close to Chatterjee said the brakes of the car developed a snag and that triggered the accident. They denied that he was drunk.
The police said they would get the car examined by a technician to know the truth.
Asked whether the cops were alert in ensuring that people do not drive under the influence of alcohol, a traffic police officer in Durgapur said: "We usually check vehicles and drivers with breathalysers at five to six busy locations in the town at night. We have stepped up vigil with breathalyser tests being carried out even during the day."
A similar initiative has been taken in Asansol and Raniganj, the district's two other major towns.
Sources said the police on an average usually intercepted five to six drivers while carrying out breathalyser tests in these towns at night.
"The number is decreasing because of our continuous drive," said the police officer.
On Sunday night, Chatterjee, a general physician, was driving through the upscale City Centre area when he rammed into two vehicles and a scooter within a span of a few minutes and finally screeching to a halt after hitting a roadside tree.
Six persons, including the doctor, were injured in the incident. All of them were rushed to a nearby hospital.
Two of the injured, Sekhar Mukherjee and Anjan Singh, were admitted, while the others including Chatterjee were released after primary treatment.
Chatterjee was beaten up by a mob after the incident. His Honda City was also damaged and the vehicle has been seized by the police.