'CPM' too hot in times of NRC
Fear of the National Register of Citizens (NRC) haunting people across the country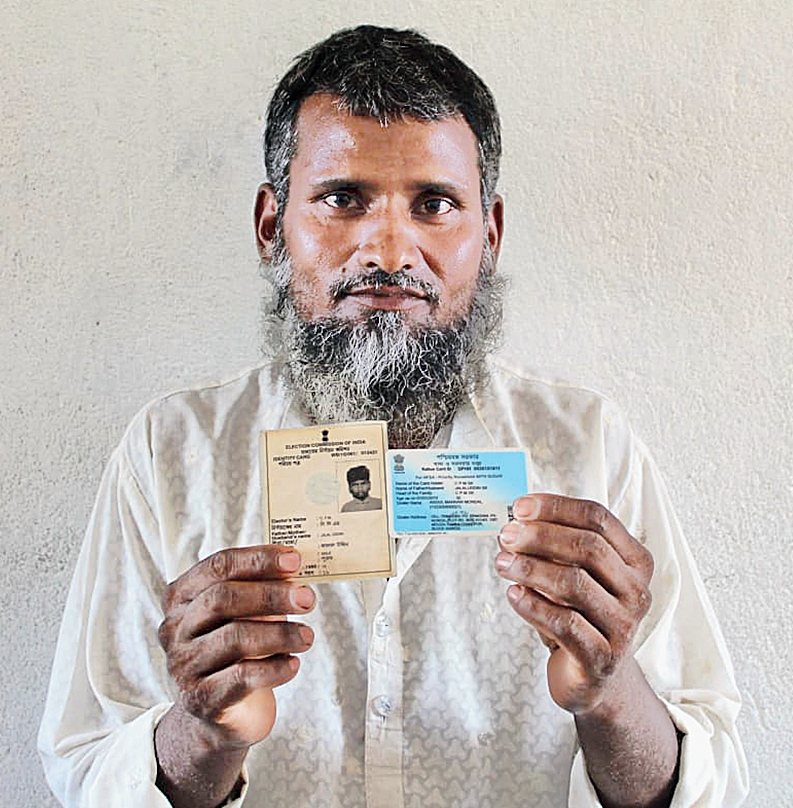 Jalaluddin with his son's voter card and ration card mentoning his name as CPM
Pictures by Alamgir Hossain
---
Murshidabad
|
Published 14.03.20, 09:39 PM
|
---
In times of panic over the new citizenship regime, the answer to the poetic poser of "what's in a name" cannot be brushed aside easily, a resident of the district has realised.
With the fear of the National Register of Citizens (NRC) haunting people across the country, a resident of Kedar-Chandpur village in Nowda had his name in the voter list changed from "CPM SK" to "Ehannabi SK".
Ehannabi's father Jallaluddin told this reporter how his son came to be named after the party that ruled Bengal for 34 years.
"My son was born in April 1978. That was immediately after the CPM-led Left Front came to power. It was time for panchayat elections and the CPM had fielded one of my elder brothers, Anwarul Haque Haq, as its candidate," Jallaluddin recounted.
"As my brother was contesting the gram panchayat election, there was a lot of enthusiasm about the CPM in the family. My son was born in the middle of the campaign. My uncle Mohd. Ali lovingly began to call the baby 'CPM'. The polls ended with my brother winning the gram panchayat seat. The jubilation of the victory was such that CPM became my son's official name," the father added.
The boy's documents, including voter card and ration card, were made in the name CPM. Nobody thought of getting the name changed even after the monumental political shift in Bengal in 2011, when the Left was voted out. But times changed when the NRC was rolled out in Assam and the Narendra Modi government brought in the Citizenship Amendment Act. The citizenship thrust scared the family and Jallaluddin wanted his son's name to reflect the family tradition. He started making efforts to change the name of his son, who makes a living by selling toys and plastic furniture.
"I thought of changing his name to Ehannabi SK, which is more in sync with my name," said Jalaluddin.
Speaking to The Telegraph, Ehannabi said: "People in 10-15 villages know me as CPM. But what to do? The possibility of an NRC (in Bengal) has scared us so much that we thought of changing my name to one that sounds closer to the ones in the family.
"The first step was to change the name as it appears on the voter card. I have checked online that my new name has been updated in the voter's list. Once I receive the new voter card, I will make necessary corrections to my Aadhaar card. Only then will I be able to change my name in the ration card and bank account."