CPM's Yechury open to Congress, not Trinamul
Left's aim is to remove BJP from the Centre and Trinamul from Bengal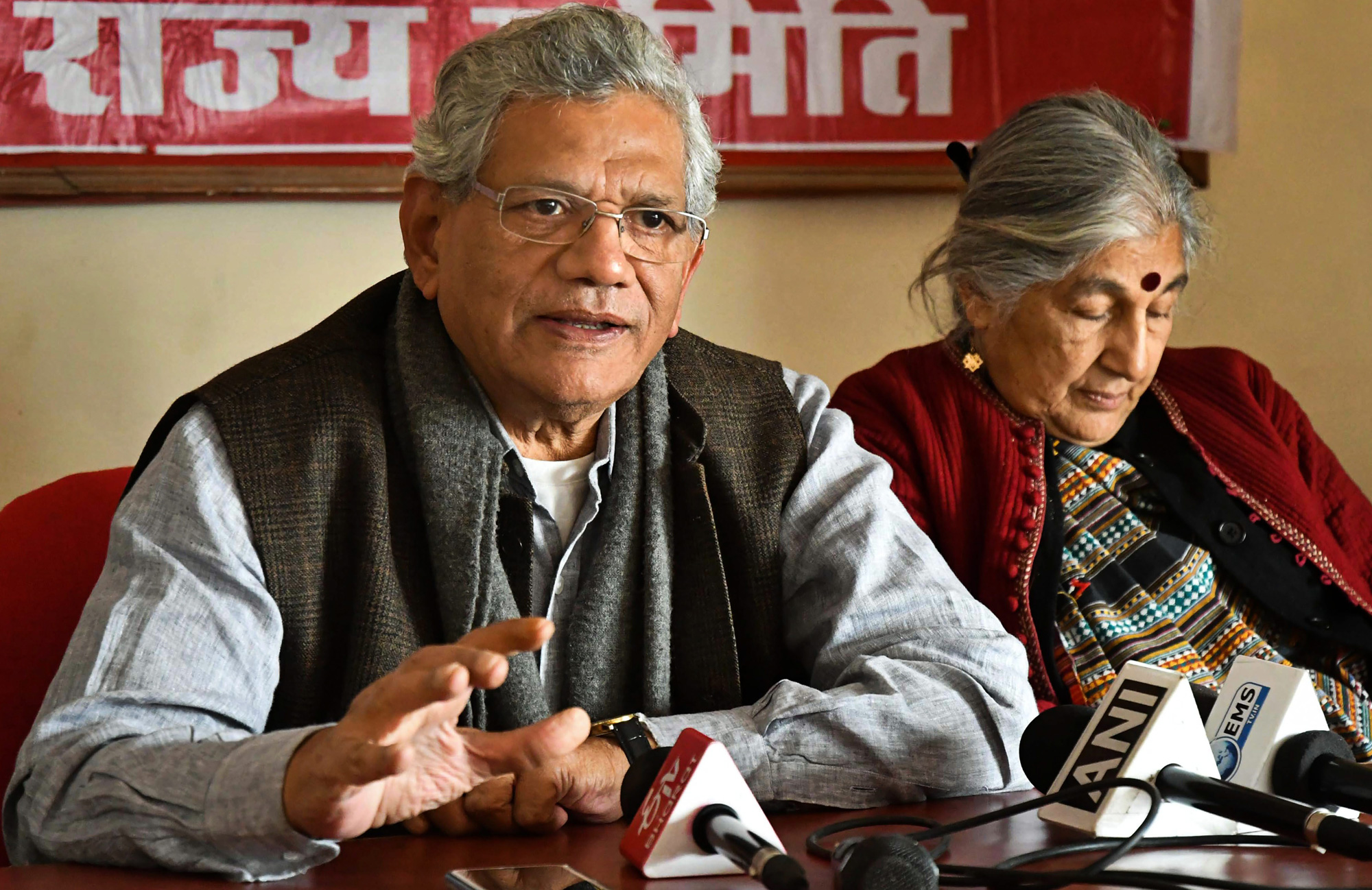 Communist Party of India (Marxist) CPI(M) General Secretary Sitaram Yechury (left) addresses a press conference, in Bhopal on Wednesday, January 16, 2019.
PTI
---
Raiganj
|
Published 19.01.19, 07:55 PM
|
---
The CPM and other Left constituents will try to forge an alliance after the parliamentary elections and scout for partners other than the BJP and Trinamul, CPM general secretary Sitaram Yechury said on Saturday.
"Our stand is plain and simple. We want to remove the BJP from the Centre and Trinamul from Bengal. As of now, we have not gone for an alliance with any party but there is always a chance of a post-poll alliance," he said on the sidelines of a public meeting at Daribhit village in North Dinajpur.
Asked about the possibility of a tie-up with the Congress, Yechury said: "We will wait for the Congress's decision. We need to see whether the party wants to move with us…. There are some other parties with which we had allied earlier…. We will invite all those political forces of the state that are against Trinamul and the BJP at our (the CPM's) February 3 public meeting in Calcutta," Yechury said.
The CPM general secretary called the Brigade rally "more of a show-off".
CPM state secretary Surjya Kanta Mishra asserted in Calcutta that the party's Brigade rally on February 3 would have more people in attendance than Saturday's event and that of the BJP's proposed meeting at the same venue taken together.
Left-leaning economist Prasenjit Bose said Saturday's rally might "provide some solace to the secular camp".
"But what exactly is the alternative socio-economic programme of this so-called 'Grand Alliance'?… For the poor, toiling masses and the youth of the country, it is not enough to oust Modi from power. They need an alternative, pro-people programme. Else, those who would replace Modi will fail to solve their basic livelihood problems; the regime of corruption and corporate loot will also continue to flourish," Bose said in a statement.
Additional reporting by Sandip Chowdhury