CPM leader Salim rides a bike to site of Bengal carnage
This is genocide, says new CPM state secretary; police stop Biman Bose near Bagtui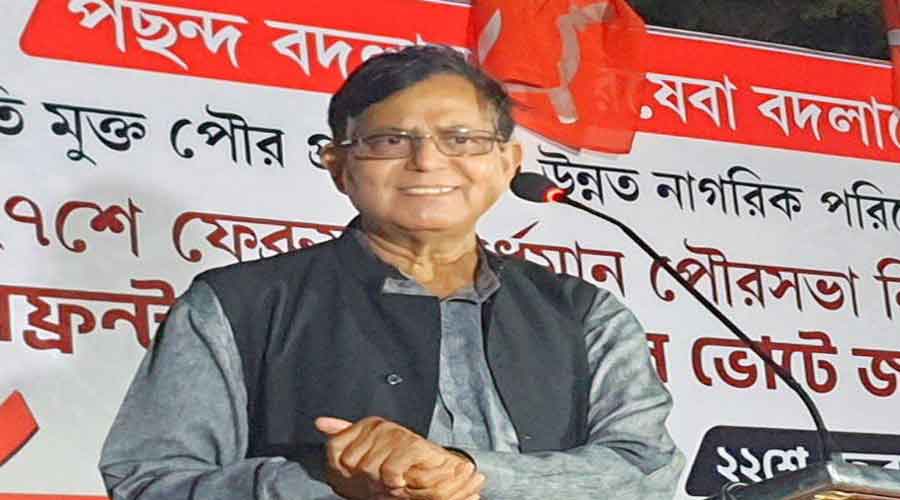 ---
Calcutta
|
Published 23.03.22, 02:22 PM
|
---
Senior Left leader, the 82-year-old Biman Bose, squatted on the scorched ground outside Bagtui village in Birbhum's Rampurhat, the site of one of the worst carnages in Bengal's recent memory, after the police stopped him from entering the area on Wednesday.
Earlier in the day,  the newly appointed state secretary of the CPM Mohammad Salim reached the village riding on a motorbike to evade the police.
A day after charred corpses were recovered, the state police are yet to declare the total body count in the carnage. Nor  had it officially released the names of any of the victims, including women and children.
"Mamata's Hawai chappal has bloodstains," said Salim, after reaching the village early on Wednesday. "When Sanju Sheikh was being killed, his house burnt, the police stood idle. They did nothing. They had orders to not intervene since their senior officers are hand-in-glove with the sand-mining mafia."
The house from where seven corpses were recovered, is reportedly owned by one Sanju Sheikh.
Salim referred to the aftermath of Godhra two decades ago in Gujarat, when members of the minority community were attacked and burnt in their homes.
""This isn't a tragedy. This is genocide. There are so many policemen now, where were they when the homes burnt? This is a pre-meditated attack. In Gulbarg housing society, when it came under attack, Ehsan Jafri had called the then chief minister, the police commissioner. No help came," said Salim.
CPIM in action...
CPIM West Bengal state secretary Comrade @salimdotcomrade visits to Bogtui village where at least 10 people burnt to death including that of women and children, due to rivalry between two factions of TMC.#TMCTerror #SaveBengal #TMCjungleRaj pic.twitter.com/bNyjU9HG8u

— Mayukh Biswas (@MayukhDuke) March 23, 2022
"More than 12 people were locked and burnt (at Bagtui). Why has the exact toll not been revealed? Why have forensic experts not reached yet? An arson takes place when something has to be hidden. No one can say now whether these people were killed before being set ablaze."
Salim said a man who came from Nanoor to visit his in-laws has been missing since the incident. "Kazi Sajidul Rahman came to meet his wife Marjina Bibi. He is still missing. When his father, Kazi Nurul, went to lodge a complaint with Rampurhat and Nanoor police stations, he was thrown out," said Salim.
In Calcutta, chief minister Mamata Banerjee announced she would visit the village on Thursday. "I wanted to visit today. Since the Opposition parties went there (today) I have deferred my visit till Thursday," she said. "We are in power. We don't want any violent deaths. This is a deliberate ploy to malign us. I had called the police at least 50 times yesterday. The officer-in-charge and the SDPO have been removed. Firhad Hakim went there on my instruction."
The events at Bagtui have paled other instances of violence in Bengal in the 11 years of Mamata as chief minister.
On Wednesday, a team from the BJP is also expected to reach Bagtui.