Covid: Stricter curbs to remain in Bengal till June 15
From 131,805 on May 16, the number of active cases in Bengal had fallen to 117,154 by Thursday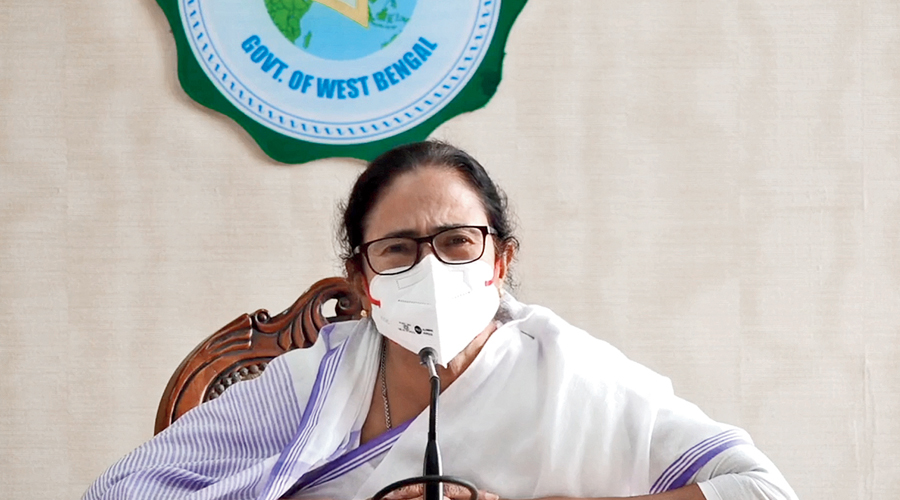 Mamata Banerjee
File picture
---
Calcutta
|
Published 28.05.21, 03:19 AM
|
---
The Bengal government on Thursday extended the current pandemic restrictions till June 15, chief minister Mamata Banerjee flagging the fall in infections since the curbs to "contain and combat" Covid were clamped from May 16.
"I would like to thank you for the Covid cases having declined to some extent. These restrictions that we have imposed... people are cooperating and people are also saving themselves," Mamata said at Nabanna on Thursday.
"Thus, there has been some fall (in cases), which is a relief. Since there's been a decline (in Covid infections), we are taking some more time — we are extending it (restrictions) till June 15."
From 131,805 on May 16, the number of active Covid cases in Bengal had fallen to 117,154 by Thursday, the daily release issued by the health department showed.
Mamata said the current restrictions shouldn't be confused with a lockdown since all essential services and industries are operational, though with "certain limitations".
"Essential services will be on so that the economy isn't destroyed. Online activities are on, industry is on, everything is on… but with certain limitations," the chief minister said.
On May 15, the state government had announced a set of curbs on movement and various activities and services to contain the spurt in Covid infections.
The restrictions were to be in place till 6pm on May 30; now they have been extended till June 15.
While most of the May 15 restrictions will remain in place, Mamata announced two relaxations for the second phase.
First, jute mills will be allowed to function at 40 per cent strength per shift instead of 30 per cent.
Second, construction workers will be allowed to work if their employers can make sure they have been vaccinated and if they abide by physical distancing norms.
"Punjab has requested jute, but it becomes problematic for us if we increase (the number of workers). Yet Punjab is going on requesting jute, so let's increase the number of workers per shift by 10 per cent but only for the jute industry," Mamata said.
Punjab is one of the largest buyers of jute bags from Bengal.
Some jute mill owners expressed dissatisfaction at what they saw as a paltry relaxation. They said the way the jute mills are designed, they allow physical distancing between a large number of workers.
Since the restrictions were imposed on May 15, jute mill owners have been requesting the state government to allow them to work with more labourers.
"Even with the limit increased from 30 per cent to 40 per cent, there will be little improvement in the efficiency of the mills. The full workforce should be allowed so that all the labourers get paid and the mills run at full capacity," a jute mill owner said.
Raghavendra Gupta, chairperson of the Indian Jute Mills Association, was unavailable for comment.
Shops and bazaars will continue to be open between 7am and 10am, sweets shops from 10am to 5pm, and jewellery and sari stores from noon to 3pm.