Mamata: Court cases stall govt recruitments
The chief minister's statement in the Assembly has betrayed her unease with a slew of court cases over alleged irregularities in the recruitment process in the education sector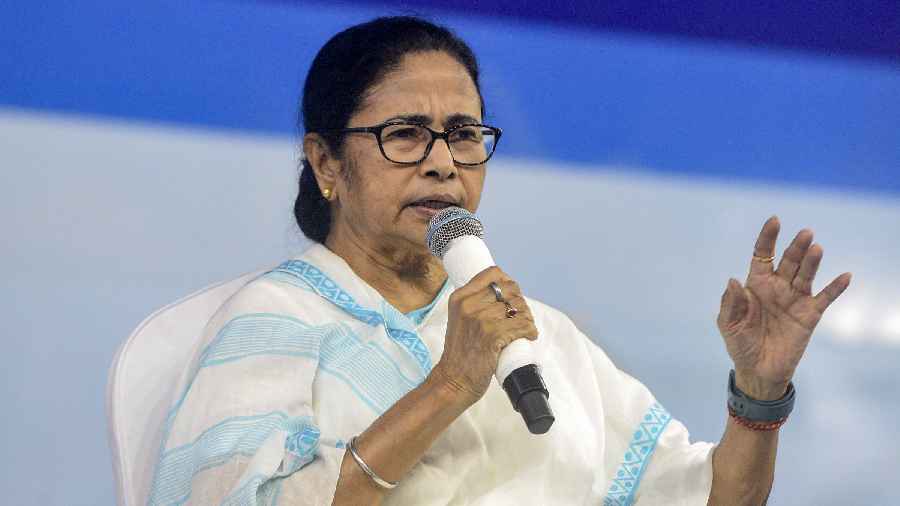 Mamata Banerjee
File Picture
---
Kolkata
|
Published 25.11.22, 04:06 AM
|
---
Mamata Banerjee on Thursday expressed her discontent over "a few people" who were apparently preventing the recruitment of government employees by moving court.
The chief minister's statement in the Assembly has betrayed her unease with a slew of court cases over alleged irregularities in the recruitment process in the education sector. 
On Wednesday, Calcutta High Court had observed that a few "middlemen and ministers" were trying to save the jobs of those who had been recruited illegally.
Mamata said her administration had to bear a heavy burden to fight legal battles.
"Whenever (we) are trying to initiate new recruitment, a few people are moving courts. The recruitments are being stalled.... All our money is getting spent in fighting these cases," the chief minister said in reply to a question on the empanelment of new ration dealers.
"Through this Assembly, I'd like to appeal to the court to ensure that the people get the benefit of convenience," Mamata said. The chief minister said people were in favour of the government's  Duare  Ration (rations on the doorstep) programme. She added her government would go to any extent to ensure that the programme was rolled out. "We will not bow down to anybody's might," she said.
'TMC chief' 
Mamata Banerjee told the Assembly on Thursday that she was going to Delhi next month to meet Narendra Modi on December 5, but as the Trinamul Congress chief and not as the chief minister.
Mamata said the meeting convened by the Prime Minister would have to be attended by the chairpersons of various political parties ahead of the G20 summit which India would host next year. "I am going to Delhi for a meeting on December 5 with the Prime Minister. But I am not going as the chief minister. This is a meeting regarding the G20 summit," she said.
"...This meeting has been convened for the chairpersons of various political parties to attend. I, too, will be there as the chairperson of our party," added Mamata.
Nabanna had sought an appointment for a one-on-one meeting between Mamata and Modi on December 6.
Big B for film fest
Mamata said Bollywood actor Amitabh Bachchan had confirmed his participation in the inauguration of the Kolkata International Film Festival, scheduled to take place from December 15 to 22.
But actor and Bengal's brand ambassador Shah Rukh Khan is yet to confirm his presence, she has added.