Couple's mushroom recipe to change lives of tea workers
As of now, the couple are training around 1,000 women, including some from closed gardens, on how to grow regularly and in large quantities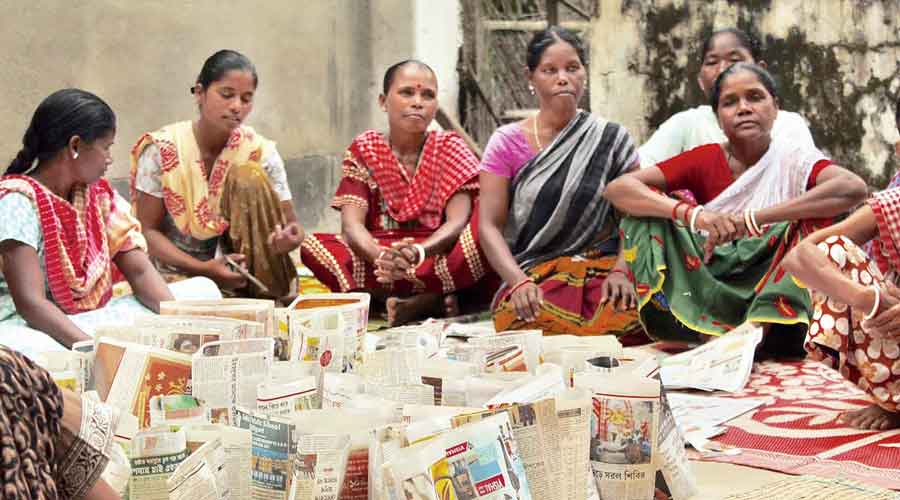 The mushroom growers pack their produce.
Telegraph photo.
---
Siliguri
|
Published 25.12.21, 02:40 AM
|
---
A couple in Siliguri are helping women residents of closed tea estates across Siliguri subdivision and families who lost their principal earning members to elephant attacks, to mushroom hope amid hardship.
Anirban Nandy, a rural development researcher from IIT-Kharagpur and co-founder of "Live Life Happily", and his wife Poulami Chaki Nandy, are regularly visiting the tea estates to train women on growing mushrooms for sale.
As of now, the couple are training around 1,000 women of tea estates, including some from closed gardens, on how to grow mushrooms regularly and in large quantities.
"Mushrooms have a huge demand in the hospitality industry nowadays. We are trying to develop market linkages so that women can sell the mushrooms they grow smoothly, not just in Calcutta but in the local markets of Siliguri and the hills. A kilo of mushroom fetches at least Rs 120," Anirban said.
The couple got this idea by interacting with the mothers of children, especially girls, in the closed tea gardens, whom they were helping to study amid the outbreak of the pandemic last year.
"When we taught the children, we met the mothers too, and learnt about the financial constraints their families were facing. That's when we got the idea to train the mothers in cultivating mushrooms so that the families can afford to let their children study," Anirban said.
Anirban added that in some tea estates in Siliguri subdivision, the intrusion of wild elephants is common. "In Merry View, a tea estate at the Naxalbari block of the subdivision, there are around 120 families who have lost their principal earning member in elephant attacks in recent times. The women in these families are facing a huge financial crisis. So for them too, the training to grow mushrooms has proven useful. Some of these women have already started to earn by selling their produce," said Anirban.
He said that these people did not have land rights and were not legally entitled to use the land where they live for agricultural and other purposes. "It stops them from applying for bank loans too. So we are now creating self-help groups of these women in the gardens," he added.
Poulomi added mushroom was a good choice in this backdrop. "Mushroom cultivation does not need much space. We have brought women together into self-help groups. Each group has 10 members who cultivate mushroom  in their own huts," she said, adding there are 50 SHGs of women at Gangaram tea estate and 40 groups in Merry View.
The SHGs send mushrooms to wholesale markets in Howrah and Burrabazar in Calcutta. "We are also working in some more tea estates near Bagdogra and Bidhannagar (both in Siliguri subdivision," Poulami added.