Siliguri's first woman toto driver offers Covid patients free rides
She also delivers essentials — grocery, medicines, among others — to those infected and in home isolation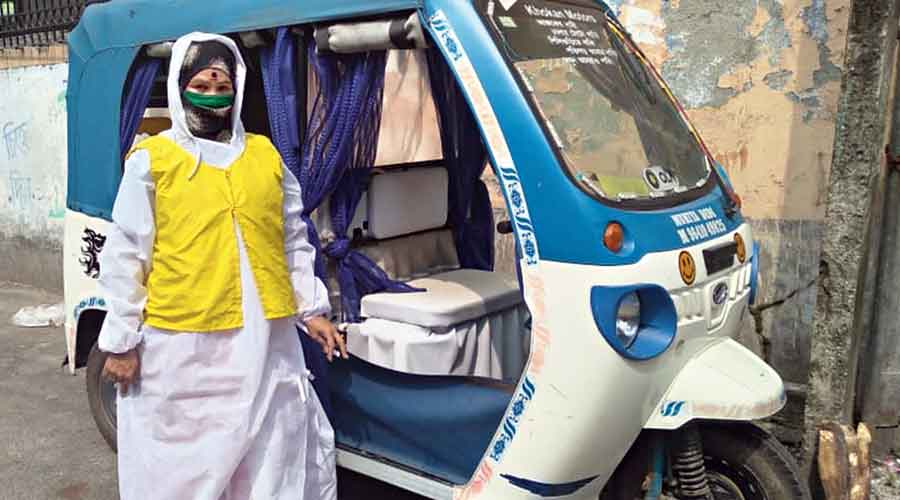 ---
Siliguri
|
Published 24.08.20, 12:53 AM
|
---
She was already a pioneer as the first woman toto driver of Siliguri. Now, amid the pandemic, she is again breaking new ground as a frontline warrior on wheels. 
Munmun Sarkar, 48, is transporting Covid-19 patients to hospital "free of cost." She also delivers essentials — grocery, medicines, among others — to those infected with the novel coronavirus and in home isolation. 
The idea to start this initiative came to the Shaktigarh resident when she realised that Covid-19 patients were facing lot of stigma.
"Most drivers refuse to carry Covid patients out of fear of catching the infection. Even ambulances charge huge amounts. Those who have recovered from Covid-19 and have tested negative also find it difficult to arrange transport to go home," Munmun said.
Till date, Munmun said she had ferried well over 100 patients or those who recovered from Covid-19. She also does not charge any fare from them. "I realised many were not in a position to pay at a time like this...amid all their expense and stress. That is why I decided not to charge fares from any passenger who is infected or has just been cured," Munmun said. 
Her free-ride decision not only hit her family finances hard but also made her vulnerable to stigma and jeers, but she is unafraid. 
As she ferries Covid-19 patients, she has to spend an extra Rs 3,000 on sanitisation.
Munmun wears a PPE kit, carries a thermal testing gun in her toto, and sanitises her vehicle twice a day. Also, before getting any passenger on board her vehicle, she gets him or her sanitised.
She says the moment she started ferrying Covid patients, the number of "healthy passengers" who used to avail her services dropped.
But as she charges fares only from non-Covid passengers, her earnings have also dropped to Rs 6,000 a month now from the Rs 8,000 earlier. 
Over and above the financial stress, Munmun has had to overcome prejudices in her neighbourhood. "People used to tease and shout at me but this did not stop me," she said.
Her husband, Ananda, 56, who is into construction business and earns around Rs 15,000 a month, has been a source of constant support, she said. "We stay in different rooms after I started ferrying Covid-19 patients as a precaution," Munmun added.
She is quick to respond to calls from Covid-19 patients in home isolation. "I understand their mental state. They're ill and many people are scared to help them. At a time like this, if I can bring them their essentials, they get some respite," she said. 
The indefatigable Munmun now has one wish.
"I work with Unique Foundation, an NGO in Siliguri. I now plan to drive an ambulance soon," she smiled.