Rush of arrivals tests Malda system
The district recorded 34 Covid-19 cases till Monday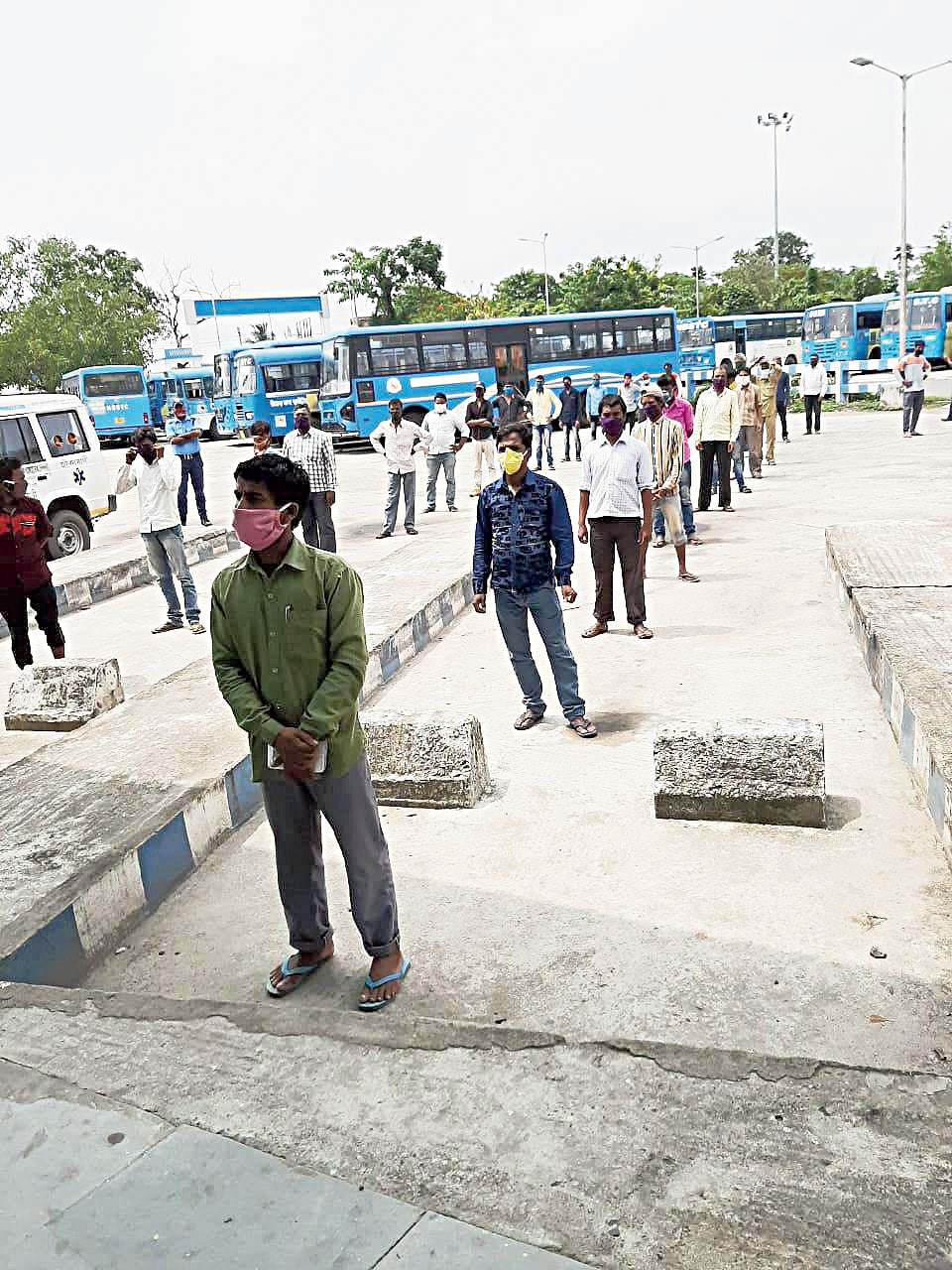 Migrants stand in a queue at a bus terminus in Malda on Monday
Telegraph picture
---
Malda
|
Published 18.05.20, 11:16 PM
|
---
Health department officials are struggling to cope with consistent arrival of migrant workers in Malda district with allegations swirling that swab samples of most of them are not taken for tests and many are not even subjected to medical screening.
The district recorded 34 Covid-19 cases till Monday.
The health officials said basic data of all the arrivals were taken and their swab samples would be collected as and when needed for tests.
Rubel Sheikh, a migrant worker spotted on Monday at the bus stand in Malda, where the state government opened a screening centre, said he had been advised to quarantine himself at home after his temperature had been recorded by a thermal gun and he was found to be "safe".
"No one collected my swab sample. I was asked to stay alert for a fortnight and contact the local hospital if I start suffering from severe respiratory distress or fever. I would have to offer my swab samples for tests then," said Rubel.
Some other migrants, who reached the district, said many of them had just been simply handed over pamphlets carrying details of preventive measures in the rush at screening centres and were asked to go into home quarantine.
There were allegations that some migrant workers had got off a train when it had stopped at a level-crossing in Rathbari — a prominent crossing in the town — before reaching Malda Town station where arrangements for their medical screening were made. "It is a matter of concern that many of them got off the train and headed for their homes, unchecked," said a resident.
At the Malda Medical College and Hospital, the sole virologist deputed by the government is busy testing swab samples round the clock. Although around 800 samples are being tested every day, thousands of samples keep on piling up.
"We are doing our best but cannot test more samples. Meanwhile, samples are piling up as more and more people are arriving in Malda. That is why a section of them is being advised to be in home quarantine and their samples would be collected later. Unless we clear the backlog, there is no point in collecting the samples which need to be tested within 72 hours," said a source at the medical college.
Officials in the district administration said around 1,000 migrant workers were reaching Malda every day by road. Besides, hundreds reach by trains.
The virology lab at the Malda medical college caters for North Dinajpur and South Dinajpur also.