84% of Thimpu's imports are from India
Bhutan lockdown blow to border trade
Bengal promises cooperation, exporters worried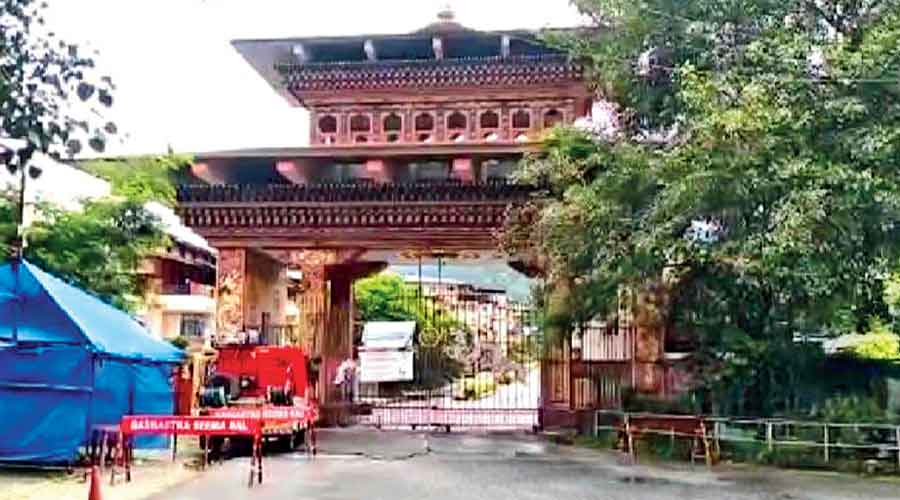 The closed gate on Tuesday at the India-Bhutan border in Phuentsholing, which connects Alipurduar in Bengal
Telegraph picture
---
Siliguri, Alipurduar
|
Published 12.08.20, 03:54 AM
|
---
Bhutan announced a nationwide, indefinite lockdown from Tuesday to battle the spread of Covid-19 in the country, the decision — the first in the kingdom since the pandemic broke out — pressing a pause button on trade between India and Bhutan. 
A senior police officer in Alipurduar, one of the two Bengal districts that shares borders with the Himalayan country, said the state would extend all necessary cooperation to the neighbouring country. "There will be no traffic movement through the India-Bhutan borders," he said.
Between India and Bhutan, bilateral trade is governed by the India Bhutan Trade & Transit Agreement of 1972 that was later renewed in November 2016 and came into force in July 2017.
According to government sources, the annual volume of trade between India and Bhutan is above Rs 9,000 crore. Out of Bhutan's total imports, 84 per cent comes from India. Of the total exports made from Bhutan, around 78 per cent come to India.
Bengal plays an important role in the bilateral trade via land as almost two-thirds of the trade volume is routed via Phuentsholing ,the business capital of Bhutan that sits on the other side of Jaigaon in Alipurduar district of Bengal. 
Goods worth another Rs 1,500 crore, which Bhutan trades with other countries like Bangladesh, are routed through Bengal. 
"The lockdown and its impact on movement of goods through the international borders will affect trade," an exporter from Siliguri said. 
Administrative sources in Alipurduar said around 500 goods trucks would enter Bhutan from India before the pandemic. During the past few months, the number had dwindled to 100 in a day. Trucks completely stopped plying from Tuesday.
Traders in Jaigaon sounded perturbed. They pointed out that for six days till Sunday, marketplaces were closed in Jaigaon to check the spread of Covid-19. "It was on Monday that shops opened, and after just one day, lockdown was announced in Bhutan. Traders and suppliers are worried. But we want the pandemic situation to improve on both sides of the border," said Jayant Mundra, a trader in Jaigaon.
Alipurduar apart, Jalpaiguri in Bengal shares borders with Bhutan. Assam is the other Indian state bordering Bhutan. 
The Himalayan kingdom reported 113 Covid cases so far. Among them, 97 have recovered. There are 16 active cases in the country as of now.
Bhutan has not recorded any death from Covid till date.
Bhutan's ministry of economic affairs said they had adequate stock of essentials such as  rice, oil, pulses, sugar, milk powder, salt and toiletries in the country to last another six months.
Bhutan announced the lockdown after it was found that a young woman of Gelephu, who returned from Kuwait on June 26 and was in mandatory quarantine in Paro and later released after treatment, had moved around in a number of places and come in close contact with many people when she was infected.
"The government enforces restrictions on movement of people and vehicles within the dzongkhags (primary subdivisions of Bhutan) and beyond.Everyone is asked to stay home to protect themselves and their families from the disease, should there be undetected, rampant transmissions," said a release issued by the office of the Prime Minister of Bhutan on Tuesday.
During the indefinite lockdown in Bhutan, all schools, education institutions, offices and commercial establishments will stay closed. 
The country's ongoing exams will be postponed and students and trainees in boarding facilities will be there in the campus and follow safety protocols, said sources.