Bengal logs 2,496 new infections, 45 deaths
The total number of patients in the state has gone past 70,000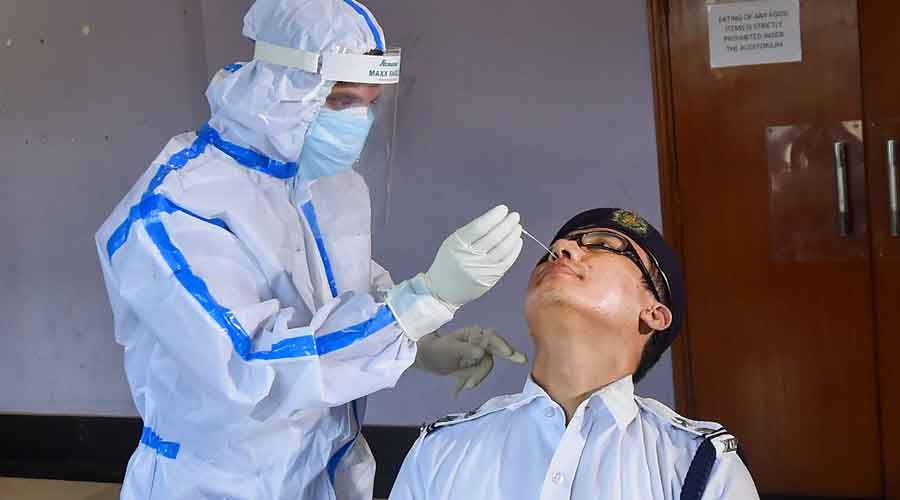 ---
|
Calcutta
|
Published 01.08.20, 02:18 AM
---
Bengal recorded 2,496 Covid-19 cases and conducted 19,003 tests during a 24-hour period till 9am on Friday.
With the new counts, the total number of patients went past 70,000 and tests touched 8.93 lakh.
Prior to this, the highest number of cases were 2,436 reported on July 23 and the maximum tests were 18,042, recorded on Thursday.
The state also logged 2,118 recoveries and 45 deaths on Friday. Bengal added 51,018 new cases and 35,846 recoveries in one month.
"Of the total 70,188 cases, 48,374 are recoveries. The total of active Covid-19 positive cases stands at 20,233. The recovery rate is at an all-time high of 68.92 per cent and we will go past 70 in a couple of days," said a Bengal minister.
He has said the national recovery rate now is 64.53.
Of the 2,496 new cases, 1,314 were reported from Calcutta and North 24-Parganas alone. The two districts have accounted for 36,770 of the state-wide total of 70,188 coronavirus cases and have over 56 per cent of the active patients.
Owing to the sharp spike in new cases over the past one month or so, the positive confirmation rate is now 7.86 per cent, with 9,927 tests per million. A month ago, the state had 5,529 tests per million and a positive confirmation rate of 3.85 per cent.
Of the total 1,581 deaths reported, Calcutta alone accounted for 760, with 21 till 9am. North 24-Parganas reported a total of 341 deaths, 13 of them on Friday.
The state government reported 1,368 deaths (86.5 per cent) as those with comorbidity "present". In a month, there were 898 deaths, of which 847 were reported as comorbid.
Bengal's overall mortality rate improved to 2.25 from 3.56 per cent a month ago. Calcutta's mortality rate fell to 3.51, from 6.2, in a month. The national mortality rate now is 2.15.
"We are looking to get our mortality rate below 2 by August 15. We will better the national rate in a week or so. We have done remarkably well in improving our mortality stats," said the minister.
The mortality rate among the infected males improved from 3.61 to 2.38 per cent in a month. Among the women patients, the rate dropped from 3.71 to 1.99.
The state reported 39.3 per cent of 11,299 beds for Covid-19 patients at 83 dedicated hospitals occupied. Also, 21.78 per cent of 6,908 beds at 106 safe homes are occupied.