3,188 new Covid cases, 56 deaths in Bengal
The state reported 45,563 tests on Saturday, taking the total past 27 lakh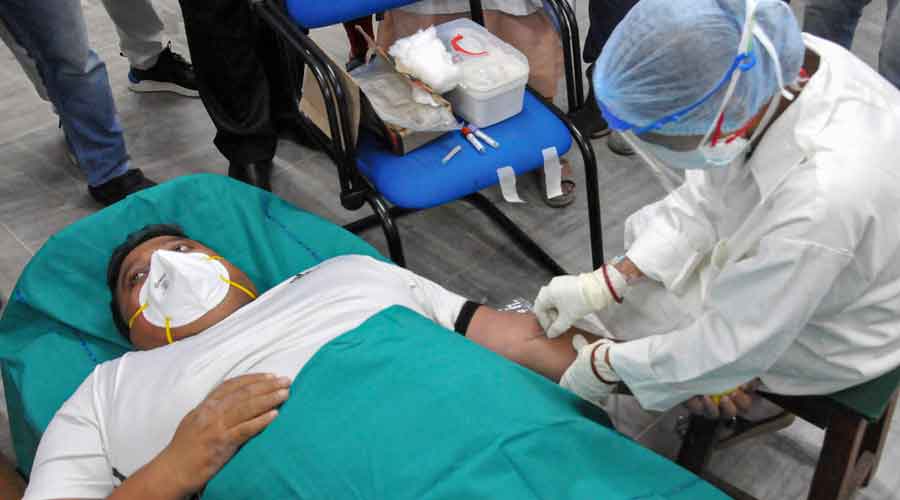 ---
|
Calcutta
|
Published 20.09.20, 12:02 AM
---
Bengal on Saturday logged 3,188 new Covid-19 cases, 2,993 recoveries and 56 deaths, of which 15 each were reported from Calcutta and North 24-Parganas.
With this, the state went past 2.21 lakh cases including over 1.93 lakh recoveries and 4,298 deaths.
Bengal's overall mortality rate stayed at 1.93, while the national rate is 1.6 per cent. Calcutta and North 24-Parganas contributed to 60 per cent of Bengal's Covid toll. "Those two districts collectively have a mortality rate of nearly 2.7 and Calcutta alone has around 3.2. That is where we have to stem the flow, to lower the state's mortality rate," said a minister.
Of the total deaths, 3,684 (85.7 per cent) were reported comorbid by the state government.
However, despite a rise over the past few days in total active cases, which is 24,648 now, Bengal's recovery rate continued to rise and was 86.96 per cent on Saturday, much ahead of the national rate, 79.4.
The state had over 44,000 new cases and 42,000-odd recoveries in a fortnight, besides 788 deaths.
"Despite more new cases than recoveries, we have been able to ensure a rise by over 2 per cent in the recovery rate. We are looking to get past 90 (recovery rate) in another week or so. We are already in third position, among states with the highest recovery rates (after Bihar and Tamil Nadu) and we are looking to get to first place in a month," the minister said.
The state reported 45,563 tests on Saturday, taking the total past 27 lakh.
"We began testing in early February. Over six months later, a month ago, we were at 14.16 lakh tests. Today, we are past 27.44. We have almost doubled it in just a month," said the minister. Bengal is now at 30,498 tests per million people. A month ago, the state was at 15,740.
Steady rise in testing, coupled with relatively lower cases being found has improved the positive confirmation rate from 8.9 on August 23 to 8.09 per cent. A decreasing positive confirmation rate is indicative of reducing levels of Covid-19 spread.
The state reported 33.84 per cent occupancy of 12,675 Covid-19 beds in 92 hospitals.
Around 2.3 lakh telemedicine consultations have been provided, including 4,182 in the past 24 hours.