Experts say situation to improve by Sept 25: CM
The state reported a fall in the total of active cases — two days in a row now — and recovery rate of 79.1%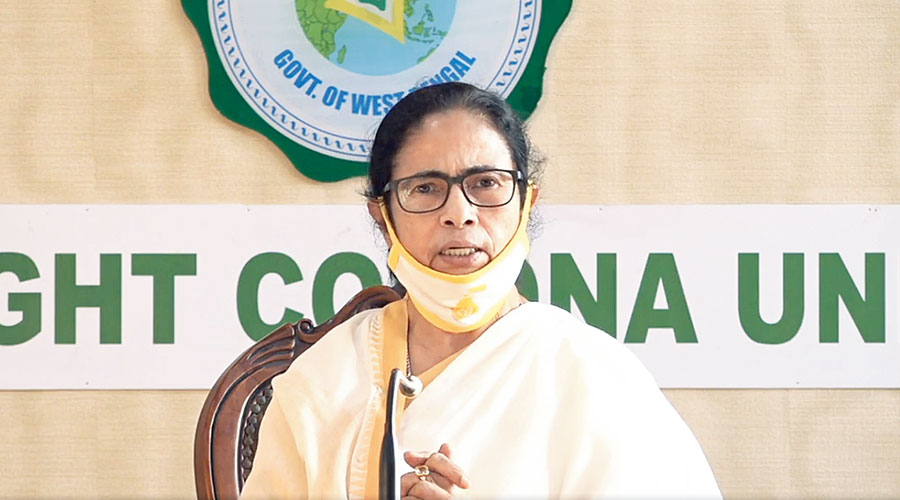 ---
|
Calcutta
|
Published 26.08.20, 01:15 AM
---
The chief minister on Tuesday said the Covid-19 situation in Bengal, according to experts, would "more or less be under control" by September 20-25.
Hours after Mamata Banerjee — also the health minister — issued the optimistic statement in a televised administrative review meeting via videoconference, the health department declared the highest 24-hour count of Covid-19 tests at 37,524 on Tuesday.
The state also reported yet another fall in the total of active cases — two days in a row now — and recovery rate of 79.1 per cent. The national recovery rate is now 76.12.
The total tests in Bengal went beyond 16 lakh with Tuesday's number.
"I am told the Covid-19 situation will, more or less, be under control by September 20-25. Experts have said so," said Mamata at the meeting.
Sources said there had been indications of a turnaround since August 9 in the state's Covid-19 situation, after a fairly long spell of virtually relentless gloom from the last week of June.
The state government reported 58 deaths on Tuesday. Of the death of 2,909 Covid-19 patients in total, 2,539 (87.3 per cent) were reported as comorbid by the government.
Now the state has nearly 1.49 lakh cases in total, of which nearly 1.15 lakh are recoveries and 2,909 are deaths. "The total active cases is 27,349, after a fall of 345. That's because the 3,251 recoveries on Tuesday again outweighed the 2,964 new cases. The same thing happened on Monday, as the total active cases fell by 375," said a Bengal minister.
On Tuesday, he pointed out, the five most high-incidence districts of Bengal — Calcutta, North 24-Parganas, South 24-Parganas, Howrah and Hooghly — collectively recorded a fall of 434 in their total of active cases, with only Hooghly reporting a rise of 35. "The two biggest worries, Calcutta and North 24-Parganas, had 7,041 and 5,774 active cases, respectively, on August 9. Today, Calcutta has 5,588 and North 24-Parganas has 5,671," he said.
At the meeting, chief secretary Rajiva Sinha, along with health secretary N.S. Nigam, instructed all chief medical officers of health to ensure release from hospitals of mildly symptomatic or asymptomatic Covid-19 patients after three days with no symptoms.
"If they can be released, our recovery rate will increase considerably," said Sinha.
Mamata endorsed the idea.
"Yes, those who have been there for many days, after four-five days (Nigam later clarified the official instruction was for three days) of nothing, no symptoms, what is the point of keeping them? They will be much better off at home. Staying home in these cases is a lot safer," she said.
Nigam said: "Please do this, so that our bed occupancy reduces and recovery rate increases."
Bengal on Tuesday reported 35.17 per cent occupancy on 12,045 Covid-19 beds at 87 dedicated hospitals.
Besides, 15.43 per cent of 11,507 beds at 200 safe homes are also occupied.
Mamata also stressed the need for lowering the positive confirmation rate, which was 8.86 per cent on Tuesday. It was 7.29 per cent even a month ago.
"Those from neighbouring states coming here for treatment must be recorded accordingly so that their numbers do not get added to our state's tally. They must be counted separately. Those should be added to the tally of their home states," said the chief minister.
The overall mortality rate now is 2, while the national rate is 1.84 per cent. The chief minister repeatedly stressed the need for lowering the mortality rate.