Youth gives Id gifts to Hindu priests
Help from casual employee in hard times of lockdown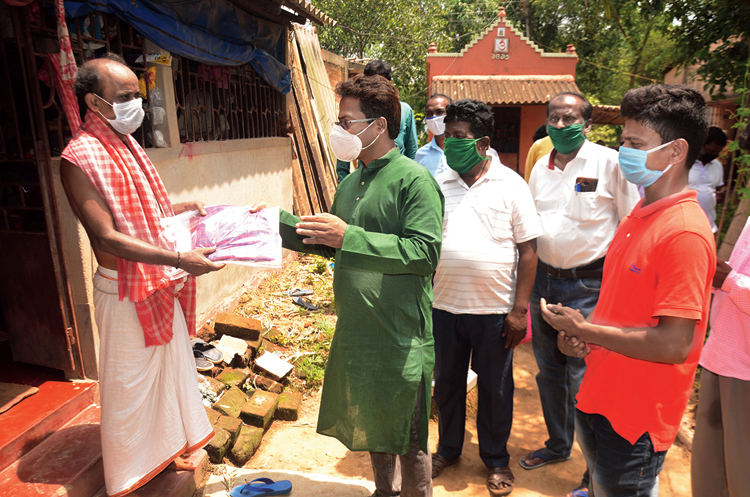 ---
|
Arambagh
|
Published 24.05.20, 09:38 PM
---
A 28-year-old casual employee of a government hospital in Hooghly district distributed clothes among 37 Hindu priests and 20 others, including imams, in his neighbourhood on Sunday.
The youth's gesture — for which he shelled out Rs 28,000 of his own savings — came a day before Id which Syed Ashik Hossain said was an occasion to make others "cheerful regardless of religion" given the repercussions of the ongoing lockdown.
Hossain, who is posted at the Arambagh subdivisional hospital, visited the homes of the 37 priests across four villages and gave them a dhoti and a gamchha each as Id gifts. "These people have had no jobs since the lockdown because no one is going to temples anymore," Ashik said.
"Id is also going to be celebrated at home this year. I located those Hindu priests who have no income since the lockdown came into force and I planned to gift them something for our festival," Ashik said.
Ashik, who is associated with the Trinamul Congress, also included few imams and physically-challenged people in his list of beneficiaries to spread the message of harmony.
The youth gifted a kurta and a lungi each to the imams and the physically-challenged persons, but he says his mission was to reach the poor Hindu priests.
"Id is a festival of joy after a month-long fast. I wished to see all the people happy in our areas," said Ashik, a resident of Kanpur village in Goghat. He requested his friends and elders from both the communities at the village to accompany him on the drive.
Local MLA Manas Majumdar was also with Ashik.
Those who received the gifts from Ashik were overwhelmed by the gesture and said it was surprising for them to see such an initiative during hard times.
"I was very happy. We all live here together and the youth has shown that humans can stand for others regardless of religion. I bless him," said Ashok Bhattacharya, a priest who also works as a cook at local events.
"I have had no work since the lockdown was declared. No one calls me for a puja at home and there is no work as a cook either because no event was held in the past two months," he said.
MLA Majumdar said: "As soon as I heard about the initiative by Ashik, I came immediately to be part of such a great initiative."