MP seeks grant for tea workers
The Rajya Sabha member made the appeal for the doles in her letter to Prime Minister Narendra Modi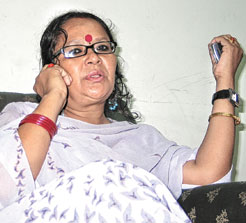 ---
---
Trinamul Congress MP Shanta Chhetri has requested the Centre to grant Rs 1,000 per week to each tea garden worker for three months as they are hit by the nationwide lockdown induced by Covid-19.
The Rajya Sabha member made the appeal for the doles in her letter to Prime Minister Narendra Modi. Chhetri is also a member of the Tea Board of India.
"I request the Government of India for support during this period to help the industry with direct wage payments to the workers and humbly suggest that a direct transfer of Rs 1000/only per week into each worker's account for the next three 3 months," reads the letter.
Around 3 lakh workers are engaged in the tea sector in north Bengal.
Highlighting that tea bushes needed to be plucked in seven to nine days, the MP said the estimated loss would be 100 million kg which would translate into approximately Rs 1,400 crore.
The Centre had issued an advisory saying workers should be paid during the lockout period.