Migrants treated as outcasts
The seven said the administration had made no arrangements when they returned, apart from asking them to go into home quarantine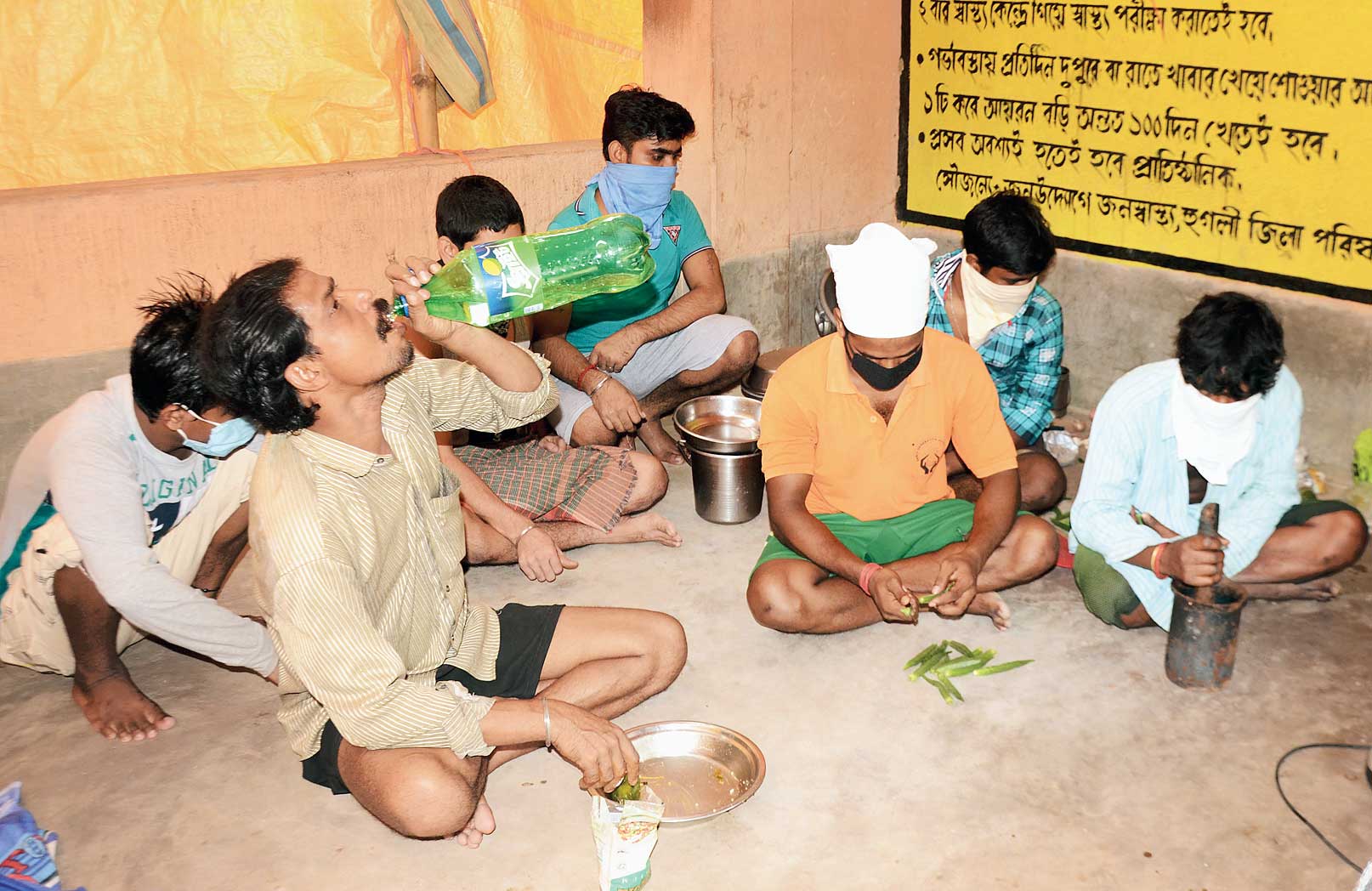 The migrant workers on the verandah of the ICDS centre at Tajpur village in Hooghly's Arambagh.
Picture by Ananda Adhikari
---
Bolpur(Birbhum)
|
Published 31.05.20, 07:46 PM
|
---
Seven returned migrant workers have been forced to continue their quarantine from the veranda of their village ICDS centre after a squall destroyed their makeshift pandal on May 27.
The seven, who had returned to Tajpur village in Hooghly on May 22 after being stranded in Punjab for two months, said they found themselves stranded again, facing ostracism from fellow villagers and indifference from the administration.
Their plight reflects the challenges Bengal's returned migrant workers are facing, with villagers not just barring them from their homes but agitating against any effort to turn school buildings into quarantine centres for them.
The seven said the administration had made no arrangements when they returned, apart from asking them to go into home quarantine. But residents would not let them enter the village.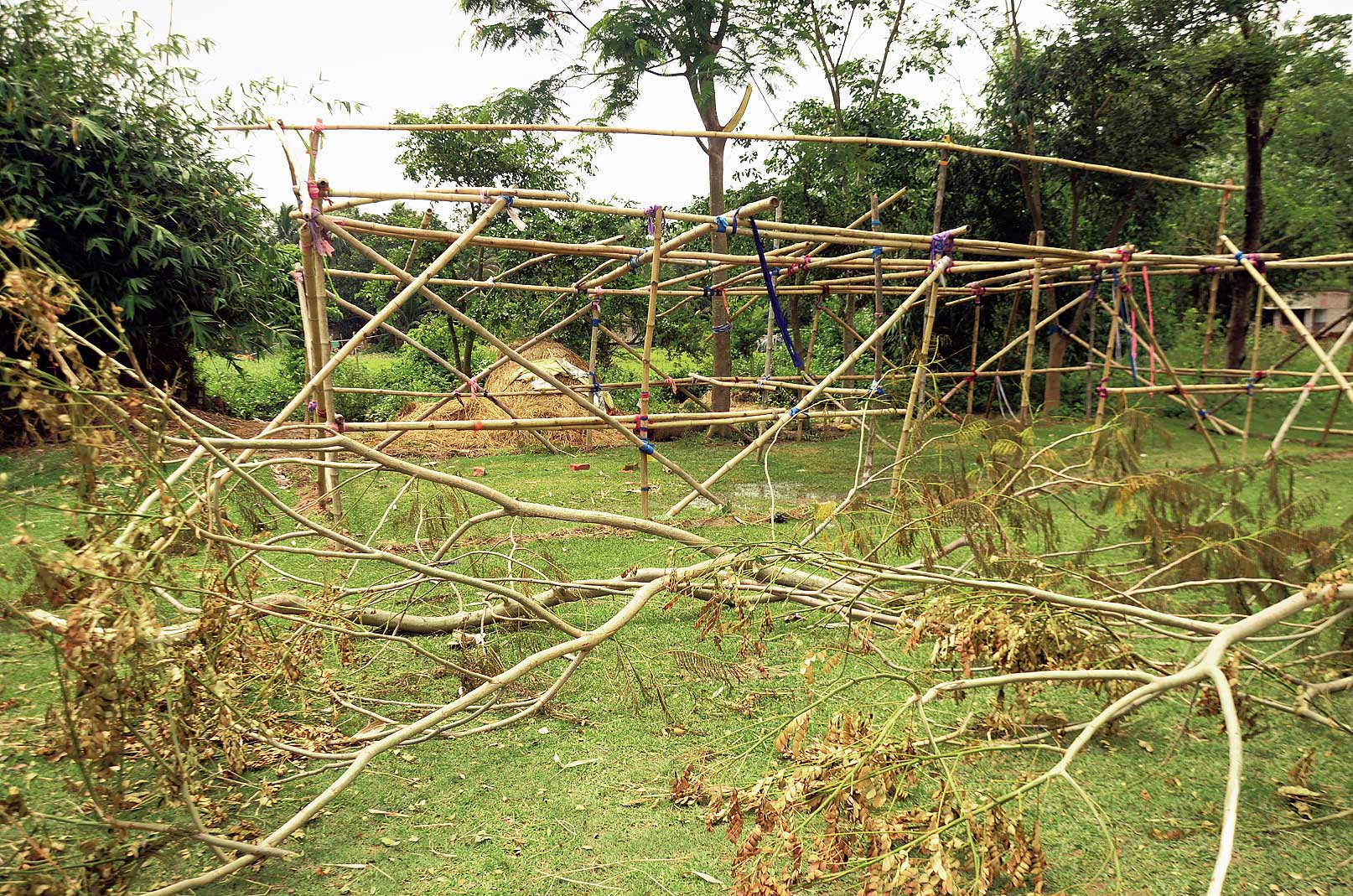 Following a standoff, during which they had to spend six hours at the local crematorium, a group of sympathetic neighbours built them the bamboo-and-plastic pandal on a football ground.
"But a massive tree ripped through it last week. Now we are sleeping in the open near a forested area that is full of snakes. There's been no official help," one of the returned workers, Ujjwal Ghorai, said.
"The village high school is closed but we were not allowed to stay there. Even staying in the pandal was scary because it was near a canal with several snakes," another worker said.
The workers said their families provided them with meals or foodstuff to cook.
Arambagh SDO Nripendra Singh did not answer calls to his number.
Jayanti Pratihar, pradhan of the local Harinkhola gram panchayat, said: "It was the villagers' decision to keep these youths away. We are trying to arrange an accommodation for them."
Another group of seven workers that had returned on May 28 from Maharashtra to Amodpur village in Goghat, Hooghly, was luckier.
Sensing the villagers would not let them be quarantined at the local primary school, as the administration had planned, village youth club Netaji Sangha spent nearly Rs 20,000 to erect a pandal and arrange temporary sanitation facilities for them.
"The labourers feared protests from the villagers. So we arranged a makeshift pandal to avoid any quarrels over the location of the quarantine centre," said Sheikh Mofijul Islam, the club cashier.
Across south Bengal, villagers are protesting against the implementation of the administration's policy of requisitioning schoolhouses as quarantine centres.
With the state's 582 larger quarantine facilities now full, the districts had begun requisitioning rural schools for workers returning from the five badly coronavirus-hit states of Maharashtra, Delhi, Gujarat, Madhya Pradesh and Tamil Nadu. For the rest, they have mostly been recommending home quarantine.
Birbhum has witnessed at least a half-dozen agitations since Saturday over efforts to set up quarantine centres at schools, forcing the authorities to go slow for now. On Sunday morning, police quelled a protest at Karidhya village, Suri.
Reports that schoolteachers too have been joining the resistance prompted the Birbhum administration to recently hold a meeting with the district school inspectors.
"The school inspectors will supervise the school quarantine centres in their areas. They will be in a better position to talk to the teachers and local people," Birbhum district magistrate Moumita Godara Basu said.
Similar agitations have been reported from East Burdwan, West Burdwan, Nadia, North 24-Parganas and some other districts.
Residents of Masjid More in Barrackpore, North 24-Parganas, on Sunday opposed a move to open a quarantine facility at the local Manmatha High school, arguing it was too near their homes.
A similar demonstration was reported from Ward 21 in Santipur, Nadia, on Sunday. The police had to be called in at both places.
Additional reporting by Subhasish Chaudhuri from Barrackpore