Government staff burdened with influx
Two dozen trains carrying thousands of migrant labourers reached Bengal in the past 24 hours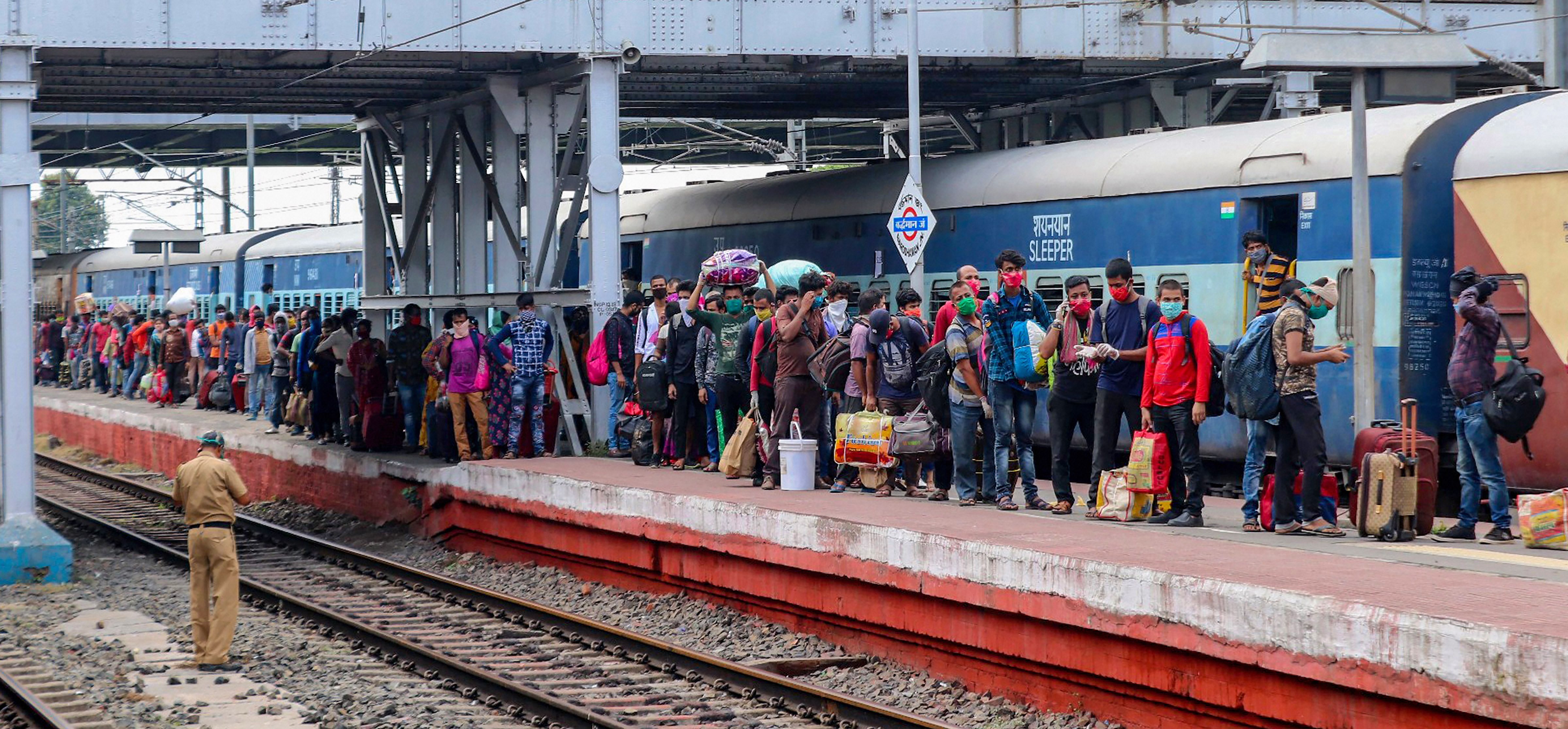 ---
Bolpur(Birbhum)
|
Published 29.05.20, 11:30 PM
|
---
Hundreds of government officials, doctors, health department employees and police officers had to work overnight at various railway stations in south Bengal after around two dozen trains carrying thousands of migrant labourers reached the state in the past 24 hours.
Officials said the sudden influx of migrants, mostly from hotspots such as Maharashtra, Gujarat and Delhi, had left them with the challenging task of accommodating them at government quarantine centres.
The officials said after staying up throughout the night to receive migrants, they had to handle people's unrest at several schools where they had set up quarantine centres.
On Wednesday, chief minister Mamata Banerjee accused the railways of not consulting the state government and pushing in tens of thousands of people after Bengal had got a grip on the pandemic.
Sources said 18 trains had arrived at Rampurhat till early Friday morning and all officials and police officers headed by sub-divisional officer of Rampurhat, Sweta Agrawal worked till the last migrant had left the station.
"It was a big task for us to handle thousands of migrants overnight. We had to record data of individuals, conduct health screening and send them to quarantine centres while arranging buses for passengers of neighbouring districts," said Birbhum district magistrate Moumita Godara Basu.
East Burdwan district magistrate Vijay Bharti said the government was setting up a temporary waiting shed for migrants outside Burdwan railway station.
A senior official in West Midnapore, who was deputed at Kharagpur railway station, said it was difficult to manage passengers coming from various states as two or three trains were arriving simultaneously.
Sources said the problem of the officials didn't end at the stations as local residents resisted putting up migrants at quarantine centres set up in schools, which are highly short on infrastructure.
On Friday, a group of residents in Suri blocked Suri-Rajnagar road against the decision to set up quarantine centre at a hostel in their locality. Agitations against quarantine centres were reported from several places in East and West Burdwan, and Birbhum.
"Apart from the agitations, we are fighting lack of infrastructure such as toilets and drinking water facilities in most schools," said an official.
"It was a good decision to put all in institutional quarantine but it is impossible to set up hotel-like infrastructure in schools overnight," said an official.