Canning cannot
Corona and the comprehensive closures it imposed have choked Calcutta's arterial human and material supply line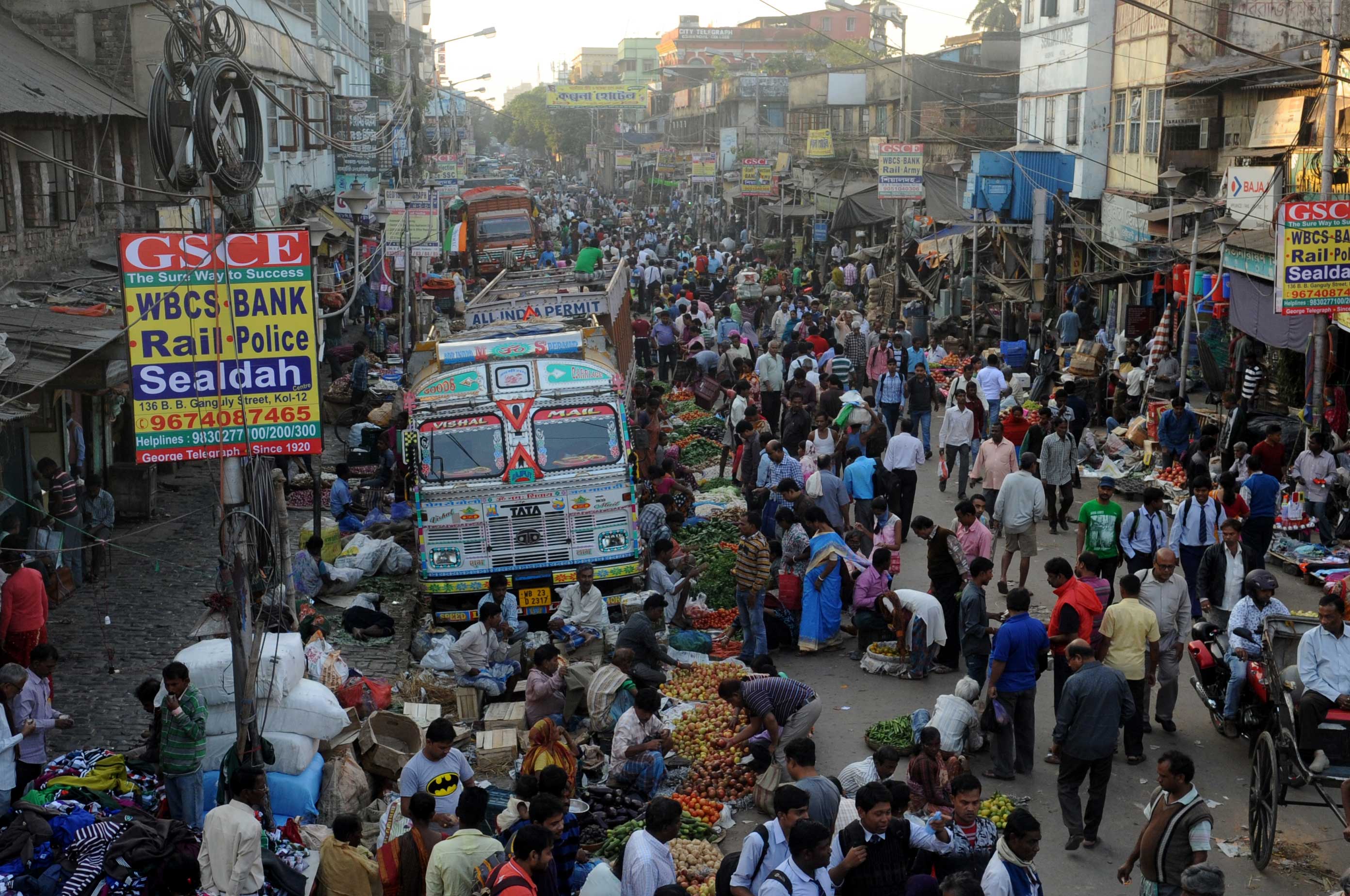 Koley market in Sealdah
(Bishwarup Dutta)
---
Published 04.04.20, 06:38 PM
|
---
In the days before the lockdown, the wholesale market in Canning would come alive at 3am. The traders would buy fish and vegetables in bulk, and make a dash for the adjacent train station. In pre-corona times, nearly 50 trains ran between Canning and Calcutta each day, ferrying several hundreds of men and women. Each had two dedicated vendor compartments packed with wicker baskets loaded with mocha and kumro shaak, cucumbers and cauliflowers, bananas and jackfruits as also men and women sitting cheek by jowl, hugging aluminium drums and large vessels filled to the brim with wriggling fish. The air inside a typical mix of fish and earth and sweat, and the floor of the compartment wet and muddy from the water spilt. Whenever a train pulled into Sealdah station or Ballygunge or Jadavpur, it was like a human outpouring. A giant workforce gushed into the city, filling up its veins and arteries and infusing them with lifeforce.
Canning subdivision is a floret on the map of South 24-Parganas, a district in Bengal. The Canning line functions like a hyphen, linking a chunk of the rich hinterland with the state capital and prime market. It connects Canning town, Gosaba and other areas in the Sunderbans with Calcutta. From Canning to Sealdah station in Calcutta is a 57-kilometre long line connecting places such as Chandkhali, Taldi, Betberia Ghola, Ghutiari Sharif, Gourdaha Halt, Piali, Champahati, Kalikapur and Bidyadhari. All these dots meet at Sonarpur Junction, which further connects them to New Garia, Garia, Narendrapur, Baghajatin, Jadavpur, Dhakuria, Ballygunge Junction and Park Circus.
Apart from Canning, Sonarpur Junction links two other crucial supply nodes, Lakshmikantapur/Namkhana and Diamond Harbour, to Calcutta at the demand end. At Ballygunge, more produce comes in from Budge Budge, a southwest suburb of Calcutta. The enhanced supply then reaches Calcutta's largest wholesale market — the famed Koley Market in Sealdah. Enroute Sealdah, people get off at several junctions with their produce to feed the big and small local markets.
The first stop is Sonarpur. The produce offloaded here feeds the Sonarpur Station Road market and is also transported via lorries and vans to the southeastern fringes of the city, namely Malancha and Ghatakpukur. Produce offloaded at Dhakuria feeds the Dhakuria Rail Bazar, Ballygunge Bazar and Gariahat Market. After a refill at Ballygunge, the rest of the produce, which is more than 50 per cent of the total volume of Canning's produce, proceeds to Koley Market. And from there, further up north to Dum Dum and other arterial routes such as Hatibagan, Ultadanga and Maniktala Bazar.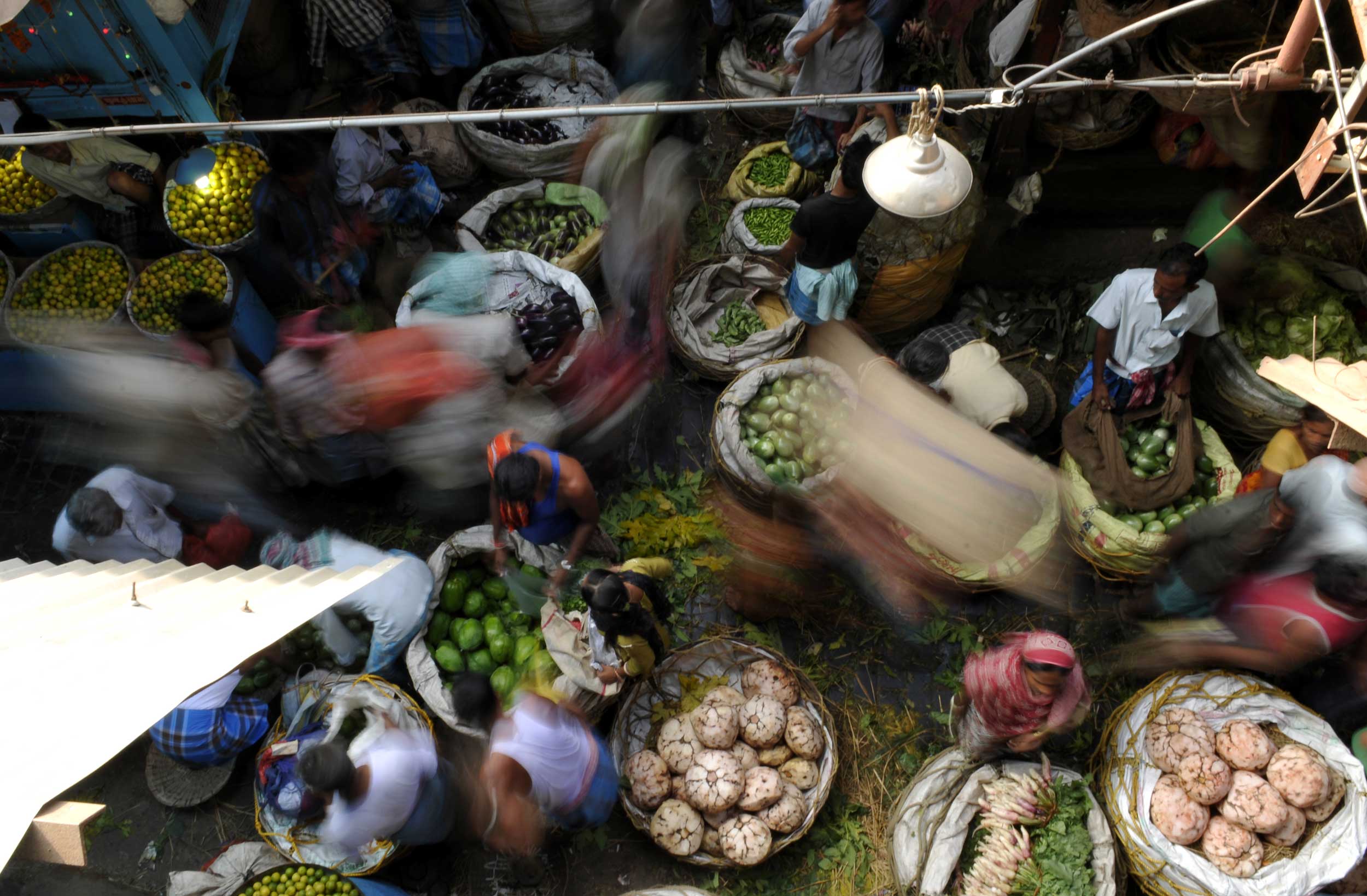 Calcutta has a daily demand of 550 tonnes of fish. Twenty per cent of this is from Canning alone. The percentage is higher when the entire South 24-Parganas is taken into consideration. Says Gourab Das, a wholesaler from Canning, "Until 2000, there was a dedicated fish train between Canning and Sealdah. Those days, fish used to come in from Kultali, Nyazak, Gosaba, Canning 1 & 2, Sarberia, Sandeshkhali, Jharkhali and other areas of the Sunderbans such as Maipith, Deolbari, Sonagaon, Saterkona, Mollakhali, Jibantala." The lockdown has affected the supply.
Shankar Das sells fish at Koley Market; he is a wholesaler. He gets part of his supply from Digha in East Midnapore, but a chunk of it comes from South 24-Parganas too. He says, "The freshwater fish used to come from Canning. I used to get over 250 kilos every day." Since the lockdown he has shut shop. Goutam Mondal has a stall at the Ruby fish market; he gets about 20-25 kilos from Canning. He says, "Magur, koi, tilapia come from Canning." It is also the crab hotspot. He adds, "There is no other place from where we can procure crab. It is caught in Basanti, Gosaba and in some more interior areas of the Sunderbans — Amlamethi, Raidighi and Namkhana — and brought to Calcutta and thereafter exported to Singapore, Malaysia, Thailand and Europe."
Not only does the lockdown mean choked supply to Calcutta, it also means days of zero earning for at least 25-30 lakh fishermen living in and around the harbours of Midnapore and South 24-Parganas. Bablu Saha, who is a wholesaler at Canning Market, says there has been no fishing activity in Canning these last few days. Only a few fishermen are bringing whatever little they get in their own ponds — bhetki, rohu, catla, prawns.
Bablu, who supplies fish to many fishsellers in Calcutta, informs that the arat or depot where he would conduct the auction is now under lock and key. "I am earning nothing these days — I cannot supply fish to Calcutta nor am I earning my daily commission from the arat," he says.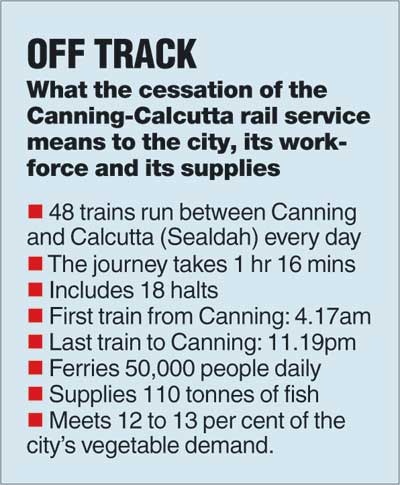 Taldi, Ghutiari Sharif, Champahati and Bidyadhari on the Canning line are important vegetable hubs. Together with Baruipur on the Diamond Harbour line and Raidighi and Joynagar on the Lakshmikantapur route, they pump in 30 per cent of the city's vegetables. Says Tushar Ghosh, president of the West Bengal State Committee of the All India Agricultural Workers' Union, "Canning contributes 12 to 13 per cent to Calcutta's vegetable market." With the lockdown, suppliers apparently have been reaching out to the city markets in lorries and vans taking the 10-kilometre long route. Some farmers are also leaving their homes in Champahati and Bidyadhari as early as three in the morning and cycling down 29 kilometres to Calcutta to bring their produce to markets such as Sonarpur, Garia and, of course, Koley Market.
"It also works the other way round," points out Shankar. After all, a lot of things are not produced there. "There are those who arrive by the same local train, buy from Koley Market and take it all back to the markets in Champahati, Canning and further down south," he elaborates.
The closure of the Canning line has impeded another critical input from the countryside, namely, labour. According to Ghosh, this line ferries around 50,000 people to Calcutta every day. He tells The Telegraph, "Of this, 35 to 40 per cent is employed in the unorganised sector."
Organised or unorganised, it is safe to say that in the absence of this army of help, several essential services are paralysed. Seventy per cent of this army comprises domestic help employed in residences in south Calcutta, from Baghajatin to Dhakuria. They are also employed as nurses, anganwadi workers, healthcare personnel, ayahs in schools, sweepers and cleaners in malls, as drivers, newspaper and milk delivery personnel, as beauticians in local parlours, masons and labourers at construction sites, as cleaners, electricians, security guards and so on.
Sathi Poile leaves her house at five in the morning to take the train to Baghajatin. She works as a domestic help in two households and makes
Rs 8,000 a month. Others like Usha and Bithi work in four to five houses. They take the evening train home and earn over Rs 10,000 a month. The virus lockdown has come as a cruel surprise to Sathi and her ilk. She says, "Daily expenses have shot up. My employers would give me breakfast and lunch, my children would eat at school. With the lockdown, there is no supply of food grains in the local market. Even if you have the money, you won't be able to buy what you need," she adds.
The absence of domestic help has affected the senior population most, especially those who live by themselves. It has also impacted households that engage nurses or attendants for an ailing family member or a young child. Sonali Nursing and Ayah Centre in Survey Park has been closed for some days. Says owner Juthika Mondal, "The ayahs take the local trains. They are not coming now."
Kinkor Mondal runs the Sushoma Driver Centre. Six out of 15 of his drivers are from Canning. Namita Dolui and her husband commute from Champahati. Namita is a housekeeping staff at the Metro Cash and Carry in Mukundapur, while her husband works at a construction site in Calcutta.
According to Swapan Mondal, who has done his doctoral thesis on the land reclamation policies of the Sunderbans, with the Canning line closed daily wagers are haemorrhaging; the supply chain has been interrupted and there is possibly a loss of at least Rs 100-150 crore per day. He says, "Think of it this way. Our IT sector is running smoothly because of these people from the suburbs. Will you be able to go to work if your help does not come in to cook for you or look after your child? The supply chain comes a full circle only when you take into account this big picture. Nothing will run, nothing will move without them."
How Calcutta Eats Barring the East Kolkata Wetlands, the city gets its supply of fruits, vegetables and fish from suburban areas and certain adjoining districts
East Kolkata Wetlands
The city gets 30 tonnes of freshwater fish and 150 tonnes of vegetables from here every day. The produce moves to arats in the North and South 24-Parganas and those in Calcutta too. There they are auctioned and picked up by wholesalers operating out of city markets
North 24-Parganas
Fruits and vegetables from Swarupnagar, Baduria, Deganga, Hasnabad travel along the Basirhat rail line. Vegetables from Amdanga, Gobardanga, Gaighata, Habra, Machlandapur, Bagda travel along the Bongaon line. These two lines meet at Barasat Junction and the produce moves on to Sealdah Junction and from there to Koley Market.
Fish — tiger prawns, bhetki and parshe — from bheris or shallow fish ponds in Hasnabad, Hingalganj, Haroa, Minakhan arrive at Koley Market and Baithakkhana Bazar, also in Sealdah, the same way
South 24-Parganas
Fruits and vegetables from Diamond Harbour, Magrahat, Baruipur and Canning travel via Diamond Harbour, Lakshmikantapur and Canning, arrive at Sonarpur and from there to Sealdah. The produce from Bhangar arrives by road directly to Koley Market
Large volume of riverine fish arrives by the rail route all the way from Canning, Gosaba, Kakdweep, Patharpratima, Namkhana and Diamond Harbour
Nadia
Vegetables from Ranaghat, Chakdah, Haringhata, Krishnagar, Batkulla, Krishnaganj, Tehatta, Hanskhali arrive by train to Sealdah
Howrah
Biggest fish market catering to Calcutta. Freshwater fish from Andhra Pradesh, Odisha, Madhya Pradesh, Gujarat arrives here. Sea fish comes from Digha, Diamond Harbour, Mumbai, Visakhapatnam and Chennai.