Congress rally plan shows Adhir Ranjan Chowdhury's comeback bid
Officially, the rally will protest against the poor policies of the BJP-led Union government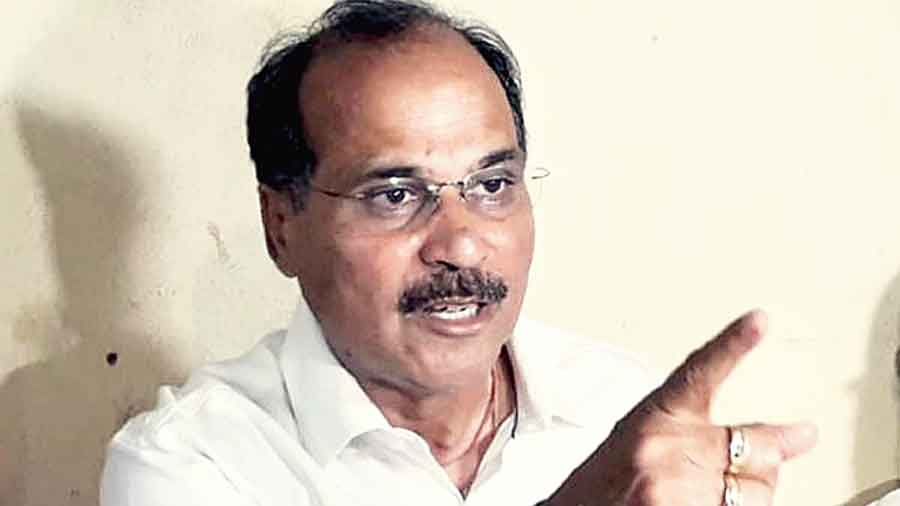 Adhir Ranjan Chowdhury
File Photo
---
Behrampore
|
Published 11.10.22, 02:08 AM
|
---
The Congress's legislative party leader in the Lok Sabha, Adhir Ranjan Chowdhury, has planned a "mega rally" on his turf of Behrampore on November 3 as part of an attempt to recover his lost ground ahead of the 2024 general election.
With the Murshidabad district Congress leadership gearing up for the event, Chowdhury's desperation to make a comeback in his backyard after a series of electoral setbacks for his party is apparent.
Officially, the rally will protest against the poor policies of the BJP-led Union government, the steep price rise and the alleged prevalence of corruption in the Trinamul Congress administration in Bengal. However, multiple Congress sources confirmed Chowdhury's intention to test his strength through the rally.
"We all know that until recently, Adhirda had been the most heavyweight leader in Murshidabad. Even when the Congress had been wiped out from other parts of the state, he managed to keep it afloat in the district," a source close to Chowdhury said.
"But in the past few polls, we saw a gradual but steady decline in our support base here. If this continues, Adhirda might as well lose his Lok Sabha seat in 2024. The November 3 rally might prove to be his acid test."
Congress workers have started campaigning for the rally across the district. Wall writings, posters and placards in support of the rally have already come up in several parts of Murshidabad, especially Behrampore. Congress leaders said they had set a target of one lakh participants in the rally.
AICC's observer for Bengal, A. Chellakumar will be present at the meeting, along with Chowdhury. In the 2021 Assembly polls, the Congress could bag no seat in the Murshidabad district or in Bengal.
In the civic polls that followed, the Congress lost both Murshidabad and Kandi municipalities to Trinamul. Sources close to Chowdhury said he was aware of the fact that if he didn't focus on reviving the Congress in his district now, he might lose the polls in 2024.
Speaking to this correspondent, Chowdhury, however, said the rally was planned to protest against the ill-governance of the central and state governments. "We are trying to raise the voice of the people, which has been stifled by both the Union and state governments," Chowdhury said.