Commuters face twin National Highway snarls
Traffic snarl was result of ban on movement of goods carriers into Calcutta in festive season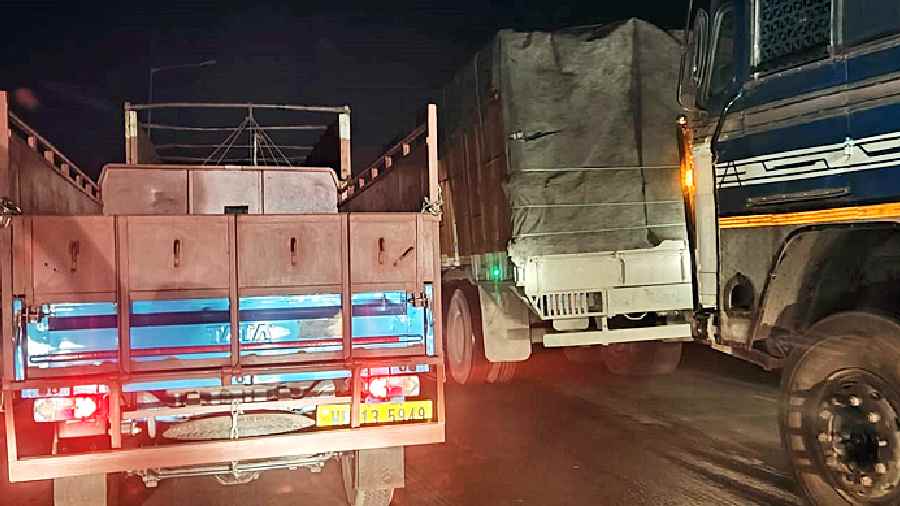 Traffic jam on NH6 near Salap in Howrah on Friday night
---
Calcutta
|
Published 25.12.22, 04:51 AM
|
---
A 60-year-old official of Burdwan University on Friday night drove for around eight hours to reach his home in Calcutta from his workplace, 135km away in Burdwan, as heavy traffic congestion on two national highways — NH6 and NH2 — connecting Calcutta with south and central Bengal.
Burdwan University official Subha Prasad Nandi Majumdar, said the traffic jam on NH2 was not an aberration but almost an everyday reality, a claim that St Xavier's University teacher Sumantra Bhattacharya attested as he, along with his family, had to get off a bus midway and travel to a nearby station to catch a train to Howrah on Saturday morning.   
"I  drive the distance at least four times a week and have been travelling on the route for almost 17 years. Traffic snarl is a regular affair but it was never so bad. I started from Burdwan town at 6pm on Friday and reached my home at Santoshpur in Calcutta at 2am on Saturday. It took me four hours to cover 3km between Pakuria and Salap in Howrah," said Nandi Majumdar. 
The senior varsity official was among others who had to spend hours on the road on a cold December night as hundreds of trucks moving towards Calcutta blocked all lanes of the highway with police doing little to keep a lane free for small vehicles.
Police sources said the traffic snarl was the result of a ban on the movement of goods carriers into Calcutta in the festive season. What made matters was a congregation not very far from the highway in Howrah. 
According to Nandi Majumdar, the problem was not with hundreds of trucks but the lapses in traffic management, especially on the Salap stretch of NH6.
"It is a regular thing to see hundreds of trucks queued up to wait for a particular time that allows those to enter Calcutta. Trucks stand haphazardly so it becomes tough for motorbikes to wriggle their way through, forget cars," he said. 
Nandi Majumdar said at several stretches of his journey from Burdwan he faced traffic snarls between Friday night and early Saturday. 
"I reached Singur within an hour. I encountered the first challenge on Durgapur Expressway (NH2). After crawling for about half an hour, I was told by a civic volunteer to take a detour to reach Calcutta. The advice helped and I used multiple networks of local roads to reach NH6. The real trouble began from Pakuria under Howrah city police," he added. 
Asked, Howrah police commissioner Praveen Kumar Tripathi said: "There was a curb goods vehicles entering Calcutta for a fair that sparked off traffic snarls at a few points." But he was sceptical about commuters stuck at a point for hours. 
Bhattacharya countered it. "From Burdwan to our destination in south Calcutta, it took six hours." 
A police source said goods vehicles created problems at night and extension work on NH2 during the day.
A Howrah police officer added: "In winter, many truck drivers park their vehicles anyhow and fall asleep."