Keepers. Preservers. Providers
Your potatoes don't come from the farms. Neither your fish from river or sea. Here is the backstory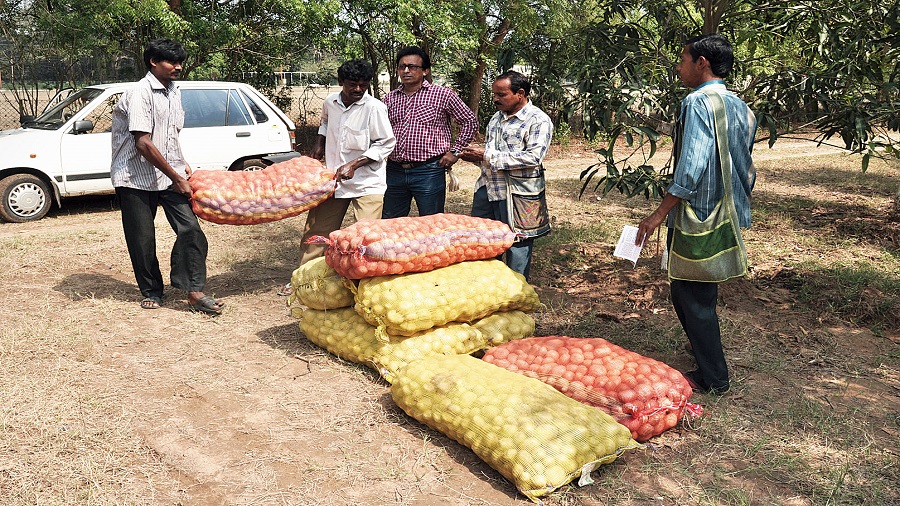 Potatoes harvested in Sriniketan, Birbhum
Biswajit Roy Chowdhury
---
Published 23.08.20, 12:29 AM
|
---
In the last few weeks, the price of potatoes in West Bengal had gone up by 40 per cent, anything between Rs 30 and 40 a kilo. After weeks of negotiation between the state government and the Cold Storage Association of Bengal, the latter has just started releasing potatoes at Rs 23. These will be sold at Rs 25 by the state government retail chain.
Bengal is the second largest producer of potatoes after Uttar Pradesh. While UP produces 1,50,00,000 metric tonnes of potatoes annually, Bengal produces 1,20,00,000 metric tonnes (1 metric tonne equals 1,000 kilos). Says cold storage owner Ramapada Paul,
"Here, we need cold storages chiefly for potatoes. The crop is harvested in March. The farmers keep enough stock for April and May and put away the rest in cold storages for the rest of the year."
Paul owns three cold storages exclusively for potatoes and one for multiple things — dry fruits, oranges, apples, carrots, beetroots, frozen items, spices and so on and so forth. He set up his first cold storage in the small town of Gurap in Hooghly district in the late 1970s. Cold storages had by then mushroomed in several districts.
Records confirm that cold storages debuted in the state in the early 1950s. At present, there are 585 such facilities, of which 483 are for storing potatoes, 23 that can store potatoes as well as other vegetables and fruits, and 79 of the type that can store multiple things. The cold storages are located in Hooghly, West Midnapore, Burdwan, Bankura, Howrah, Birbhum, Murshidabad, Dhupguri, Jalpaiguri, Malda, North and South Dinajpur, North and South 24-Parganas, Alipurduar, Coochbehar and Darjeeling, which also happen to be the major potato growing areas.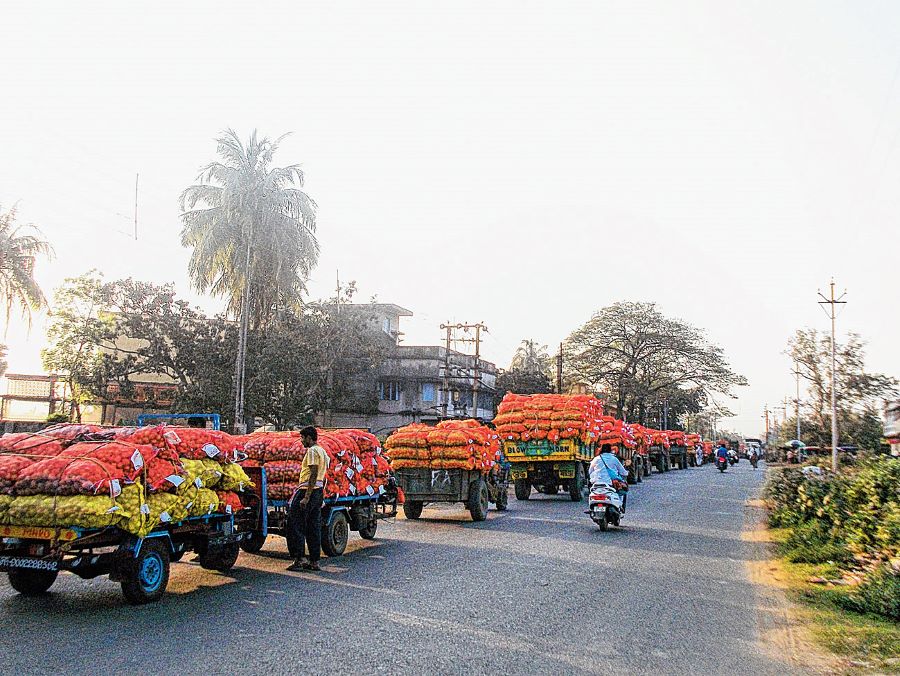 In the early days, according to Paul, only Marwari businessmen could afford to invest in this business. "It requires a lot of money to build one himghar (cold storage). In the 1950s, one had to invest no less than Rs 10 lakh for a single cold storage."
Paul's father used to trade in potatoes. He would buy the staple from cold storage owners and supply to retailers. Says Paul, "Many people come and deposit their products in a cold storage. There is the farmer who wants to preserve his produce after harvest; there are traders who have bought the produce from the farmers and now want to store and sell when prices are high, and there are cold storage owners themselves who buy the produce from farmers and store them to sell when the market is ripe."
He recalls the time when he opened his first cold storage. "Farmers used to queue up for some space. They would spend hours to collect bonds against their products," he says.
Every time someone needs space in the cold storage, one has to collect bonds. A bond works like a token and is meant to book space. The trader or farmer shows the bond at the cold storage, deposits produce/items and is handed a receipt. When time comes to collect the produce/items one has to show the receipt and pay the rent.
The standard rent for a single packet — it equals 50 kilos — of potatoes is Rs 250 for six months. "This includes the cost of drying and sorting of potatoes," says Lalu Mukherjee, who is the secretary of the West Bengal Pragatishil Alu Byabsayee Samiti. He also adds that one has to keep a minimum of 500 kilos of potatoes in the cold storage and the same amount has to be released at one go. Nothing less is allowed.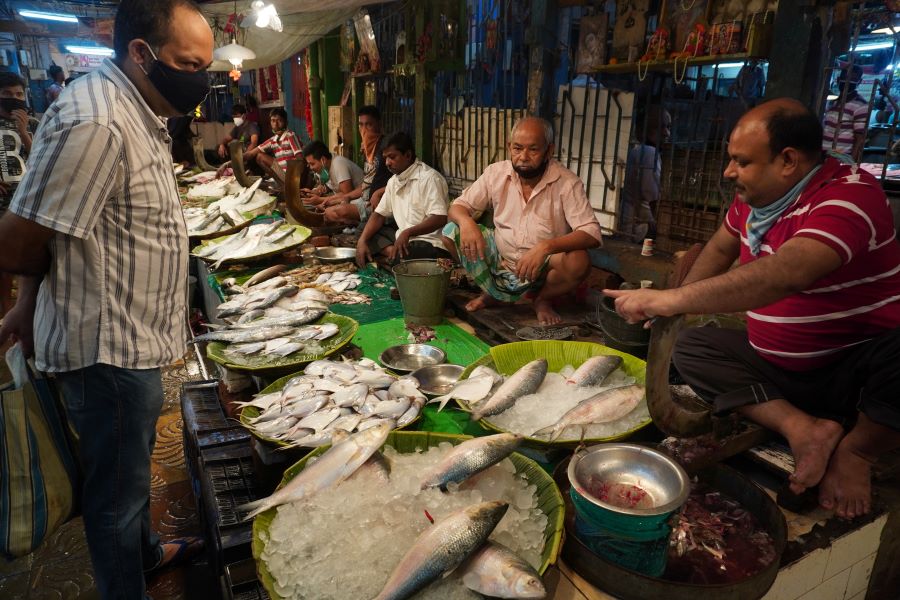 "In the US, the cold storage is referred to as a refrigerated warehouse and in India and the United Kingdom, it is called a cold storage — a place where all kinds of perishable goods are stored for preservation," says Ashish Jhunjhunwala, the owner of Hindusthan Ice and Cold Store in Alampur in Howrah.
Jhunjhunwala explains how cold storages come in various sizes. The smallest are those found in hotels and restaurants, malls and supermarkets to store vegetables, meat, fish, and other frozen items. "They are called walk-in cold stores," he says. Walk-in cold stores work on the same principle as refrigerators, the only difference being they are as big as a room and one has to walk in to collect things.
The other types of cold storage are bulk cold stores, multipurpose cold stores, small cold stores, frozen food stores, controlled atmosphere stores and ripening stores. A single commodity is stored in the bulk stores — potatoes, chillies or onions. "Most of the cold stores in Bengal fall in this category," says Jhunjhunwala. While the capacity of a cold storage can go up to 3,00,000 metric tonnes, Mukherjee estimates that one-and-a-half lakh tonnes is what is economically viable.
This year only 440 of the 483 potato cold storages in Bengal are operational. It has to do with low production, a source in the state department of agriculture tells The Telegraph. No wonder the potato prices have soared.
"The cold storages have played a key role not only in regulating market prices of fresh produce during the pandemic, but also in allowing the demand and supply chain to function undisrupted," says Tarun Kanti Ghosh, who is the president of the West Bengal Cold Storage Association. He also points out how cold storages averted a food crisis post the Amphan.
Jhunjhunwala agrees, but he is quick to point out that one must not assume cold storage owners have been immune to the pandemic or profited from the all-round distress. He says, "These last few months, the market has been erratic. Festivals — Bengali New Year's Day, Ramzaan, Jamai Shashti — and weddings have been observed on a very small scale. Like every year, traders had stocked up in advance to meet the huge demand during these festivals but the lockdown happened and the markets shut down."
Syed Anwar Maqsood, who is secretary of the Howrah wholesale  fish market, had stored hilsa in the month of March expecting sale during the Bengali festivals. He says, "I have bought fish for Rs 1 crore. It is what I had paid for one container from Myanmar. But since sales were not as expected, I have to keep them in storage for longer than usual. And when the local catch comes in, where will I get storage space?"
Then there is the added problem of labour shortage. Cold storages need labourers for stacking and loading. According to Paul, these labourers have the experience of handling items in a manner that is conducive to storage and easy access. But these men, who generally come from Jharkhand and Bihar, have all gone back to their homes. Even the usual maintenance staff stands reduced. Jhunjhunwala complains, "If a fan belt breaks down, repair takes more time than it used to take earlier and that might damage the products in the storage."
Jhunjhunwala tells us a story about the hilsa and the cold storage from 20 years ago. Those days, it seems, Bengalis were way less amenable to having frozen hilsa than they are today. Says the cold storage owner, "The standard practice then would be to release the fish the previous night, keep them in water for thawing and then have them masquerade in the markets next morning as taja machh." He adds, "Now people don't mind so much. And what is the alternative in times like this when Amphan has pushed all hilsa towards Bangladesh and robbed us of our season's share?"