Labour crunch hits potato storage in Bengal
Storage process started from March 10 and it would have taken at least 3 weeks to fill up 450-odd cold storages in the state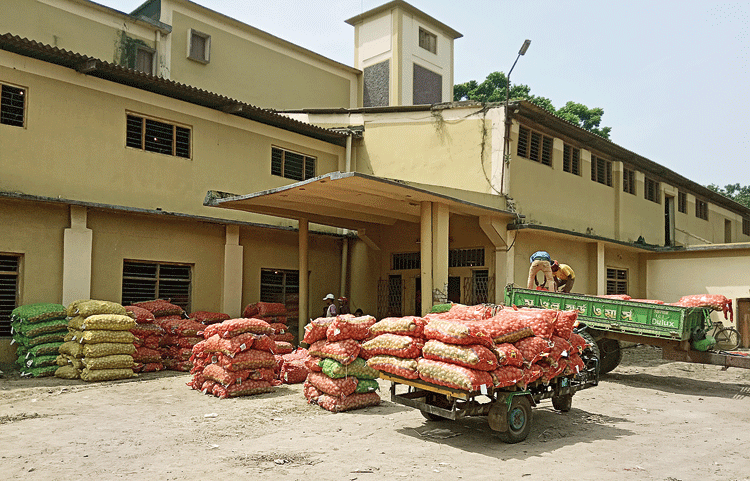 Potatoes stacked in front of a cold storage at Kalna in East Burdwan.
Picture by Dip Das
---
Hooghly
|
Published 20.03.20, 08:24 PM
|
---
The fear of coronavirus has cast a shadow over the process of stacking up of potatoes in cold storages as there is a sudden shortfall of over 35 per cent labourers involved in collection and storage of the crop.
In case of potato, farmers stack up the tuber in cold storages after harvest and release the crop in the market in phases to ensure that they get proper prices. Every year, the process of storage begins in the first week of March, but it was delayed by two weeks this time as the harvest started late because of the effect of Bulbul.
This year, the storage process started from March 10 and it would have taken at least three weeks to fill up 450-odd cold storages in the state with the produce.
"A lot of workers returned home since the coronavirus scare spread in rural areas. After Prime Minister declared janta curfew on Thursday, the scale of exodus has been very high and at least 35 per cent labourers are missing. This will spell a doom on the potato supply chain," said Madhusudan Mandal, secretary of West Bengal Cold-Storage and Rice Mill Labourers and Contractors Welfare Association.
According to him, the association supplies around 1.10 lakh labourers to 450-odd cold storages across Bengal.
Sources said Bengal had produced around 102 lakh tones of potatoes this year and the domestic demand was around 65 lakh tones. Most of the produce is stored in cold storages.
According to cold store owners, each unit needs to hire around 150 to 250 workers for loading the packets of potatoes. The labourers for both south and north Bengal are from South 24-Parganas, East Midnapore and Murshidabad districts and neighbouring Bihar.
The coronavirus scare has sent many labourers back home as they are refusing to work in groups, which is the norm in the business.
"The labourers whom we hired are skilled to load potatoes into cold storage and they can't be replaced," said a cold-store owner in Hooghly's Dhanekhali.
Cold storage owners said the rate of loading potatoes had already been increased because of scarce workers.
"The rate was Rs 5.20 for loading a bag which is now Rs 11 per bag. We are ready to give the rate. But it would be a disaster if labour supply decreases in near future for both cold-storage owners and farmers," said Arijit Saha, a cold-storage owner at Dhanekhali in Hooghly.
"Many farmers are selling their produce in open market to skip the storage. If farmers continue such sale, there would be crisis of potatoes after three months," Saha added.
Pradip Mazumdar, the agriculture advisor to chief minister Mamata Banerjee, on Friday visited few cold storages in Hooghly's Tarakeswar and requested the owners to maintain hygiene for labourers.
"I heard about labour scarcity and visited few cold storages in Tarakeswar. I have talked to the owners to maintain all kind of precautions to thwart coronavirus as the government is concerned about the disease. However, we need to continue the process. Otherwise, it would create a problem in potato supply chain," said Mazumdar.