Coal case: Enforcement Directorate arrests first police officer
Ashok Mishra is believed to be a close relative of Vinay Mishra, a TMC youth Congress leader believed to be the kingpin of the multi-crore cattle smuggling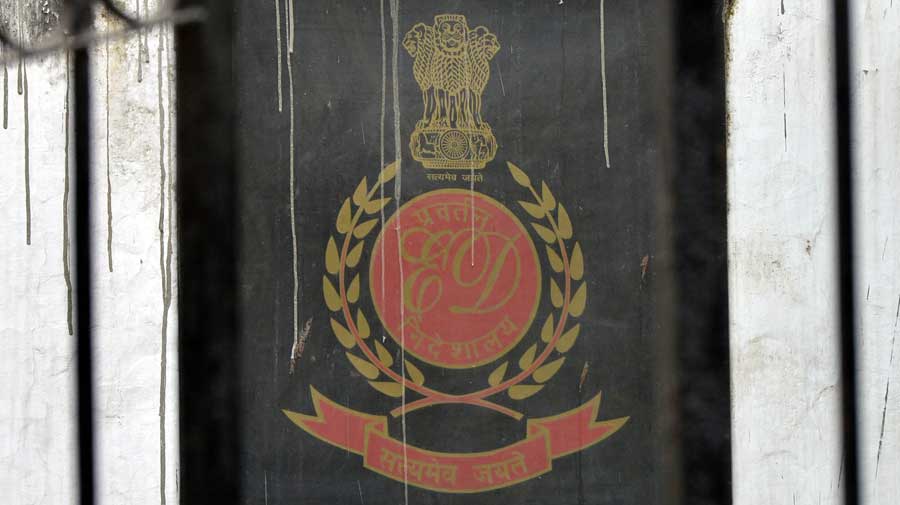 ---
---
The Enforcement Directorate (ED) arrested Ashok Mishra, inspector-in-charge of Bankura police station, on Sunday, just two days ahead of the third phase of Bengal elections giving the BJP a chance to accuse ruling Trinamul of benefiting from the proceeds of illegal coal smuggling.
Mishra is the first police officer to be arrested by one of the two central agencies probing the multi-crore coal pilferage case spanning across several districts of Bengal.
"Mishra is instrumental in parking huge amounts of funds in the accounts of several beneficiaries," said a senior ED officer. "There are reasons to believe about his active involvement in siphoning funds that was collected following pilferage of coal."
A 1995 batch officer, Mishra is believed to be a close relative of Vinay Mishra, a Trinamul youth Congress leader believed to be the kingpin of the multi-crore cattle smuggling case.
The CBI had questioned Mishra on three occasions in the past. A few days back the ED had instructed the police officer to appear before a team of its officers in New Delhi for a round of questioning.
On Saturday Mishra was interrogated for several hours at ED's Delhi office. Early on Sunday he was arrested.
Vinay is absconding and police have issued a non-bailable arrest warrant against him. In March the ED arrested his brother Bikash from New Delhi.
Sources in ED said that Bankura features prominently among several districts from where pilfered coal would find its way to small factory units and other buyers riding a nexus of senior police officers and businessmen who allegedly enjoyed political patronage.
A large part of the money that was collected from the sale of pilfered coal across several districts of South Bengal, including Bankura, East and West Burdwan along with Birbhum would allegedly reach these politicians in Calcutta and Mishra played a key role in this distribution of money, ED officials alleged.
"Mishra has thorough knowledge of how this nexus of politicians, businessmen and policemen worked. We would want to know from him about the nodes where money went," said a senior ED officer. "It will help us track the money and identify the trail the money had taken."
Some police officers working in Bankura and West Burdwan districts said on conditions of anonymity that Ashok Mishra would help officers get lucrative postings against money since he enjoyed good rapport with some Trinamul leaders in Calcutta. Sources said Ashok Mishra and another police inspector who is now posted in Purulia and was already questioned by the CBI in Calcutta used to run a racket that ensured lucrative postings of police officers.
"The ruling Trinamul and its leaders are direct beneficiaries of this illegal coal smuggling racket... Over Rs 900 crore has been sent directly to Vinay Mishra by the police officer arrested by the ED … This IC (inspector-in-charge) Mishra who has been arrested today was the main architect behind sending it (the money)…" Trinamul turncoat Suvendu Adhikari said.
On Saturday, the CBI interrogated alleged coal kingpin Anup Maji a.k.a. Lala and Purulia SP V. Selvamurugan in connection with the coal pilferage case.
The CID, also probing the same scam since February, has arrested BJP leader and alleged coal smuggler Rajesh Jha a.k.a. Raju and Randhir Singh, an associate of Anup Maji. Both are now in custody.