Circus tent gutted
'Cyclone Bulbul and the rain came in the way of starting the show,' said a panchayat member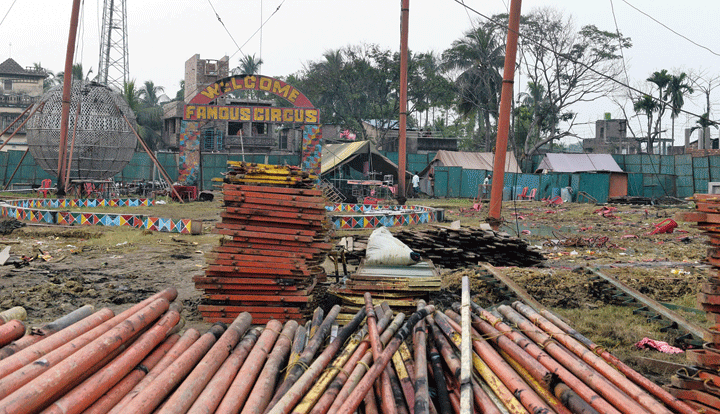 ---
Calcutta
|
Published 18.11.19, 08:23 PM
|
---
A circus tent in Howrah's Domjur was gutted early on Monday, hours before it was to open for the season's first show.
"A few residents of the area told us sky lanterns were being released till late on Sunday on the occasion of Kartik Puja. I believe one such lantern landed on our tent," said Bipad Bhanjan Biswas, the manager of Famous Circus, which had pitched tent at the Mothbagan area of Domjur, 15km from the heart of Calcutta.
An employee of the company had stepped out around 3am when he spotted flames at one end of the tent. He alerted others but most of the tent had been gutted by the time employees could arrange for water to douse the flames or alert the fire brigade.
Two caged cockatoos died, while a caged white fantail pigeon and two horses tied to a rod could be saved.
Fire department officials arrived along with police and the area was cordoned off as black fumes filled the sky.
"It took over an hour for five engines to control the fire. No one was injured," said an officer of Domjur police station.
The circus company had reached Domjur from Burdwan on November 8. It had set up a tent that could accommodate 450 viewers.
"Cyclone Bulbul and the rain came in the way of starting the show," said Mithu Hazra a panchayat member. "The ground was covered with puddles and was not in a condition to host the show."
Famous Circus, Biswas said, is one of the oldest circus companies that used to hold shows in Calcutta and on the fringes.
Its fortunes started dwindling following the ban of animals in circuses in 1998.
This season, the company had planned to run a month-long programme at Domjur before deciding its next destination. "We will pack up and leave. It is not possible to hold any show in near future," an employee said.