Chakdah: It is time for Jhulan now, says Jharna Goswami
I will no more be able to enjoy watching the great game: Mother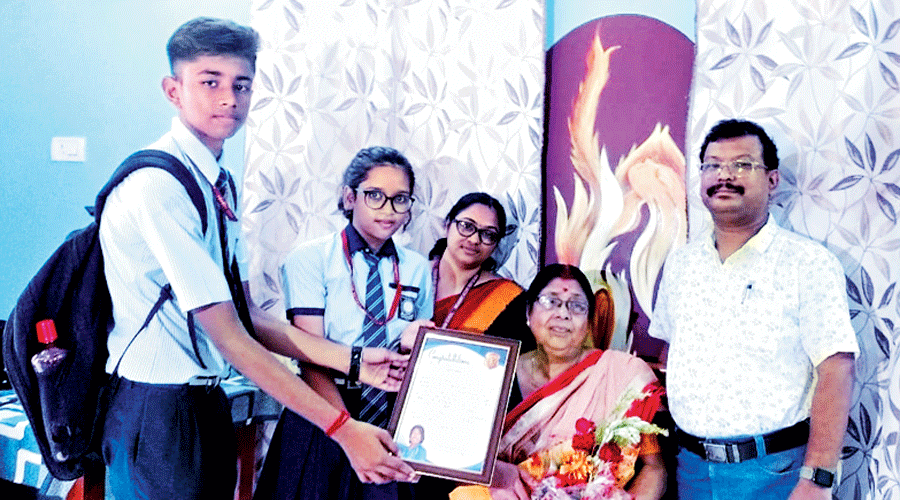 Students of Broadway Accent High School, Chakdah, hand over a memento to cricketer Jhulan Goswami's mother Jharna Goswami (seated) at her home in Chakdah on Saturday.
The Telegraph
---
Calcutta
|
Published 25.09.22, 02:15 AM
|
---
For Jharna Goswami of Nadia's Chakdah, cricket will never be the same again.
Jharna, 70, is the mother of pacer Jhulan Goswami, 39, who wore the Indian cap for a last time on Saturday, ending her two-decade-long international career capped by a series whitewash of England at Lord's.
Speaking to this newspaper at her Chakdah-Lalpur home, Jharna said: "I will no more be able to enjoy watching the great game."
"Jhulan has been playing for about 20 years. One has to call it a day at some time. So it is time for Jhulan now," her mother added.
"I hope she takes up a new role as a coach. I will be happy to see new players perform better under her coaching," Jharna added.
Jhulan had dropped hints about retiring a month ago. Still, much like Jharna, residents of Chakdah expected that she would continue to play for a few more years.
But on Friday, the "Chakdah Express" officially announced her decision to retire in a virtual media conference organised by the International Cricket Council, putting an end to her long cricketing journey that Chakdah residents fondly remember as having begun from their Lalpur Friend's Club ground.
On Saturday, several residents and schoolchildren went to the Goswami residence to appeal to Jharna to make Jhulan reconsider her decision. When it was clear that the mother would not interfere, the residents moved to the club to witness Jhulan's final match that some said was marred by the "pain" of a duck dismissal to a delivery by England's Freya Kemp.
Spirits, however, rose with Jhulan's bowling. She took two wickets at a miserly economy rate of 3.
At Jhulan's home, where her parents Jharna and Nisith, 75, as well as her siblings Jhumpa, 36, and Kunal, 35, live, students from the Broadway Accent High School, Chakdah, reached with a memento as a mark of their love for the cricketer.
"It is a tribute to a great woman who has displayed her prowess in a unique field," said principal Runu De Sarkar.
Jhulan began her career against England in 2002 as an all-rounder. She played 12 Tests, 204 ODIs and 68 T20 matches and took 355 wickets across all formats of the game.
At Chakdah, many contemporaries said they felt a chapter was ending.
Jhumpa said she had also played cricket with her sister.
"As a sibling, I was brought up on the game because she played it. To see cricket without her playing will be upsetting. But I have to accept it," Jhumpa said.
Many in her hometown recalled Jhulan's zeal as a girl.
"Jhulan would rush to Calcutta catching the first train to Sealdah to attend Swapan Sandhu's coaching camp at 7am at Vivekananda Park. She would be home by 11am to attend school," said a neighbour.
Gopal Sandhukhan, 38, of Lalpur who played with Jhulan at a local friends' club when they were young, said: "She took Indian women's cricket to a new high. After Sourav Ganguly, she is probably the only Indian sportsperson who showed unabashed aggression on the field to win laurels for India."