Fund worry for South Bengal State Transport Corporation-run bus fleet
SBSTC authorities to pay partial salaries for July to around 3,000 SBSTC employees and contractual workers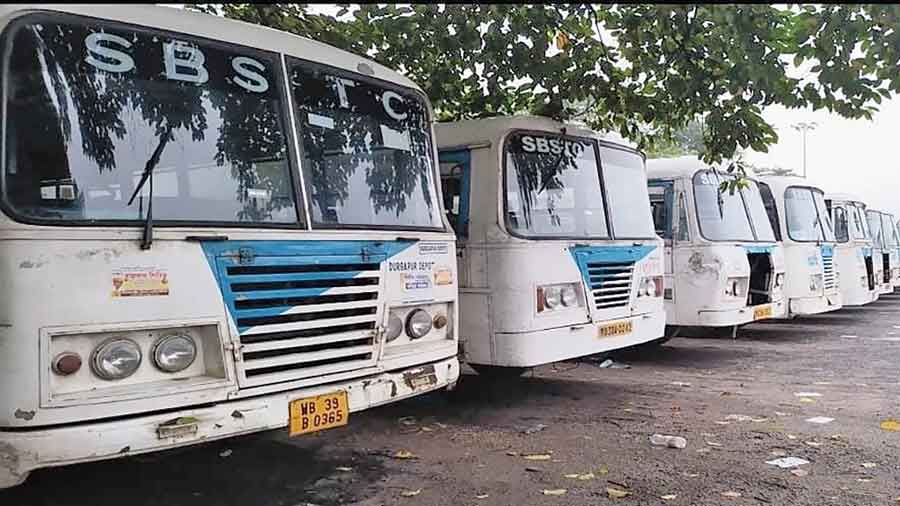 Buses parked at the Durgapur depot of the SBSTC.
Picture by Dipika Sarkar
---
Durgapur
|
Published 08.08.22, 02:22 AM
|
---
A cash-trapped South Bengal State Transport Corporation (SBSTC) is not rolling out half of its regular fleet to various destinations in south Bengal, including Calcutta, from its Durgapur headquarters the past two months in the absence of funds for maintenance and fuel.
The funds crunch has also led the SBSTC authorities to pay partial salaries for July to around 3,000 SBSTC employees and contractual workers. The government provides grants to the SBSTC for wages, salaries and maintenance.
The situation has prompted the transport department to call an urgent meeting in Calcutta on Monday.
Sources said that 75 buses originating from Durgapur used to ply on various routes, taking passengers to locations including Calcutta, Purulia, Bankura, Suri, Berhampur, East and West Midnapore every day. The SBSTC on August 3 decided to operate only 35 buses until the financial situation improved, said a senior official of the transport utility.
"We are not getting funds from the state government since March and this has hit maintenance of buses that have developed technical snags. We also are unable to raise money for fuel from the regular sale of tickets as fares have not been increased to compensate the extra cost incurred with the rise of fuel prices," said a SBSTC official in Durgapur.
At present, the one-way fare for a person travelling between Durgapur and Calcutta in a non-AC SBSTC bus is Rs 130 and in an AC bus Rs 310. Compared to the SBSTC fare, a person has to pay Rs 510 to travel the same distance in a private-run AC bus.
Durgapur is among the 21 depots of the SBSTC across south Bengal, including Calcutta and Howrah. Altogether 628 buses of the SBSTC used to ply from the 21 depots earlier. The situation in all depots is bleak, said SBSTC sources, adding that altogether 145 buses have already been taken off the roads due to operational loss and absence of funds for maintenance in the past two months.
Sources said more buses will be taken off the roads in near future if the financial situation does not improve and the transport department will hold a meeting in Calcutta on August 8 to discuss the crisis.
Half of the 75 buses that earlier used to roll out of the SBSTC depot in Durgapur used to run between Durgapur and Calcutta.
A large number of Calcutta-bound passengers from Durgapur prefer to travel in buses regularly as it takes them to Esplanade or Karunamoyee (Salt Lake) in around three hours.
"I frequently travel between Durgapur and Calcutta for work. Earlier I used to get a bus every 15 minutes but now if I miss one bus I have to wait for at least 30-45 minutes," said Sourav Roy, a private company employee.
SBSTC officials said the waiting period for a bus would increase if more vehicles were taken off roads.
While passengers are angry with the partial withdrawal of bus service, employees are unhappy as they have been paid part of their salaries when the festive season is barely two months away.
"I have received 75 per cent of my monthly salary without any pay slip on August 4. A meeting will be held in Calcutta on August 8 on the issue," said Krishna Chandra Ghosh, an SBSTC employee and general secretary of INTTUC backed trade union.
A section of employees demonstrated in front of the SBSTC headquarters in Durgapur on Friday demanding full salaries.
The situation is grave for contractual workers who didn't get their wages for July and fear retrenchment ahead of Durga Puja.
"We work on contract but as several buses have been taken off the roads, many of us don't have work now. I have not yet received my July salary and fear losing my job with the festive season not far away," said a contractual worker.
The SBSTC has around 3,000 employees, including 2,100 contractual workers. The 900 permanent employees work in offices and ticket booking counters. Drivers, conductors, maintenance and cleaning staff are engaged on contract from private agencies.
SBSTC chairman Subhash Mandal dismissed fears. "There is no major problem in the SBSTC and whatever minor issues are there, will be resolved soon," he said.
But leaders of the CPM trade union arm, Citu, in Durgapur alleged that the government was trying to privatise the SBSTC. "The government is trying to sell the SBSTC to a private transport operator of their choice. They have already stopped hiring permanent employees…. We will launch a movement against the SBSTC's attempt to privatise the transport service that caters to a large number of people, including the poor," said Pankaj Roy Sarkar, Citu state council member.